Here's another delicious family-favorite that has been posted before, but with a blah picture that didn't do the tasty dish justice. I first made these amazing spanish meatballs for a baby shower a few years ago, and then took the opportunity to take new pictures of them a few months ago when we had a tapas theme for dinner club. The made-from-scratch meatballs full of fresh breadcrumbs, scallions, and spices are simmered in a red wine and rosemary tomato sauce to create basically the most fantastic meatballs on the planet. And now they have a good picture to show them off!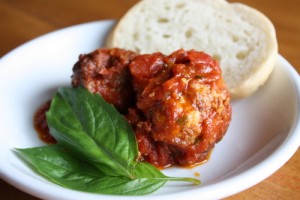 Meatballs:
1/2 lb ground beef
1 cup (about 2 oz) fresh white breadcrumbs
1 egg
2 Tablespoons freshly grated parmesan cheese
1 Tablespoon tomato paste
3 cloves garlic, minced
2 scallions, finely chopped, white and light green parts only
2 teaspoons chopped fresh thyme
1/2 teaspoon turmeric
1/4 teaspoon salt
pinch ground black pepper
2 Tablespoons olive oil

Sauce:
1 14.5-oz can petite diced tomatoes
2 Tablespoons red wine
2 teaspoons chopped fresh basil
2 teaspoons chopped fresh rosemary


In a large bowl, combine all meatball ingredients except olive oil. Divide mixture into 12 equal portions and roll into balls. Heat the olive oil in a large skillet over medium-high heat. Add meatballs and cook until browned on all sides. Add all sauce ingredients, bring to a boil, and reduce heat to low. Let simmer for about 20 minutes or until meatballs are cooked through. Serve hot with baguette slices.