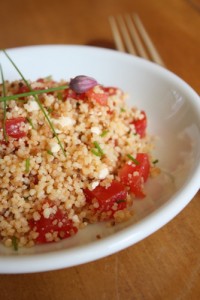 With summer on the horizon, I've been craving salads of all sorts. In the past few weeks, we've had caesar salads, spinach salads, grilled corn salads, pasta salads, broccoli salads, and more. I've been waiting since our bookclub Christmas party last December to make this light and delicious couscous salad. Full of nutty, toasted couscous, fruity olive oil, salty feta cheese, and fresh chives and tomatoes, it is the perfect addition to any summer meal.
Toasted Couscous Salad with Feta, Chives, and Tomatoes
from my friend Tannya, who moved to San Diego a few weeks ago 🙁
The directions below are for regular couscous, but you can also use pearled couscous, which is how I first had this dish. In that case, after toasting the couscous, follow the directions on the package to make about 3 cups of couscous.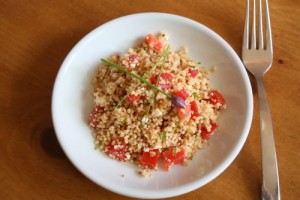 1 cup couscous
olive oil
1 1/2 cups water
2 large roma tomatoes, diced
1/4 cup crumbled feta cheese
1 Tablespoon snipped fresh chives
salt
In a small saucepan, heat water plus about 2 teaspoons of olive oil to boiling. Meanwhile, heat another teaspoon of olive oil in a small skillet over medium heat, add couscous, and saute, stirring frequently, until couscous it nicely toasted. Remove couscous from heat and immediately add to boiling water. Cover and let sit for 5 minutes. Remove lid, toss couscous with a fork, and set aside to cool completely. When cooled, pour couscous into a medium-sized bowl. Add tomatoes, feta, and chives. Drizzle with a little more olive oil and toss. Salt to taste. Serve at room temperature. Serves 4