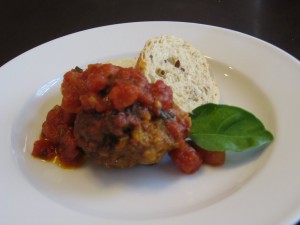 The series of events that get us to a certain point can be really wacky sometimes. Take the following for example: My friend Margaret decided a long time ago to–at some point in the then future–throw a party themed around the book Twilight. It was always sort of a nebulous thing that was always going to take place "someday." Well, the final book in the Twilight Saga came out a few weeks ago and Margaret decided that the night of the book release was the perfect time for her party. About a month before the party, I was on the phone with Margaret volunteering for all sorts of party-related things (like a tiered red velvet cake), when the subject of drinks came up. I said, "It would be funny if we had sangria, since the books are about vampires." Switch topics with me for just a moment. I offered to help throw my friend Anna a baby shower this weekend. Our friend Tannya, who loves to throw parties, wanted to do tapas. I thought that sounded like fun, even though I've never had any kind of tapas experience. Now switch back to the sangria. So I jumped on the internet looking for non-alcoholic sangria recipes, and the first website I went to was a tapas website that happened to have a recipe for non-alcoholic sangria! Worlds colliding! I browsed the tapas recipes and found one that I thought sounded delicious: Meatballs in Tomato Sauce. So I called Tannya and offered to make these meatballs for the baby shower. Then, all kinds of craziness happened and Tannya and I were no longer in charge of the baby shower, then we were again but all of the food was being made by other people, then I was just doing a dessert and not the meatballs. Meanwhile, back in the jungle, I tried several different non-alcoholic sangria recipes and didn't like any of them, so I pitched that idea entirely. Now flash forward to this week. Tannya and I talked it over, decided that we might actually need more food, and the meatballs were back on. It turns out we didn't actually need more food. We had lots of everything left over, but it was all so delicious I don't think anyone minded having to take some home. And I'm so glad I made the meatballs after all. They were soooooooo good. Without further ado, the recipe:
Meatballs in Tomato Sauce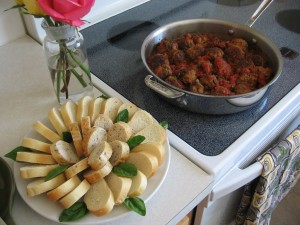 Meatballs:
1/2 lb ground beef
1 cup (about 2 oz) fresh white breadcrumbs
1 egg
2 Tablespoons freshly grated parmesan cheese
1 Tablespoon tomato paste
3 cloves garlic, minced
2 scallions, finely chopped, white and light green parts only
2 teaspoons chopped fresh thyme
1/2 teaspoon turmeric
1/4 teaspoon salt
pinch ground black pepper
2 Tablespoons olive oil
Sauce:
1 14.5-oz can petite diced tomatoes
2 Tablespoons red wine
2 teaspoons chopped fresh basil
2 teaspoons chopped fresh rosemary
In a large bowl, combine all meatball ingredients except olive oil. Divide mixture into 12 equal portions and roll into balls. Heat the olive oil in a large skillet over medium-high heat. Add meatballs and cook until browned on all sides. Add all sauce ingredients, bring to a boil, and reduce heat to low. Let simmer for about 20 minutes or until meatballs are cooked through. Serve hot with baguette slices.