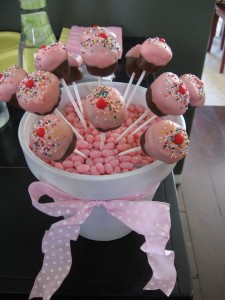 As I've already stated, I love any excuse to make food, and I especially love occasions that give me an excuse to try something new. And I'm fortunate to have a husband that thinks most things taste good and doesn't mind me experimenting. Case in point: I volunteered to help out with my friend Anna's baby shower this month and was lucky enough to get to make a dessert. While I usually try something new and way over my head at the last minute, I did know about this enough in advance that I could play around with recipes. I knew that one person was making a citrus cheesecake (which was delicious), so I decided to go chocolate. And, since Anna is expecting a girl, I wanted to go pink.
Attempt #1
Now when I think pink desserts, my mind automatically goes to strawberries, so I decided to try out a brownie with strawberries and ganache, sort of a chocolate-covered strawberry in brownie form.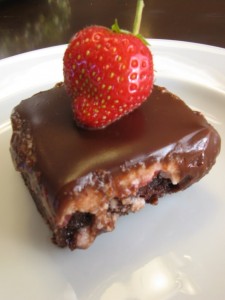 Brownie layer: a Betty Crocker store-bought mix baked in a 9×13″ pan
Strawberry layer: strawberry buttercream with real strawberry puree + sliced strawberries
Ganache layer: standard ganache recipe
Results: When my husband and I first tasted these, we both said, "They're OK, but they could be better." And then we proceeded to eat half the pan. They were not aesthetically pleasing, but man did they taste good. The brownie layer was actually a little too chocolatey, so maybe something homemade would work better. The strawberry buttercream tasted good but was a mess. In order to get it to taste like strawberries, I had to add lots of puree, which made the buttercream too thin, and it started to separate. When I added more powdered sugar to thicken it up, it didn't taste like strawberries anymore. So I added a layer of sliced strawberries between the brownie and the frosting. It had to be stored in the fridge so that the strawberries wouldn't go bad, but that made the brownie layer rock-hard, at least on the edges. By day two, the buttercream was really weepy, and the whole thing was hard to cut into decent-looking servings. I decided to scrap this idea entirely…after I ate the whole pan.
Attempt #2
I was browsing the Martha Stewart website one morning and saw a picture of these adorable cupcake pops from Bakerella.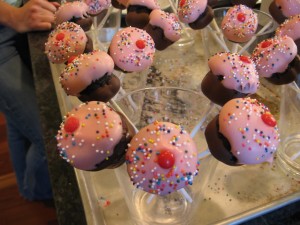 I knew immediately that I wanted to make these for the baby shower. My sisters were in town a few weeks before the shower, so I decided it would be good to do a trial run (which was a very, very good idea). Bakerella gives really good instructions for how to make these, but I've found that the "First Pancake Theory" can be applied to pretty much everything in life, so I was grateful I had a practice run. Strangely, they were harder to make the second time around. Reason #1: I had 2 sisters helping me on the trial run, but made them for the shower by myself. Reason #2: It was the hottest weekend of the year and they kept falling off the sticks! Some fell off sideways, some just crashed down with the sticks poking out the tops!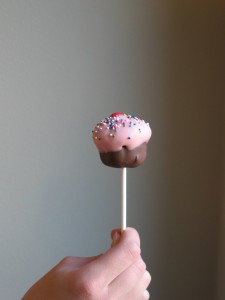 I actually had my doubts about how these would taste, but they were good. Clearly junk food-ish, but really, really good and just about the cutest things ever. They got RAVE reviews. Click here for the recipe.