Caramel Brownies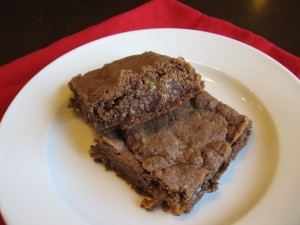 These are soooo good and soooo easy. I found Kraft caramel bits on the baking aisle at Walmart. They are basically little caramel balls that you don't have to unwrap, which makes these even easier.
50 Kraft caramels
1 can evaporated milk, divided
1 german chocolate cake mix
3/4 cup butter, melted
12 oz chocolate chips
2 Tablespoons flour
Combine caramels and 1/3 cup evaporated milk in a small saucepan and heat over low until melted. Stir to combine. In a separate bowl, combine cake mix, flour, butter, and 1/3 cup evaporated milk. Spread half of the cake mixture into the bottom of a greased 9×13″ pan. Bake at 350 for 6 minutes. As soon as the bottom layer comes out of the oven, sprinkle with chocolate chips and spread on caramel. Top with remaining cake mixture, and bake for another 15-18 minutes. Cool completely before serving.