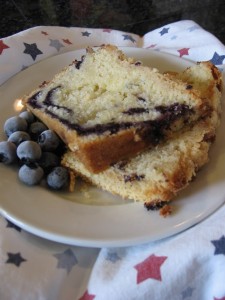 Blueberries are not my favorite berry, but I can't resist the u-pick farms all around our house, and this is blueberry season. I dragged my darling children to a little fruit farm on the hottest day of the year and we picked blueberries until it got too hot to be outside. Now we have all these lovely blueberries just waiting to be used. Yesterday morning, we had delicious blueberry pancakes for breakfast. Today, I decided that I wanted something sweet and crumbly, so I made blueberry coffee cake with a streusel topping. The recipe for the coffee cake comes from the big, yellow Gourmet cookbook, but it originally called for cranberries. Instead of adding the berries whole, you chop them in a food processor with a little sugar, then spread layers of fruit between layers of cake. I thought the ribbons of blue throughout the cake layers would look particularly lovely, and I was right. Because I like to go big or go home, I also wanted to toss on a streusel topping. Mmmmmm! The coffee cake tastes like those fantastic blueberry streusel muffins from a box only a million times better.
Blueberry Streusel Coffee Cake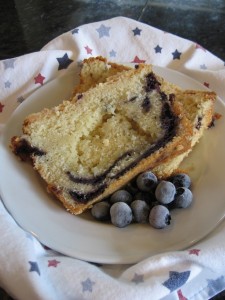 Blueberry Layers:
2 cups blueberries
2 Tablespoons sugar
Place blueberries and sugar in the bowl of a food processor and pulse until finely chopped, but not pureed. Transfer mixture to a fine mesh sieve and set aside.
Cake Layers:
2 cups flour
2 teaspoons baking powder
3/4 teaspoon salt
1 1/4 cups sugar
1 stick unsalted butter, softened
2 eggs
1 teaspoon vanilla
1/2 cup whole milk
Combine flour, baking powder, and salt in a medium-sized bowl. In the bowl of an electric mixer, cream sugar and butter until light and fluffy. Add eggs one at a time, beating after each addition. Add vanilla. Add half of the flour mixture, then the milk, then the remaining flour, again beating after each addition. Stir until just combined.
Streusel:
1/2 cup flour
1/4 cup sugar
1/4 cup cold, unsalted butter (1/2 stick), cut into small pieces
1 pinch salt
Combine all ingredients by hand until mixture is crumbly.
Putting it all together:
Preheat the oven to 350. Spread 1/3 of the cake mixture in the bottom of a well-greased 9×5″ loaf pan. Top with half of the blueberry mixture. Repeat layers, then top with remaining cake mixture and streusel topping. Bake for about 1 hour, or until a toothpick inserted in the center of the cake comes out clean.