I used to see the massive, 10-pound zucchinis people harvested from their garden and wonder how on earth they let them get that big! Now I know all you have to do is blink, and your tiny zucchini has morphed into a monster. We picked one such zucchini from our yard yesterday. I thought about making fried zucchini this week, but then a lady at church brought in half a dozen of her monster zucchinis to try and give away and started handing out recipes for zucchini bread. So it seemed like fate wanted me to make zucchini bread today. Here is the recipe, plus a delicious variation.
Zucchini Bread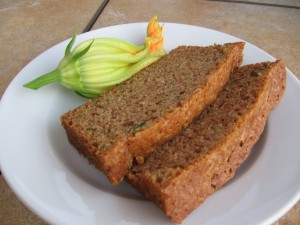 If your zucchini is huge, make sure you scrape out the seeds with a spoon before you shred it.
3 cups flour
1 teaspoon baking soda
1 teaspoon baking powder
1 teaspoon salt
1 Tablespoon ground cinnamon
3 eggs
2 cups sugar
1 cup oil
2 cups shredded zucchini
2 teaspoons vanilla
Grease an flour two standard loaf pans. Combine flour, soda, baking powder, salt, and cinnamon. In another bowl, beat eggs, sugar, oil, zucchini, and vanilla. Add dry ingredients, blending thoroughly. Pour into prepared pans and bake at 325 for 1 hour. Let cool in pan for 15 minutes, then remove and cool completely on wire racks.
Chocolate Zucchini Bread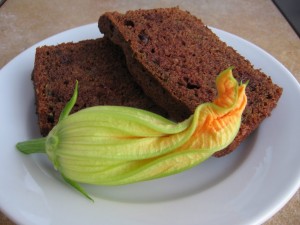 Follow the above recipe with the following changes: decrease cinnamon to 1 teaspoon, add 5 Tablespoons cocoa powder to dry ingredients, and stir in 1 cup chocolate chips before pouring into pans. You might have to bake this a little longer than the original version.