I've been blessed to have my whole family (except for my brother) visiting us over the past two weeks. When my mom and sister first arrived, they told me I HAD to make this strange and wonderful drink they had tried while visiting my other sister and her husband in Provo. Coincidentally, the recipe had just been published in the July 2008 issue of Sunset magazine. I tweaked the recipe to make it sweeter and stronger, and it is so delicious I have made it twice in the past week. Why is it called lemonade when it contains limes instead of lemons? I don't know. That reminds me of a song by Anne Murray that we had on a tape when I was little: "Why does a camel drink water? Why, why, why? Because, because, because. Good-bye, good-bye."
Brazilian Lemonade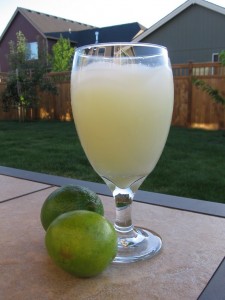 Buy one of those big bags of limes from Costco so that you can make this over and over and over again! One recipe makes a little over 1 quart.
3 limes, quartered
1/3 cup sugar
1/3 cup sweetened condensed milk
4 cups cold water
Place limes in a blender with sugar and sweetened condensed milk. Add as much of the water as you can and pulse until everything is combined. Yes, there will still be big chunks of unpeeled limes in your blender. That is OK! Pour mixture through a mesh strainer and into a pitcher. Pour the remaining water over the pulp in the strainer to remove any sugar or juice that stayed behind. Stir. Chill until ready to serve. I like it over ice.