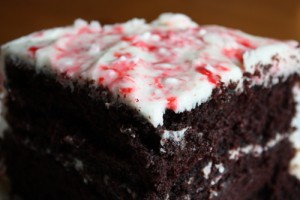 My little sister's birthday is 8 days before Christmas. My mom has always tried very hard to make it a completely non-Christmassy celebration (I've heard that most December babies appreciate that). We never wrap her presents in Christmas paper or give her Christmas birthday cards. But we do always make a Christmassy birthday cake. Go figure.
I don't remember every single holiday birthday cake I've gotten to help decorate, but there are a few notables that stand out in my memory. Several years saw a cake decorated with green gummy holly leaves (the kind that are covered in sugar and taste like spearmint) and red hots to make little holly clusters. One year had blobs of white frosting piped all over with a star tip, and then a beautiful little gum drop stuck in the middle of each frosting star. The gum drops were all different colors. It was a stunner. At least one year there was a Happy Holidays Barbie cake.
This year, I had a cake all picked out that I'd spotted on Pinterest several months ago. But then I saw something called "Peppermint Crunch Cake" in the Williams-Sonoma catalog, and all plans went out the window! Layers of chocolatey devils food cake covered in a minty candy cane frosting. It was sensational. My kindergartner ate 3 pieces! I would make it again in a heartbeat, but I would wait to sprinkle the candy canes on top until right before serving. Nobody wants candy canes bleeding all over their pretty white frosting. You can alternately stir the crushed candy canes into the frosting, which will make it cute and pink, in which case I'd call this Pink Peppermint Cake. Potato, potahto.
Peppermint Crunch Cake
The devils food recipe comes from Baked Explorations and is a family favorite!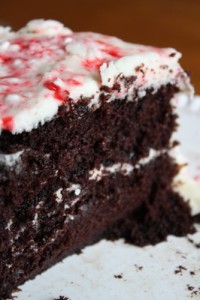 for the cake:
1 oz dark chocolate (I used Ghiradelli 60% chips)
1/2 cup dutch processed cocoa powder
2/3 cup hot coffee (we don't drink coffee, so I always use Pero–1 teaspoon per 8 oz hot water)
1/3 cup whole milk
1 1/3 cups flour
1 teaspoon baking soda
1/2 teaspoon salt
10 Tablespoons unsalted butter, softened
1 cup packed brown sugar
1/2 cup granulated sugar
3 eggs
1 teaspoon vanilla
for the frosting:
1 1/2 sticks salted butter, softened
6 cups powdered sugar
1 1/2 teaspoons peppermint extract
6 Tablespoons cream
crushed candy canes for filling and topping
Preheat the oven to 325 degrees F. Butter two 8″ round pans, line with parchment circles, and butter again. Then dust with flour. If that's too much work, you could try using Pam with flour. I love that stuff! Combine chocolate, cocoa, and hot coffee in a small bowl and whisk until smooth. Add milk and whisk again. In a medium bowl, combine flour, baking soda, and salt; set aside. In the bowl of a stand mixer, beat butter and sugars until fluffy. Add eggs one at a time, beating after each addition. Add vanilla, scrape down sides, and beat again for 30 seconds. Alternate adding the flour mixture and the chocolate mixture, beginning and ending with flour. Divide batter evenly between pans and bake for 35 to 40 minutes. Allow to cool for about 15 minutes before running a knife around the edges and flipping out onto a cooling rack. Cool completely before frosting.
While cake is cooling, make frosting. Combine butter, powdered sugar, and peppermint extract in the bowl of a stand mixer. Slowly add cream until the frosting is spreadable. You might not need all of it.
When cake is completely cool, place one 8″ cake on a serving plate, top with frosting, and sprinkle with crushed candy canes. Place the other cake layer on top, flat side up. Completely cover top and sides with remaining frosting. Sprinkle with remaining candy cane pieces just before serving.