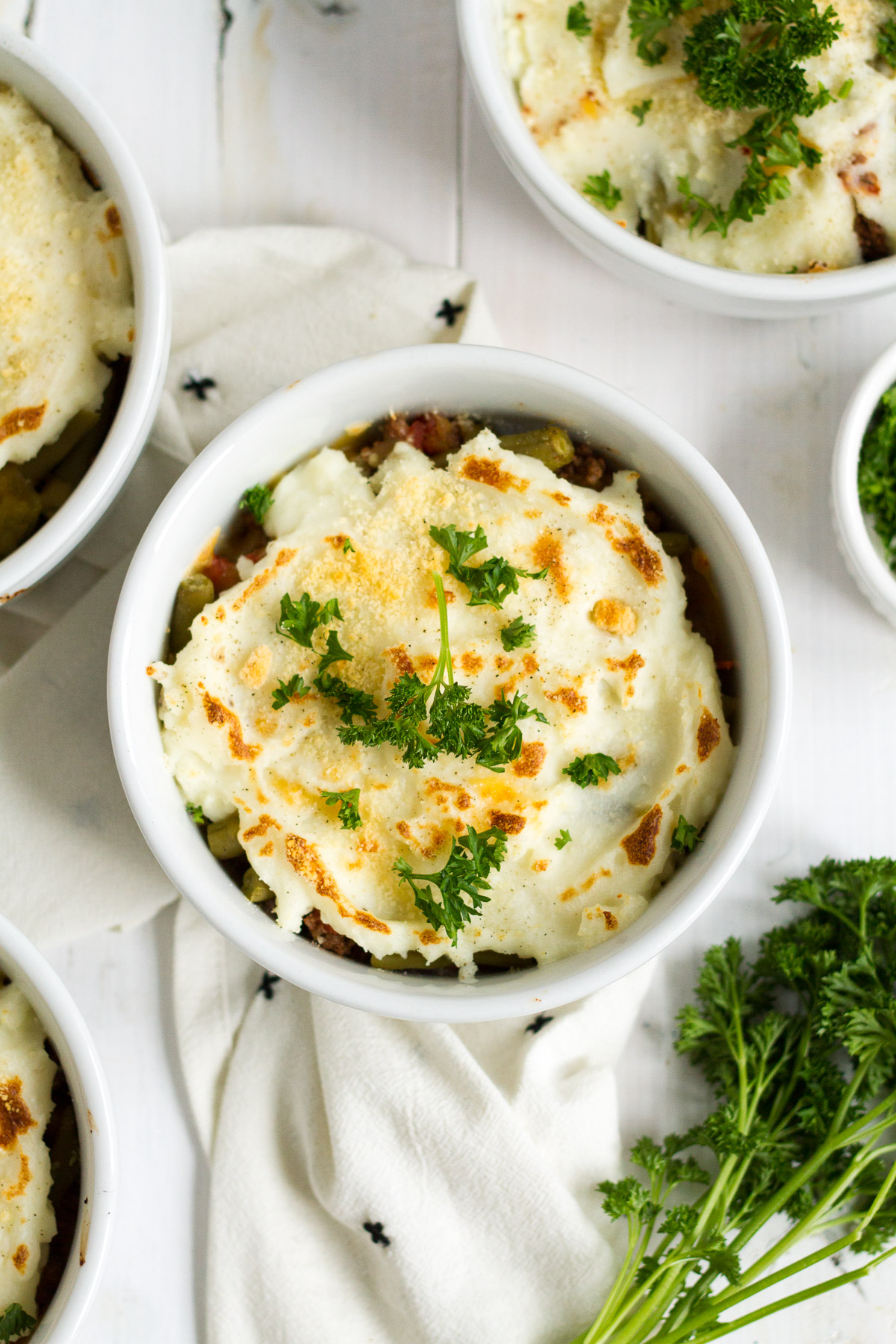 This post has been sponsored by Del Monte®. All thoughts and opinions are my own.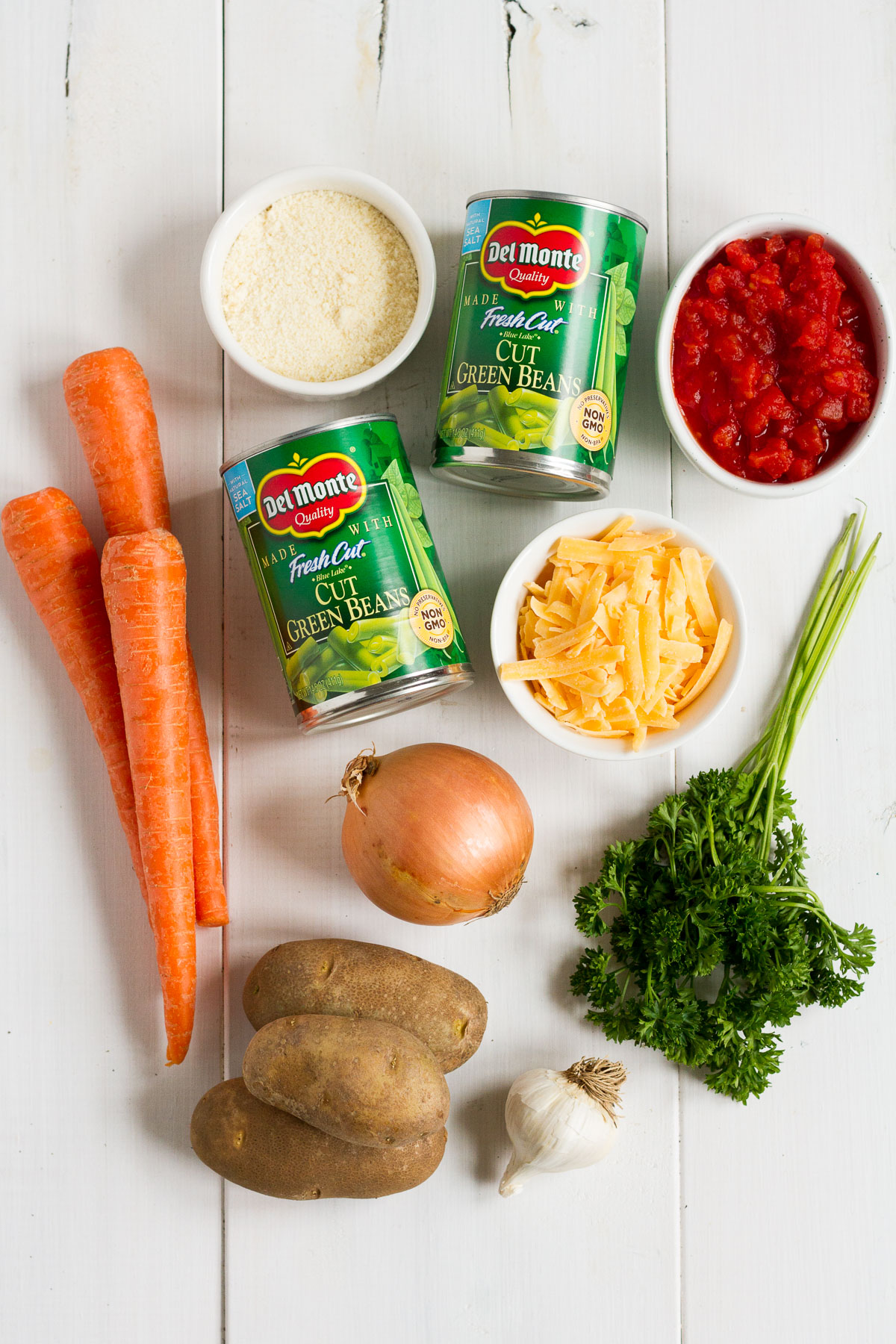 The holiday season is over and we are back into our school year routine. We have music lessons, sports practices, and school activities most weekday afternoons and evenings, so having quick and delicious dinners that we can easily throw together are a necessity. These individually-sized Italian-style shepherd's pies are a favorite with my whole family. It's a perfect comfort food dinner for cold, midwinter nights. This recipe uses lots of pantry staples, like Del Monte® canned vegetables, that we pretty much always have on hand, so I can add it to the menu without having to make a special trip to the grocery store. The tangy Del Monte® Petite Diced Tomatoes and herbs in the ground beef filling and parmesan cheese in the topping make it delicious and flavorful.
In my opinion, the star of any shepherd's pie is the green bean layer. We keep our pantry stocked with Del Monte® Fresh Cut Blue Lake Cut Green Beans, and they are perfect for these small individual shepherd's pies. And I love the fact that Del Monte's canned vegetables only have three ingredients: vegetables, water, and a dash of sea salt. I also like to put a layer of shredded carrots at the very bottom of my shepherd's pies for color and sweet flavor. You can use Del Monte® Fresh Cut Sliced Carrots in place of the shredded carrots as well. At the top of the shepherd's pies, a layer of mashed potatoes is sandwiched between two layers of cheese: creamy cheddar on the bottom and nutty parmesan on top. If we have leftover mashed potatoes from another dinner, shepherd's pie is a great way to use them up. If we don't have leftover homemade mashed potatoes, store-bought are a great alternative.
Add these delicious individual Italian-style shepherd's pies to your weeknight menu. They're quick, easy, and comforting.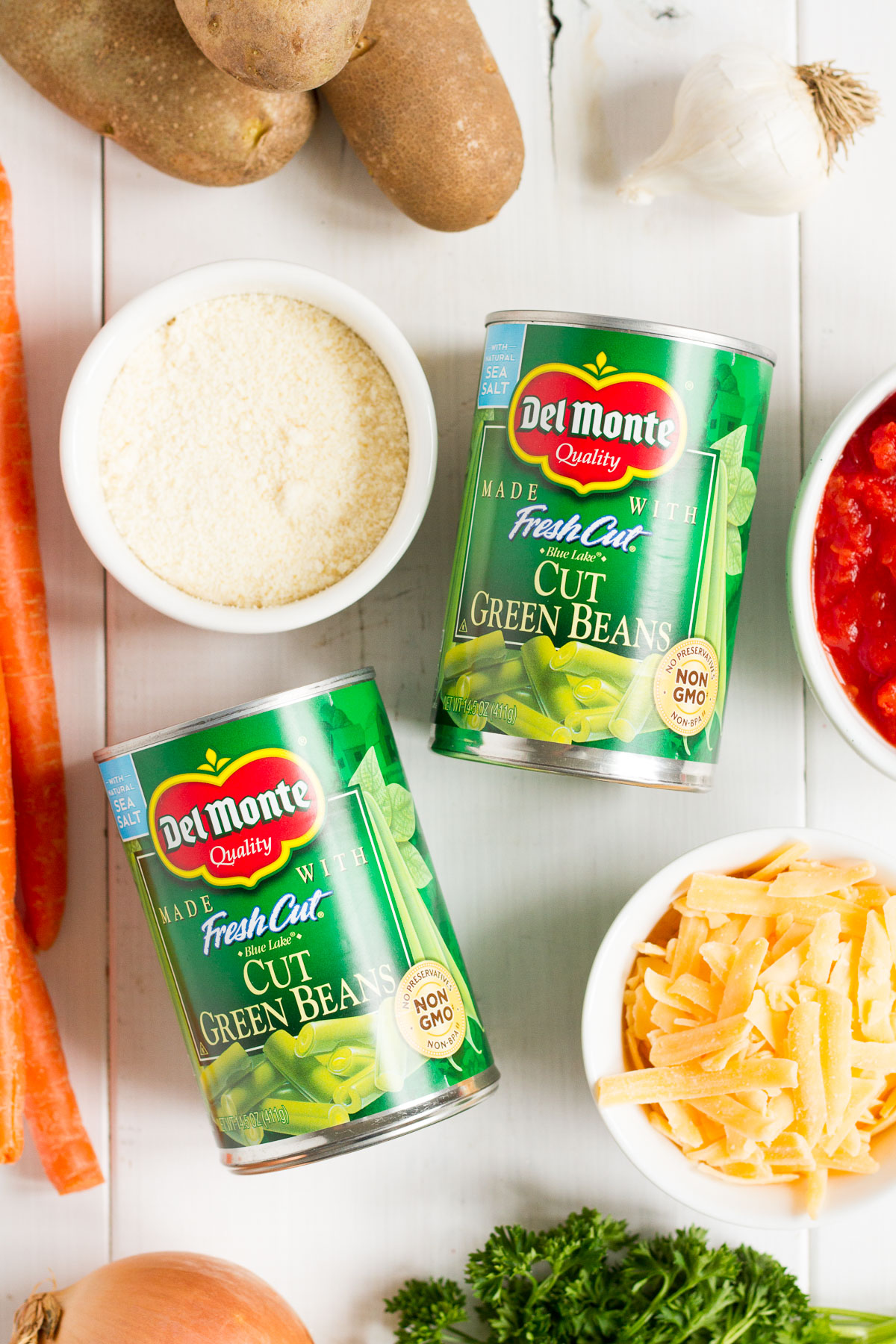 Individual Italian-Style Shepherds Pie
These individually-sized Italian-style shepherd's pies feature a ground beef filling with herbs and tomatoes, a topping of cheesy, parmesan mashed potatoes, and my favorite part of shepherd's pie, Del Monte® Fresh Cut Blue Lake Cut Green Beans!
Ingredients
1 lb ground beef
½ cup chopped onion (about ½ of a medium onion)
1 teaspoon minced garlic
kosher salt
freshly ground black pepper
1 teaspoon dried basil
1 teaspoon dried oregano
a pinch of sugar
4 carrots, washed, topped, and shredded or Del Monte® Fresh Cut Sliced Carrots
1 14.5-oz can Del Monte® Fresh Cut Blue Lake Cut Green Beans, drained
1 cup shredded medium cheddar cheese
3-4 cups mashed potatoes
grated parmesan cheese
finely chopped fresh parsley for garnish
Instructions
Preheat the oven to 350°F.
Crumble the ground beef in a large skillet over medium heat. When the ground beef begins to brown, add chopped onion and minced garlic. Sauté until beef is cooked through and onions and garlic are tender, 7-10 minutes. Add tomatoes, basil, oregano, and a pinch of sugar, and stir to combine. Add salt and pepper to taste.
Divide shredded carrots evenly among 4 individual-sized ovenproof baking dishes. Sprinkle with salt and pepper.
Divide beef mixtures evenly among baking dishes, then top with drained Del Monte® Fresh Cut Blue Lake Cut Green Beans. Sprinkle the green bean layer with salt and pepper, then top with cheddar cheese.
Evenly spread the mashed potatoes over the cheddar cheese, then sprinkle with salt, pepper, and parmesan cheese.
Cover baking dishes with foil and bake for 30 minutes. Remove the foil, turn on the broiler, and broil the shepherd's pies until they start to brown on top. Watch them carefully so they don't burn.
Remove from the oven, sprinkle with parsley, and serve immediately.
Notes
You can make 6 smaller servings instead of 4 large servings.