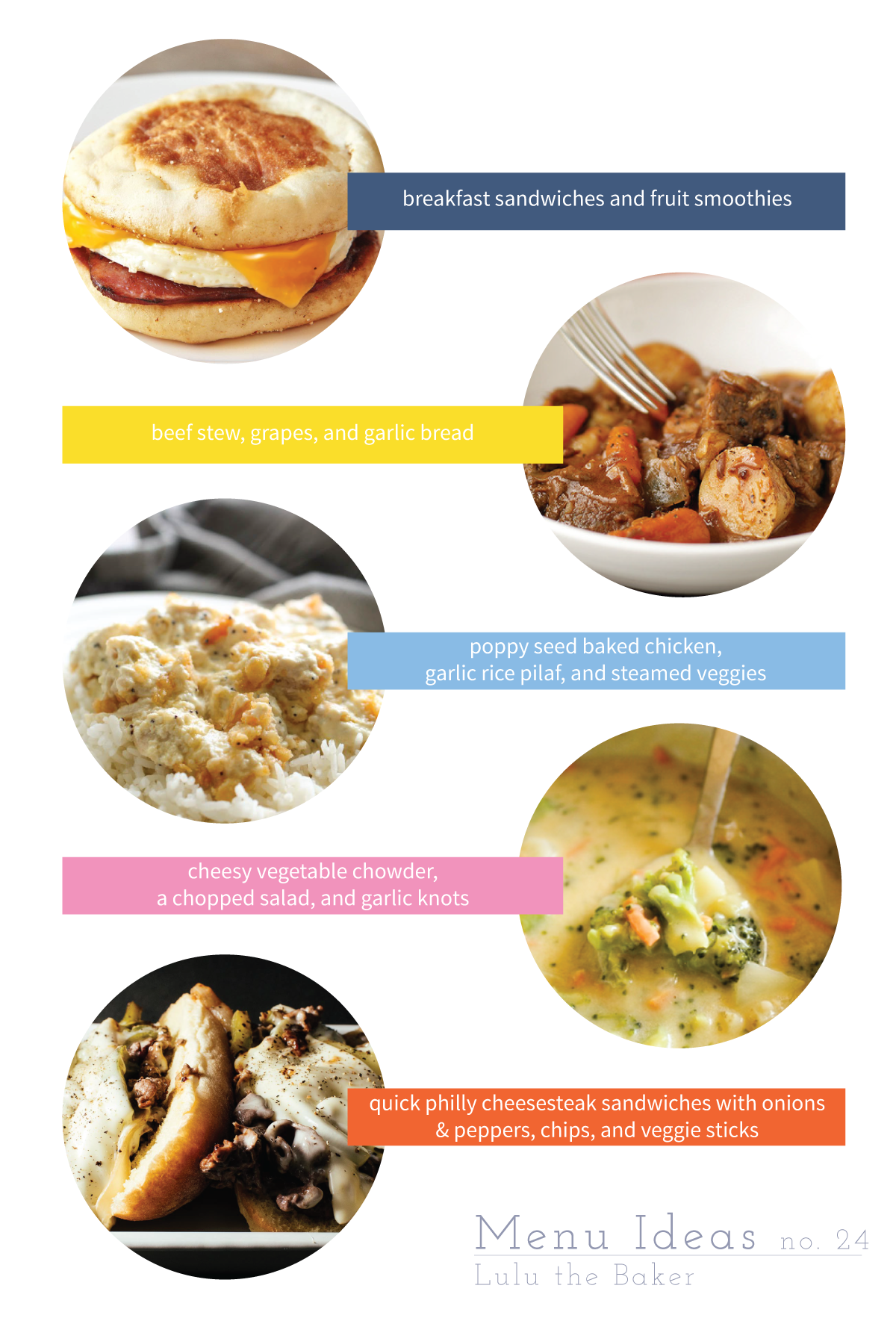 It's the beginning of a new year, which means it's resolution time. One of the resolutions I hear about from friends and readers every year is eating more homemade meals together as a family. We kind of always have that goal, but even in our case it's nice to recommit to something good. So I wanted to start off the new year with a new Menu Ideas post. I didn't get around to putting as many of these posts together as I wanted to last year, but hopefully I can be more regular about it in 2018. I know I love getting ideas for quick, easy weeknight dinners that are popular with my whole family, and I hope these posts are both inspirational and practical for you guys.
**This post contains affiliate links. You can read more about them on our policies page.**
Breakfast Sandwiches and Fruit Smoothies
A few years ago, my brother gave us a really utilitarian Christmas gift that ended up being one of the best things we've ever gotten. He gave us Canadian bacon, cheddar cheese slices, and a little microwave egg maker. That gift launched a love affair with breakfast sandwiches that is still going strong years later. We love breakfast sandwiches for breakfast on the weekends, but they make a really easy, really delicious weeknight dinner too. And just this past Christmas, my parents gave us a breakfast sandwich machine. I was a little dubious that it would be better than our old go-to system, but it is pretty nifty and really fast. The good thing about breakfast sandwiches though, is that you don't need any kind of fancy contraption to make them. Toast english muffins, mini bagels, biscuits, or bread, add ham or canadian bacon or regular bacon or a sausage patty, top with your favorite cheese, one egg cooked the way you like it best, and another piece of bread, and you're ready! [photo from Serious Eats]
Beef Stew, Grapes, and Garlic Bread
Beef stew sounds really complicated, right? But my mom's recipe is delicious and easy. Salt and pepper a package of stew meat (about 1 1/2 lbs), and sauté it with a chopped onion and a little olive oil in an oven-proof pot (like a dutch oven) until the meat is browned on all sides. Add 1 packet of either Good Seasons Italian Dressing Mix OR Lipton's Onion Soup Mix (you'd be surprised how similar the end results taste). Add 4 cups chicken broth. Put in a 285°F oven, covered, for 1 hour. Add chopped carrots and potatoes (I try to get equal amounts of meat, carrots, and potatoes), and a bay leaf or 2, cover, and cook for another hour. That's it! It obviously isn't the kind of dinner you can throw together at the last minute, but it is pretty darn easy, and the finished stew is the very best kind of comfort food, especially for cold winter nights. [photo from Martha Stewart]
Poppy Seed Baked Chicken, Garlic Rice Pilaf, and Steamed Veggies
Sometimes, you just get a hankering for something. A few weeks ago, I couldn't stop thinking about this yummy chicken casserole with poppy seeds and crushed Ritz crackers. I looked over a dozen different recipes, and finally settled on one from Six Sisters Stuff, and it was so good. I literally couldn't stop eating it. I had to leave the kitchen and have my husband clean up and do the dishes because I kept sneaking bites of the leftovers. Unlike a lot of other poppy seed chicken casserole recipes out there, this one calls for garlic and worcestershire sauce, which makes it a slam dunk, at least in my book. Instead of serving it with plain white rice, which probably would have been delicious, I made our very favorite Garlic Rice Pilaf. It takes a little more work that regular white rice, but it's pretty amazing, and always worth the effort. If you have time, be sure to make the garlic rice; if you are trying to squeeze dinner into an already busy night, white rice is just fine.
Cheesy Vegetable Chowder, a Chopped Salad, and Garlic Knots
This cheesy, comforting chowder is one of my most popular recipes ever, and with good reason: it tastes really good! My family loves it, even the picky eaters. It requires a little chopping, but is ultimately a great midweek dinner. And the leftovers are even better. It gets a lot of love on pinterest as a slow cooker recipe, but I've never, ever made it in the slow cooker. I always make it on the stovetop. You are welcome to read through the comments on the original post; lots of readers have posted their slow cooker directions over the years. However you decide to make Cheesy Chowder, I'm sure you'll love it just as much as we do.
Quick Philly Cheesesteak Sandwiches with Onions & Peppers, Chips, and Veggie Sticks
My parents lived in Philadelphia when they were newlyweds. In fact, my brother and I were both born there. My parents loved eating Philly Cheesesteaks from Geno's, and after we moved, my mom started making homemade Philly Cheesesteaks often. This is the quick version of her recipe, which she and the rest of us all make now. My kids love these just as much as I did when I was their age! Buy good, sliced roast beef from the deli. The more rare the better since you'll be cooking it. Get at least 1/4 lb per sandwich. For 4 regular-sized sandwiches, we typically use 1 1/4 lbs. You'll also need 1 1/2 squares of sliced american cheese per sandwich. Don't buy the pre-wrapped singles. Have the deli slice it for you. Thinly slice half an onion and half a bell pepper (whatever color you want). Sauté the onion and pepper in extra-virgin olive oil over medium heat until tender, about 10 minutes. Season with salt and pepper. Chop the roast beef and add it to the onions and peppers. Sauté until the meat is heated through, then turn off the heat and add the cheese. Stir until the cheese is evenly distributed. Serve on hoagie rolls. [photo from I Am A Food Blog]
It feels so good to write those menu ideas up! If you need even more ideas for what to make your family for dinner, be sure to click HERE and browse the rest of the posts in the series. They're all winners! And I just started a new series on Instagram yesterday posting our dinner menu for the week. Not all of those recipes have been tested yet, but I thought it would be fun to share what we've got planned each week.
SaveSave