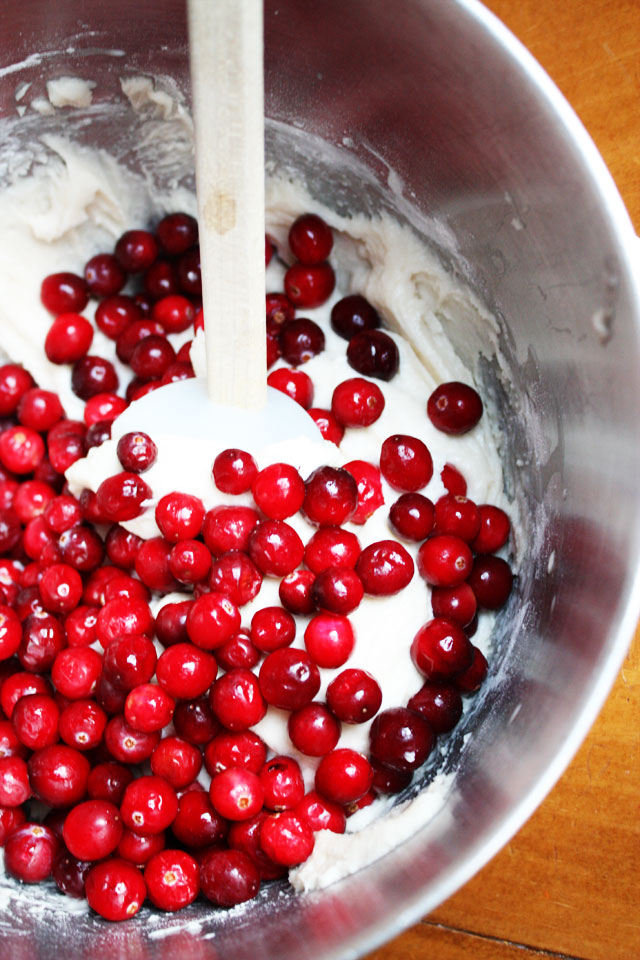 You can find updated pictures of this Cranberry Cake recipe by CLICKING HERE.
For some reason, this cranberry cake is one of those recipes that I imagine cranberry farmers eating on special occasions back in the olden days, or the Ingalls family anxiously awaiting every holiday season. It seems deliciously old-fashioned, like the kind of recipe a family would save up all their sugar for and bake as a special treat for Christmas.
The cake itself is moist and dense, almost like a shortcake. The fresh cranberries in the batter practically melt while the cake bakes, giving each bite little bits of ruby-red color and a bright, tart flavor that nicely contrasts the simple sweetness of the cake.
But the real star of the show is the hot butter sauce. Made with melted butter, sugar, and cream, and finished off with a little vanilla, it is so delightfully sinful! No matter how much I put on my cake at the beginning, I always go back for more before my piece is gone.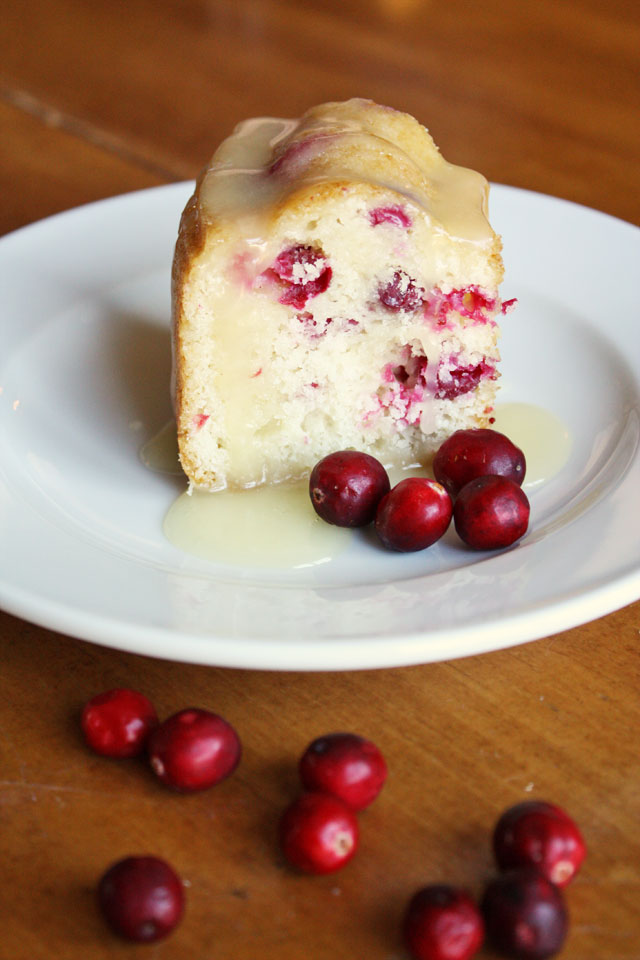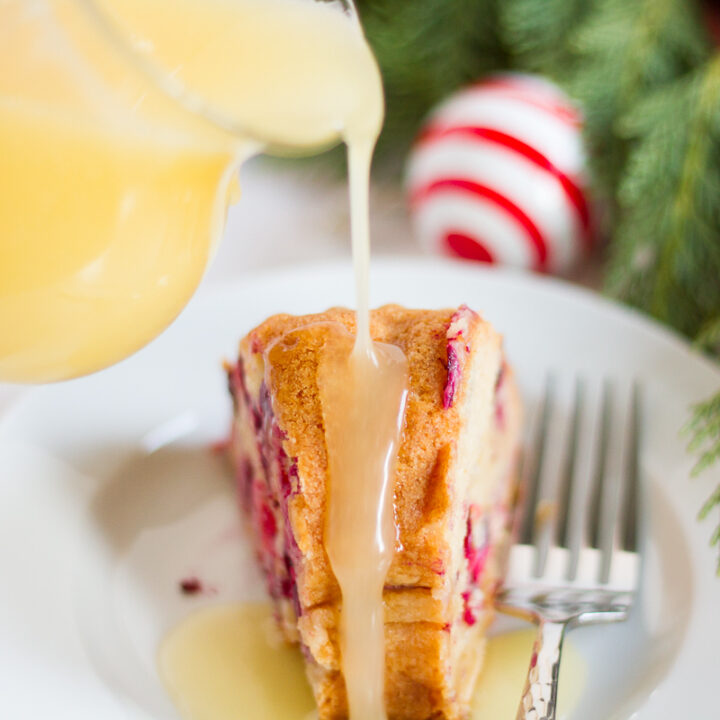 Fresh Cranberry Cake with Hot Butter Sauce
Total Time:
1 hour
10 minutes
This fresh cranberry cake is beautiful and delicious, a unique dessert to serve during the holidays. Don't skimp on the hot butter sauce: it's the best part!
Ingredients
for the cake
4-5 cups fresh cranberries (about 1 [12-oz] bag)
1 stick (1/2 cup) unsalted butter, softened
2 cups sugar
1 can (12-oz) evaporated milk
4 cups flour
2 teaspoons salt
2 Tablespoons baking powder
for the hot butter sauce
2 sticks (1 cup) butter
2 cups sugar
1 cup cream
2 teaspoons vanilla
Instructions
Preheat the oven to 350°F. Spray a standard bundt pan with nonstick cooking spray, preferably the kind with flour in it, especially for baking. You can alternately butter and flour the pan, but be sure to get all the nooks and crannies.

Wash and pick through the cranberries, removing and discarding any mushy ones; set the rest aside to dry.
In the bowl of a stand mixer, combine butter and sugar until fluffy. Add milk and beat until combined.
In a medium bowl, combine flour, salt, and baking powder. Add dry ingredients to mixer and stir until just combined.
Gently fold in the cranberries.
Spread the batter in the prepared pan. The batter will be very thick, almost like cookie dough or brownie batter.
Bake for 50-60 minutes, until a wooden skewer inserted in the middle of the cake comes out clean. If the top of the cake starts to get too brown before the inside is done baking, loosely lay a piece of aluminum foil on top of the cake while it finishes baking.
Remove cake from oven and allow to cool for 15 minutes before inverting it onto a cooling rack and removing the pan.
To make the hot butter sauce, melt the butter In a small saucepan. Stir in sugar and cream, and heat until sugar is melted and sauce is hot. Do not boil! Remove from heat and stir in vanilla. Serve hot sauce over cake. The cake can be served warm or at room temperature.
Notes
I promise the recipe is correct as written. It does not call for any eggs, but does call for 2 full Tablespoons of baking powder. If you are feeling doubtful, just give it a try. I think you'll love it. xo