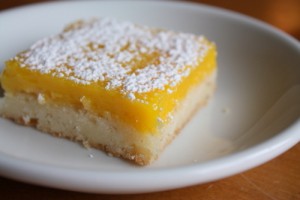 A few years ago, my husband bought me a meyer lemon tree for Mother's Day. Since we live in the dark, cloudy Pacific Northwest, my meyer lemon harvests are few and far between, so I only let myself use them for very special purposes. I avoided using my seven little lemons from this year's round-up for months, paralyzed by fears that I would waste them on a recipe that wasn't deserving of their deliciousness. After making these tart, creamy lemon bars, I'm glad I waited for the perfect recipe. I can't imagine my meyer lemons lending their unique half lemon/half mandarin orange zing to a more amazing recipe. The shortbread crust has a perfect not-too-crumbly texture and salty-sweet flavor, and the lemon curd, filled with zest and lemon juice and sugar and butter and cream and eggs and all things delicious, is silky and luxurious. My only regret is that I won't have another meyer lemon harvest until next year. I guess I'll just have to go buy a giant bag of meyer lemons from Costco like a normal person.
Meyer Lemon Bars
based on a recipe from the America's Test Kitchen Family Cookbook, which is always one of the first places I look when trying to find a recipe for something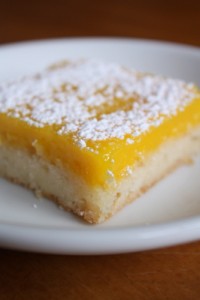 1 1/4 cups flour
1/2 cup powdered sugar, plus extra for sprinkling
salt
12 Tablespoons unsalted butter, cut into 12 equal pieces and softened
7 large egg yolks (Part of the reason my bars have such a deep, lovely golden color is that I use farm fresh eggs. They're just better, plain and simple.)
2 large eggs
1 cup plus 2 Tablespoons sugar
2/3 cup fresh meyer lemon juice
1/4 cup meyer lemon zest (Zest your lemons before you try to juice them.)
3 Tablespoons heavy cream
Preheat oven to 350 degrees F. Line an 8- or 9-inch square pan with foil, leaving enough hanging over the sides that you'll be able to lift the lemon bars out using it. Spray the foil with nonstick spray, and set aside. In a food processor or stand mixer, combine flour, powdered sugar and 1/2 teaspoon salt, then add 8 Tablespoons of softened butter. Blend just until mixture gets sandy. Press firmly into the bottom of the prepared pan, and bake until golden, about 20 minutes. Meanwhile, combine egg yolks and whole eggs in a nonreactive saucepan. Whisk in sugar, then lemon juice, zest, and a pinch of salt. Add remaining 4 Tablespoon butter and cook over medium-low heat until mixture thickens and heat to a temperature of 170 degrees F. Strain mixture into a nonreactive bowl and stir in cream. Pour warm lemon curd over hot crust. Bake until curd is set and jiggles only slightly, 10 to 15 minutes (I baked mine in an 8-inch pan and went for the full 15 minutes, and they were dreamy.) Let cool completely on a wire rack before removing from pan and cutting. Serve dusted with powdered sugar.