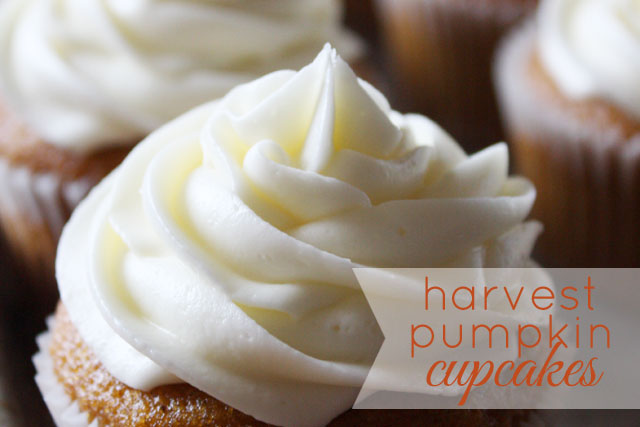 I have lots of cousins on both sides of my family, but my cousin Mat is the one I was always closest with growing up. He is only a few months older than me, and his family lived within a day's drive of us, so there were always a few weeks during the summer when our families would get together. When we were little, we both loved to cook, and we hatched a plan to open a catering company together when we grew up. We were going to name it Cousins Catering, and for the rest of that summer, we sent each other envelopes full of recipes in the mail. Neither of us ended up going into the catering business (although he owns a candy shop, so that's pretty darn close!), but he emailed me this delicious recipe for pumpkin cupcakes last October, and it has become a favorite in both our families.
These pumpkin cupcakes are a classic Fall treat. The batter is flavored with pumpkin and delicious spices like cinnamon and nutmeg, and the cream cheese frosting on top makes a perfect partner. They are easy to make, and perfect for Halloween parties, harvest gatherings, and after school snacks. Whip up a batch of your own pumpkin cupcakes this afternoon!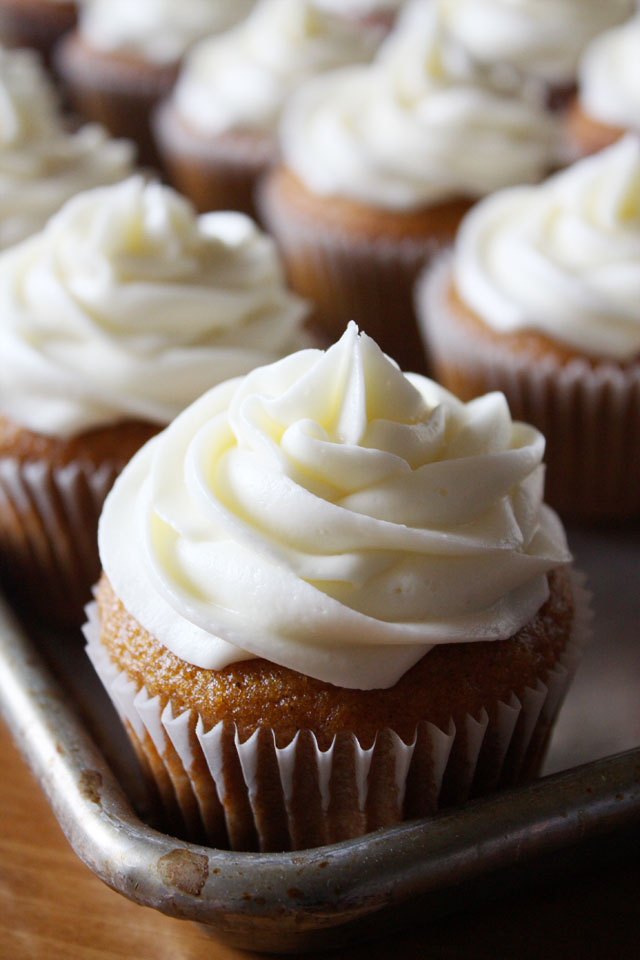 Harvest Pumpkin Cupcakes
A delicious, classic pumpkin cupcake recipe with cream cheese frosting!
Ingredients
for the cupcakes
4 eggs, beaten
¾ cup oil
2 cups sugar
1 small (15-oz) can pumpkin
1¾ cups flour
¼ cup cornstarch
4 teaspoons pumpkin pie spice
2 teaspoons baking powder
1 teaspoon baking soda
¾ teaspoon salt
for the frosting
1 stick butter, softened
1 8-oz brick cream cheese, softened
4 cups powdered sugar
2 teaspoons vanilla
Instructions
To make the cupcakes, preheat oven to 350°F.
In a large bowl, beat eggs, oil, sugar, and pumpkin until smooth; set aside.
In a medium bowl, combine all remaining ingredients. Add dry ingredients to pumpkin mixture and beat until well-blended.
Divide mixture evenly among 24 prepared cupcake tins (either lined with paper baking cups or sprayed with nonstick cooking spray). Bake 15-20 minutes, until center springs back when lightly pushed. Allow to cool completely before frosting.
While the cupcakes are cooling, combine the butter and cream cheese in a large bowl, and beat until smooth. Add powdered sugar and vanilla, and beat until smooth and fluffy. When cupcakes are cool, frost away!