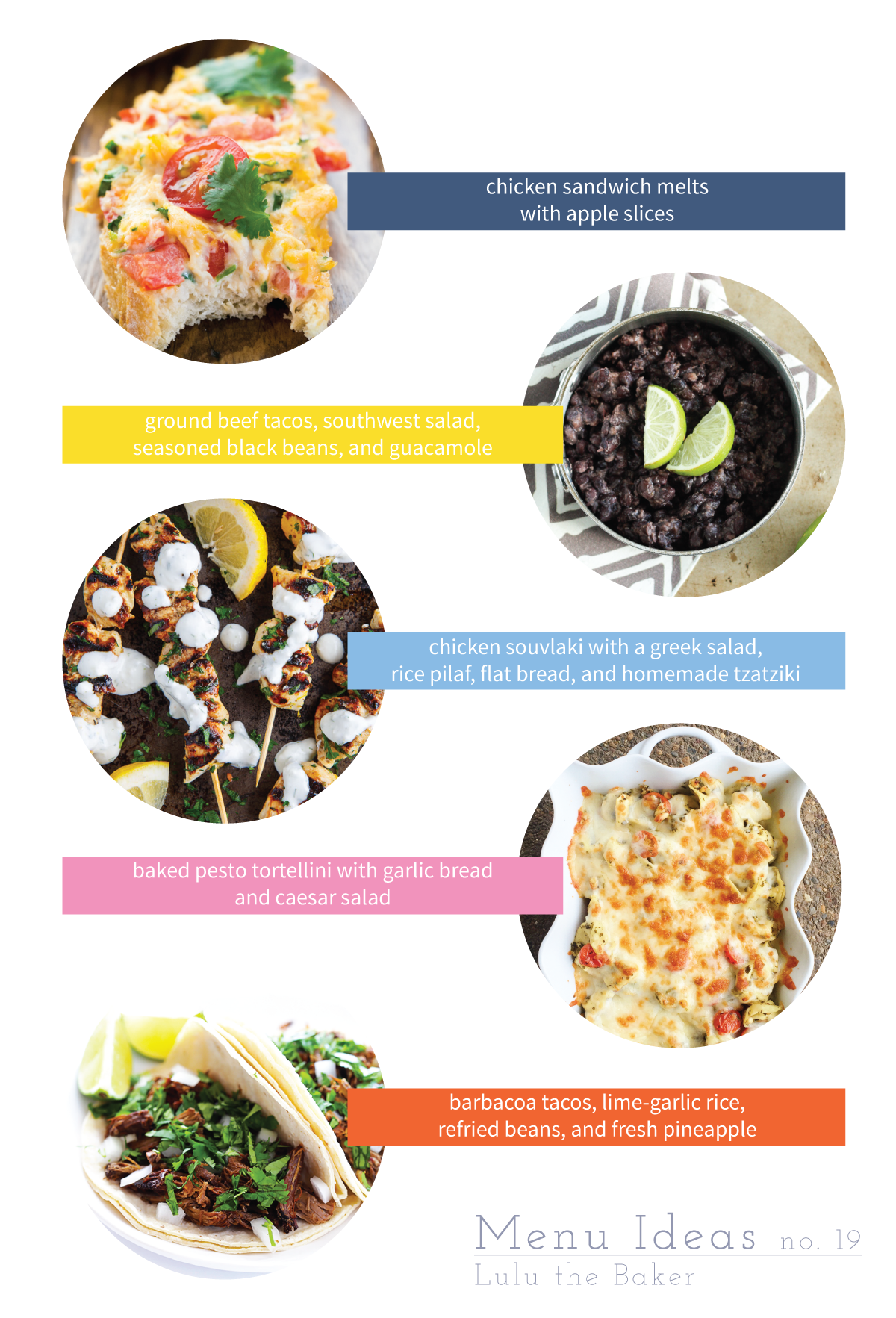 Menu time! Have you guys been as busy as we've been lately?? I feel like we'll have a week here and there that is peaceful, and then we'll spend a few months on some crazy schedule shuttling kids from activity to activity until we get to the next week of peace and calm. Spring Break was really relaxing for us. We stayed home, worked in our garden, did a few fun things locally, and just enjoyed the free time. And now we're right back to the craziness. We keep saying, "We only have to do this for a few months until soccer/theater/basketball/art class is done, and then life will be back to normal." But I think this might be the new normal. Anyhow, our current list of after-school activities leaves very little time to enjoy long, sit-down family dinners. So I've been extra mindful of our weeknight dinner menu. Here are a few of the relatively quick and easy menu ideas we've enjoyed lately:
Chicken Sandwich Melts and Apple Slices
Chicken salad is one of our go-to quick and easy meals. We always have the ingredients on hand, and it's wholesome and filling. A recent chicken salad adaptation we really loved were these chicken sandwich melts from Natasha's Kitchen. Because they get topped with cheese and popped in the oven, they seem extra well-suited to chilly Spring evenings. We had ours with apple slices, which complimented the toasty cheese sandwiches nicely.
Ground Beef Tacos with a Southwest Salad, Seasoned Black Beans, and Homemade Guacamole
We eat a lot of tacos in this family. They are always pretty easy to make, and picky eaters can eat them plain while the rest of us can dress them up with all sorts of delicious toppings. Old-fashioned ground beef tacos are a favorite around here. Sometimes, if we are really short on time, we'll use flour tortillas, but everyone likes them best served in fried corn tortillas. This time around, we paired them with a southwest chopped salad (anybody else really into chopped salads lately??), easy, seasoned black beans, and some homemade guacamole. Delicious!
Chicken Souvlaki with a Greek Salad, Rice Pilaf, Flat Bread, and Homemade Tzatziki
Back in January, my husband and I took our girls to our local Women's March. It was a cold, grey, rainy day, but we had a great time and felt very connected to our community and other marchers around the world. After the march, we walked to a little shopping area downtown and ate at their International Cafés. My oldest daughter ordered a plate from the Greek counter, and it looked so good that I decided to do the same. Long story short, it was amazing and I decided I had to try and recreate it at home. We've tried a few different souvlaki recipes, and the recipe I used this time came from Closet Cooking. I didn't feel like grilling that day, so I shook the excess marinade off each piece of chicken and cooked them in a hot skillet on the stove top instead, and they were fab. To be absolutely honest, I served our chicken with Rice-a-Roni rice pilaf because it is a quick side dish and I happen to love it. I made up for the box mix by making some delicious homemade tzatziki and serving it with our favorite garlic naan bread. For the tzatziki, I adapted a recipe from Jo Cooks, and it was honestly the best tzatziki I've ever had. Here it is in a nutshell: Grate 1 large English cucumber. Stir in 1/4 teaspoon salt, let it sit for 15 minutes, then strain out all the water. Combine the cucumber with 2 cups full-fat Greek yogurt, 2 cloves garlic, pressed or finely minced, 2 Tablespoons fresh lemon juice, and 2 teaspoons dried dill. Mix it all up, add kosher salt and freshly ground black pepper to taste. Cover and refrigerate until ready to serve. So good!!!
Baked Pesto Tortellini with Garlic Bread and Caesar Salad
Another of our go-to busy night dinners is pesto tortellini. I buy the refrigerated tortellini packages, cook them up, top them with whatever pesto I can find, and add toasted pine nuts, quartered grape tomatoes, and mozzarella cheese. This time, I put everything in a baking dish with the cheese on top and baked it until bubbly. We loved it!
Barbacoa Tacos, Lime-Garlic Rice, Refried Beans, and Fresh Pineapple
Another yummy taco night! We love these barbacoa tacos from Gimme Some Oven. The meat is really easy to make and tastes delicious when it is done. Instead of just adding all of the ingredients to the crockpot, I put everything except the meat and bay leaves in a blender first to make a smooth marinade. We've also used this recipe to make beef enchiladas and quesadillas. It's good on everything! The lime-garlic rice was a riff on this garlic rice pilaf from Annie's Eats. We make Annie's garlic rice all the time and love it, but this time I used lime juice instead of lemon juice, and tossed in some chopped cilantro at the end. We rounded out the meal with cheesy refried beans and some fresh pineapple slices.
Whew! We made it through another week! Enjoy your weekend, and if you have any favorite dinners that are perfect for busy weeknights, leave a comment below. I'd love to get more menu ideas. Happy menu planning!