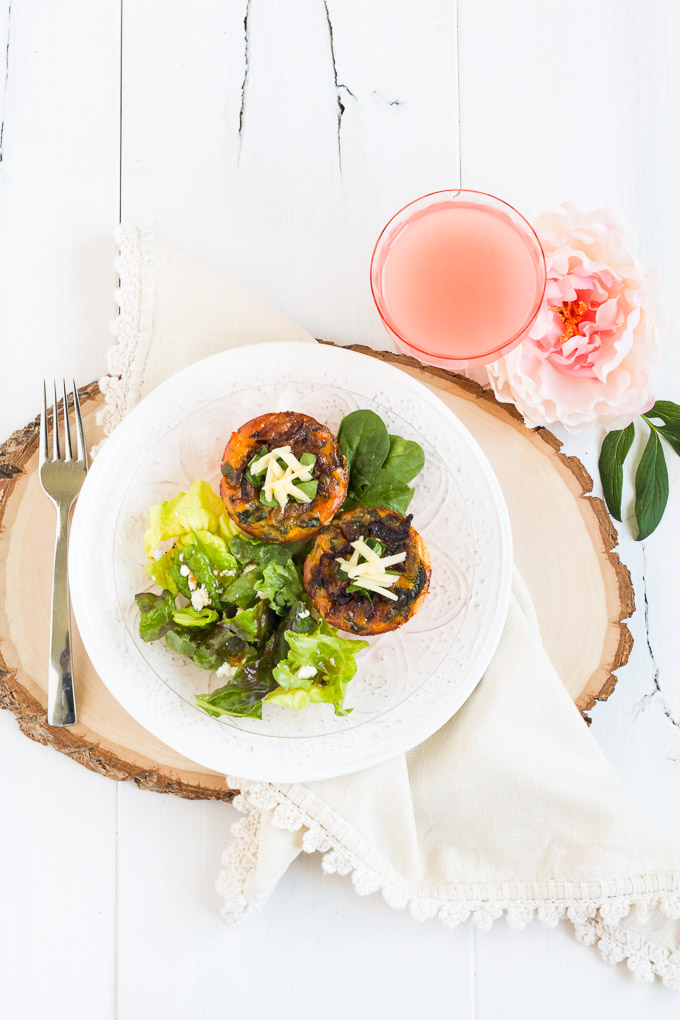 This recipe was created in partnership with Fred Meyer.
I think someone needs to make a romantic comedy starring me and quiche. It's a classic tale: girl meets quiche, girl hates quiche with a passion, girl ultimately realizes that she doesn't hate quiche at all but actually loves quiche and thinks it's basically the most delicious thing in the world. It'd be an award-winner for sure.
I don't remember why I didn't start out in life liking quiche, but as a huge quiche proponent now, I can't see what there is not to love about it. It has a silky texture and delicate, savory flavor, which you can customize however you like with salty cheeses, earthy vegetables, and delicious meats. You can give it a pasty crust or leave it crustless to suite your whims, and it's appropriate for breakfast, lunch, dinner, and any meal in between. It's magically light and filling at the same time, and somehow walks the line between wholesome and decadent.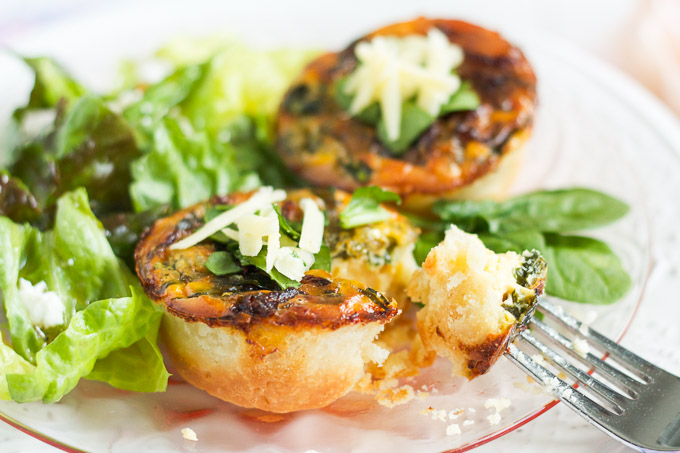 I think my mom's quiche recipe is the best I've ever had, and it is the standard to which I compare all other quiches. It starts with a buttery, flaky crust that you can press right into the pan, moves on to a savory filling of onions and cheese, and ends with a perfectly-balanced custard that bakes up neither too eggy nor too fluffy. And instead of baking one big quiche, my mom has always baked individual mini quiches in muffin tins, so they are cute and easy to serve. I changed up my old stand-by for a meatless version with sweet caramelized onions and spinach, which is perfect for a Spring menu.

Caramelized Onion, Spinach, & White Cheddar Quiche
A buttery cream cheese pasty crust and custard filling full of caramelized onions, cheese, and spinach make this quiche a savory favorite!
Recipe type:
Breakfast, Brunch
Serves:
1 dozen mini quiche
Ingredients
for the caramelized onions
½ Tablespoon butter
½ a large onion
salt and pepper
for the crust
½ cup butter, at room temperature
3 oz cream cheese
1 cup flour
a pinch of salt
for the quiche
1 cup shredded white cheddar cheese
1 cup finely chopped baby spinach
caramelized onions
4 eggs
12 oz evaporated milk (or whole milk)
¾ teaspoon salt
¼ teaspoon sugar
freshly ground black pepper
Instructions
To caramelize the onions, begin by melting the butter in a skillet over medium heat. Slice the onion half into very thin strips, add to the skillet, and stir to coat. Spread the onions out evenly over the bottom of the pan, reduce the heat to low, and let the onions cook gently until they are deeply golden, stirring as infrequently as possible. Remove from heat, season lightly with salt and pepper, and set aside to cool.
Preheat the oven to 350°F. While the onions are caramelizing, make the dough for the crust. In a large bowl or in the bowl of a stand mixer, beat softened butter and cream cheese until smooth. Add flour and salt, and mix until combined. Divide the dough into 4 equal parts, then divide each part into 3 more parts. You should have 12 balls of dough altogether. Press each ball of dough into the bottom and up the sides of a muffin tin. Set aside.
In a medium bowl, combine cheese, spinach, and cooled, caramelized onions. Divide the mixture evenly among the muffin tins.
In a large measuring cup or bowl with a pour spout, whisk eggs, milk, salt, sugar, and black pepper until smooth. Divide the custard mixture evenly among the muffin tins, being careful not to overfill each quiche. You might have leftover custard.
Bake the mini quiches for 35-45 minutes, until golden on top, and until a knife stuck in the center of a quiche comes out with clear liquid on it, but not cloudy liquid. Serve warm or at room temperature.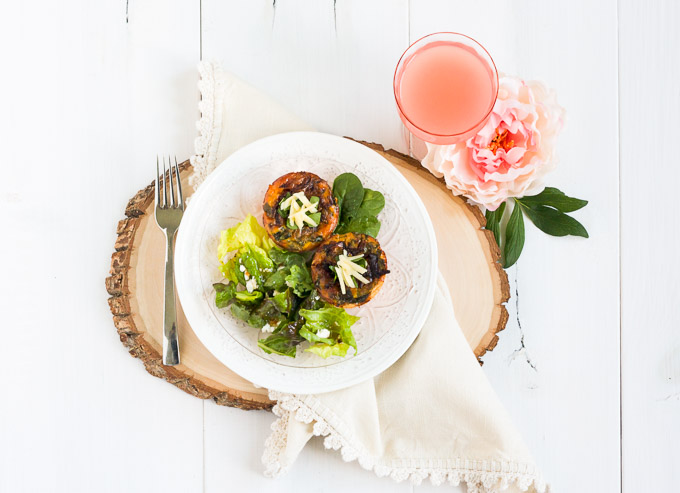 With Mother's Day just around the corner, now's the time to start planning your Mother's Day brunch menu. These quiche are the perfect addition to any brunch table for a couple of reasons: they're absolutely delicious, and they're already divided up into individual, mess-free servings. This caramelized onion, spinach, and white cheddar version is great, and so is the original, which has diced onions, crispy bacon, and medium cheddar. I always like pairing quiche with a salad; the light, freshness of the salad balances out the richness of the quiche. Two of my favorite Spring salads are a spinach salad with strawberries, avocado, and sugar snap peas, and a butter lettuce salad with grapefruit, avocado, and pomegranate seeds. Another great addition to your brunch menu would be a light bruschetta. Instead of savory bruschetta, I love these slightly sweeter, brunch-appropriate versions: bruschetta with lemon-scented ricotta drizzled with honey, or bruschetta with minted cream cheese and fresh berries. For dessert, some individual no-bake lemon cheesecakes or glazed grapefruit mini cakes would be perfect, and for the chocolate-lovers, little trifle dishes filled with chocolate lush. What's on your Mother's Day brunch menu?
This post is sponsored by Fred Meyer. Thanks for supporting the companies that help support Lulu the Baker.