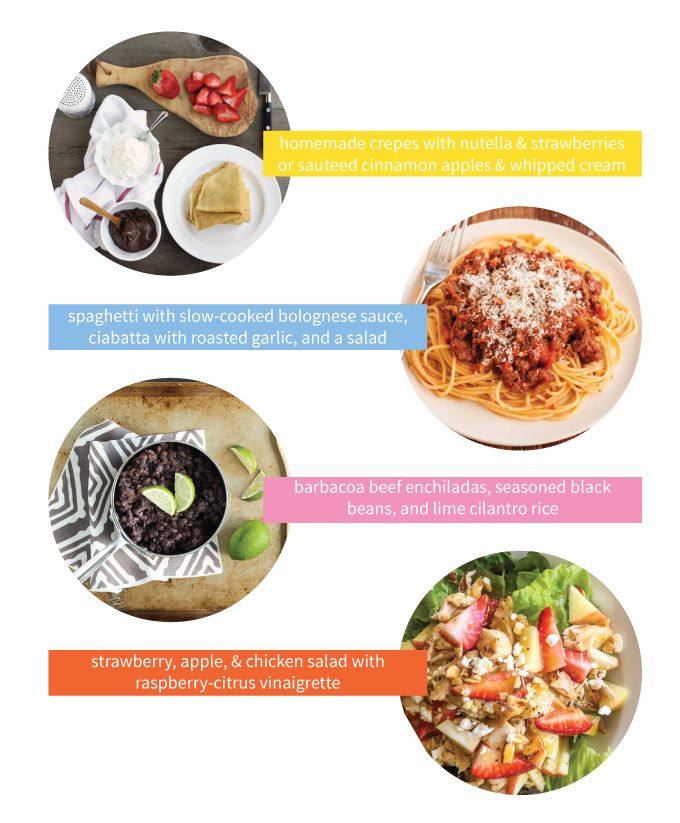 Happy Saturday, and welcome to our 8th installment of This Week's Menu Ideas, where I share the delicious and easy weeknight dinners we enjoyed this week. We had a couple of misses, but lots of tasty hits that I think you'll love.
Homemade crepes with nutella & sliced strawberries or sautéed cinnamon apples & whipped cream
If you ask our second oldest what she wants to eat, you'll always get the same answer: crepes! Breakfast, lunch, or dinner, she always asks for crepes. I've been having the kids help make our menu each week, and of course crepes were requested. We love ours with nutella, sliced strawberries, and whipped cream, but equally delicious is a filling of sautéed cinnamon and brown sugar apples topped with whipped cream. I kept going back and forth from one to the other trying to choose a favorite. And it can't be done—they're both so delicious! You can find the recipe for homemade crepes HERE, and the recipe for the sautéed cinnamon & brown sugar apples HERE.
Spaghetti with slow-cooked bolognese sauce, ciabatta with roasted garlic, and a salad
Our oldest chose spaghetti and meat sauce for dinner this week, and I decided to try my hand at homemade bolognese. This recipe from The Kitchn for slow-cooked bolognese sauce takes a little time in the morning, but then it just simmers all day in the slow cooker, making your house smell wonderful and tempting you to peek inside. We made a buttery, savory ciabatta bread with roasted garlic to go with it. If you've never roasted garlic before, you'll be impressed with how easy it is.
Barbacoa beef enchiladas, seasoned black beans, and lime-cilantro rice
We had lots of that delicious barbacoa left over from last week's shredded beef tacos, so I froze it and used it this week in enchiladas. And they were delicious, as you would imagine! We had them with our favorite seasoned black beans and lime-cilantro rice. Now, I've had a few different versions of lime-cilantro rice, but this one wasn't a keeper. In fact, we didn't like it at all. When I find one that we think is amazing and want to make again and again, I'll be sure to share it.
Strawberry, apple, & chicken salad with raspberry-citrus vinaigrette
This was the last lunch salad we ate this week (as in we just had it yesterday), but it was so good, I think I'll recreate it next week too. The flavors were fresh and delicious, the combination of textures was perfect, and it was beautiful. I used red leaf lettuce, diced rotisserie chicken, sliced strawberries, diced honeycrisp apples, honey-roasted sliced almonds, crumbled feta, and a delightfully tangy raspberry-citrus vinaigrette that you can find in my new book, Scandinavian Gatherings! You'll have to wait until the book comes out on September 27th to get your hands on it, but if you want to pre-order a copy, this post has links to online retailers where you can order it today!
If you've been following along with this series, you'll notice that while there are usually five recipes for easy weeknight dinners, this week we only have four. That's because one of our recipes was a total and complete dud, and I don't share duds. I mean, we all ate it, but I didn't even save the leftovers, and I always save leftovers. My fingers are crossed for 5 great dinners next week!
If you need more great menu ideas, check out past week's menus HERE. Have a wonderful weekend, and happy menu making!