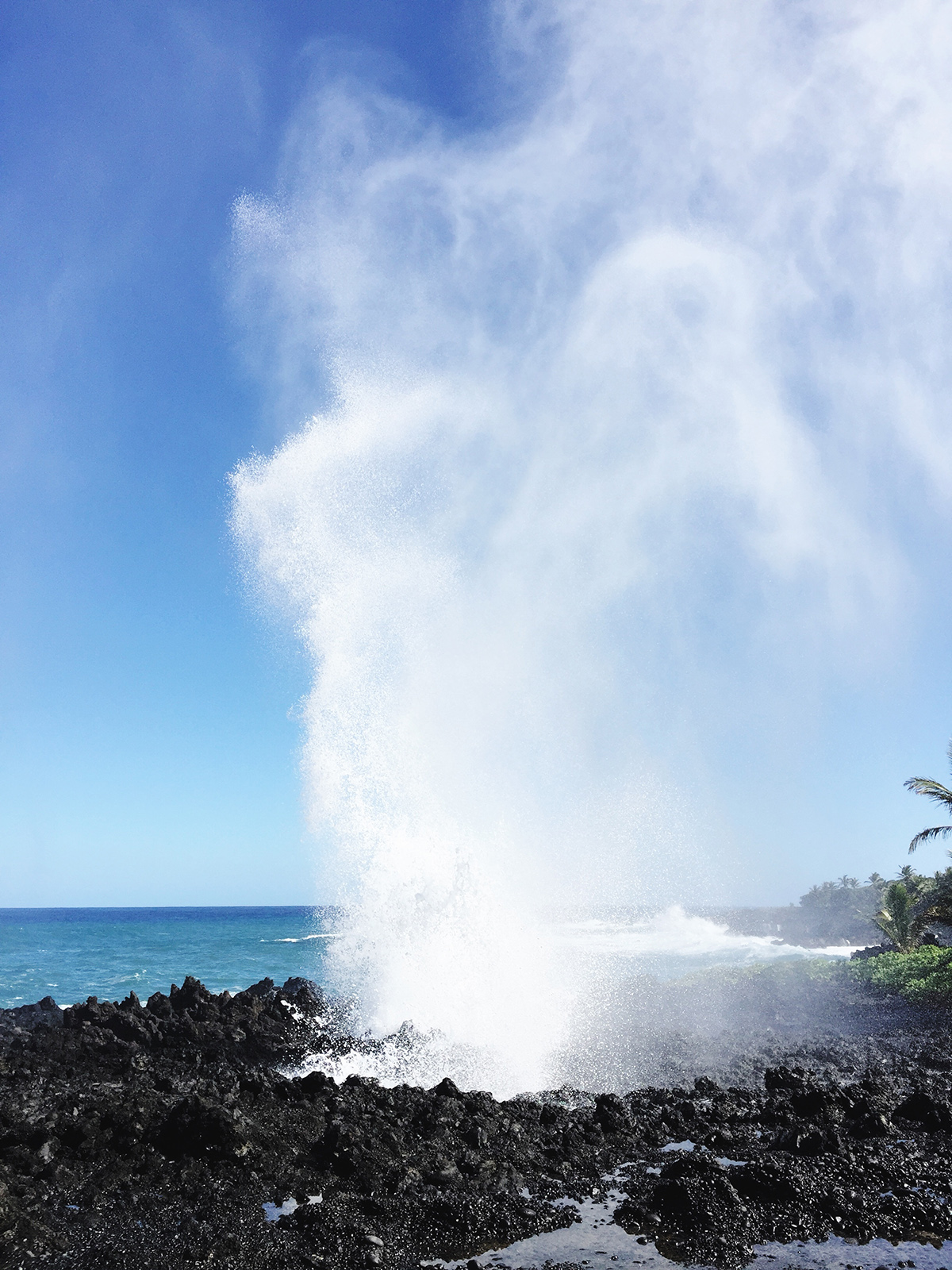 My husband and I just got back from a trip to Maui! To be honest, I was really anxious as the trip approached, and almost didn't want to go. I was mostly worried about being so far away from my kids, but as you can probably guess, everything was completely OK while we were gone (aside from the ballistic missile false alarm that jolted us awake on Saturday morning!). And we had an amazing time!! We did lots of fun excursions and day trips, and ate some really delicious food, so I thought it would be fun to share where we ate and what we did on Maui in case you're heading there anytime soon. Whenever we're trying a new restaurant or planning an outing to somewhere we've never been, I love to read reviews first, so here are mine. And a quick tip: don't forget to make reservations. The pools and beaches clear out at sunset and everybody on the island heads out to eat at the exact same time. If you don't have reservations, you'll be waiting instead of eating!
EATING
Star Noodle, Lahaina, $-$$ starnoodle.com
My husband and I both love noodles, so one of the things on our "must eat" list for Maui was saimin or ramen. Star Noodle was recommended by the concierge at our hotel, and it was delicious, although not your typical ramen place. When I go out for ramen, I want a big bowl of noodles and a side of gyoza, and that's not what you're going to find at Star Noodle. Their menu has lots of different noodle dishes (saimin, ramen, udon, pad thai, etc.) inspired by a variety of world cuisines, and a big selection of appetizers (called "share plates"). Sadly, they don't have gyoza. Their noodles come in two categories, regular and dry. The dry noodles don't have broth. They also have a few desserts, and lots of bar specials. We ordered the Yakatori (teriyaki-glazed chicken) and Adobo Short Ribs to share, and they were both delicious. My husband had the Hapa Ramen (ramen in a pork broth with roast pork and a soft-boiled egg) and liked it a lot. I ordered the Lahaina Fried Soup (fat chow fun, ground pork, bean sprouts), and while it was tasty, I probably wouldn't order it again. The noodles are very, very fat, like as big as your finger, and cut short. They reminded me of dumplings. It was just a lot heavier than I was expecting. I couldn't even finish it! For dessert, we ordered the Malasadas and the Mango Pudding, and they were both yummy. The malasadas come on skewers and are served with two dipping sauces, chocolate and caramel. While they weren't big and fluffy like the malasadas I've had before, they were still delicious, and I actually ate what was left of the dipping sauces with a spoon after the malasadas were gone, so two thumbs up there! The location of the restaurant was out of the way, but very pretty, on a hill overlooking Lahaina and the ocean, and the decor inside was modern and hip. [photo from starnoodle.com]
Would we go there again? YES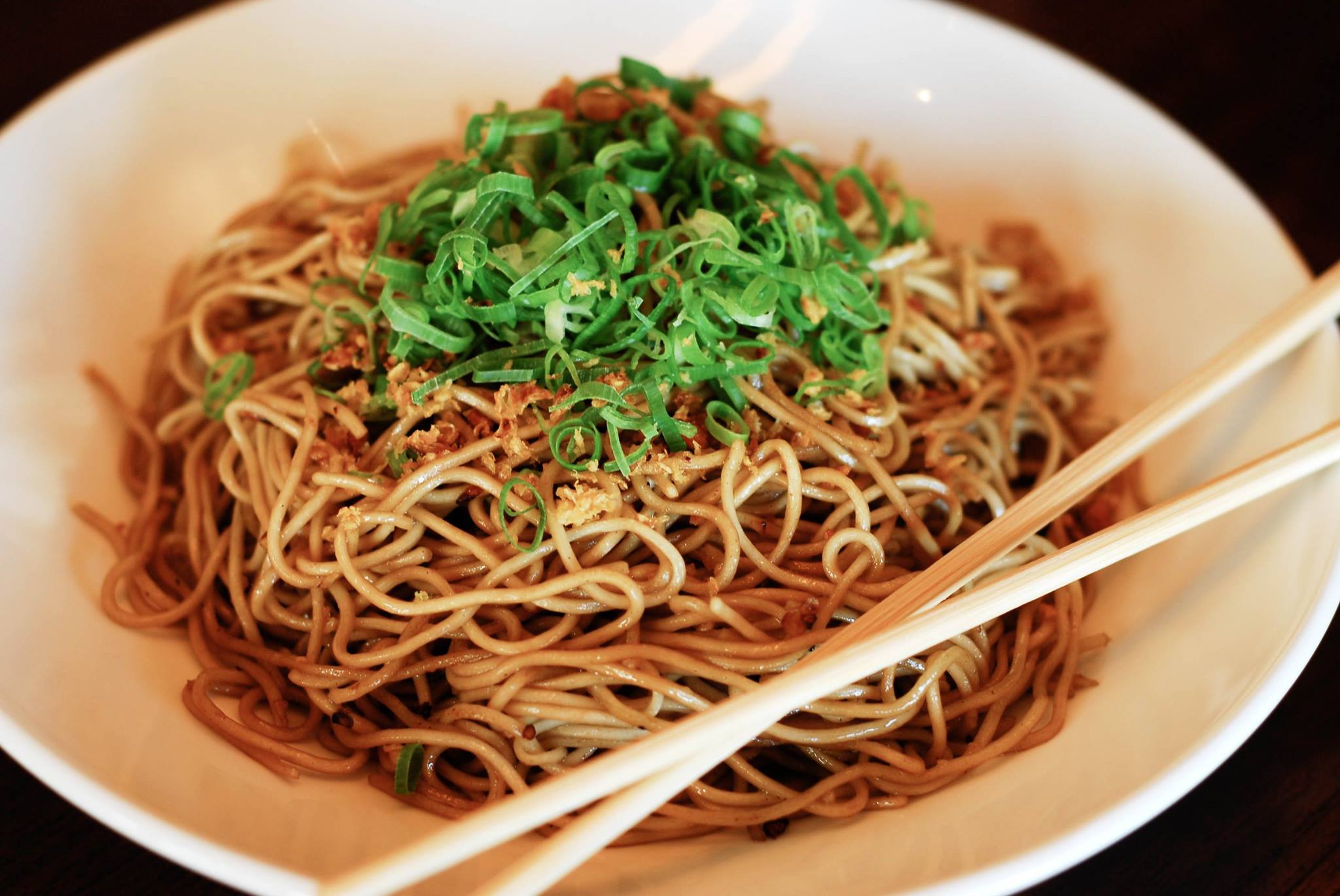 Frida's Mexican Beach House, Lahaina, $$-$$$ fridasmaui.com
Frida's came highly recommended from both the hotel concierge and real-life friends. It's located right on the beach in downtown Lahaina, and is an instagrammer's dream. We ate there at night, and I was sad to miss out on shots of the cute decor and palm-frond wallpaper. We ordered the Guacamole & Chips to share, and ate the whole thing. It was delicious and enormous, and we didn't have much room for our entrees after that! My husband got the Mala Burrito with Short Ribs and a side of Corn Cotija, and I got the 2-Taco Plate with Carnitas and Chicken Tinga. Everything was totally delicious, and there were lots of other menu options that sounded good too. The only thing I didn't love was the virgin Piña Colada I ordered. It just tasted like a slushy. [photo from fridasmaui.com]
Would we go there again? YES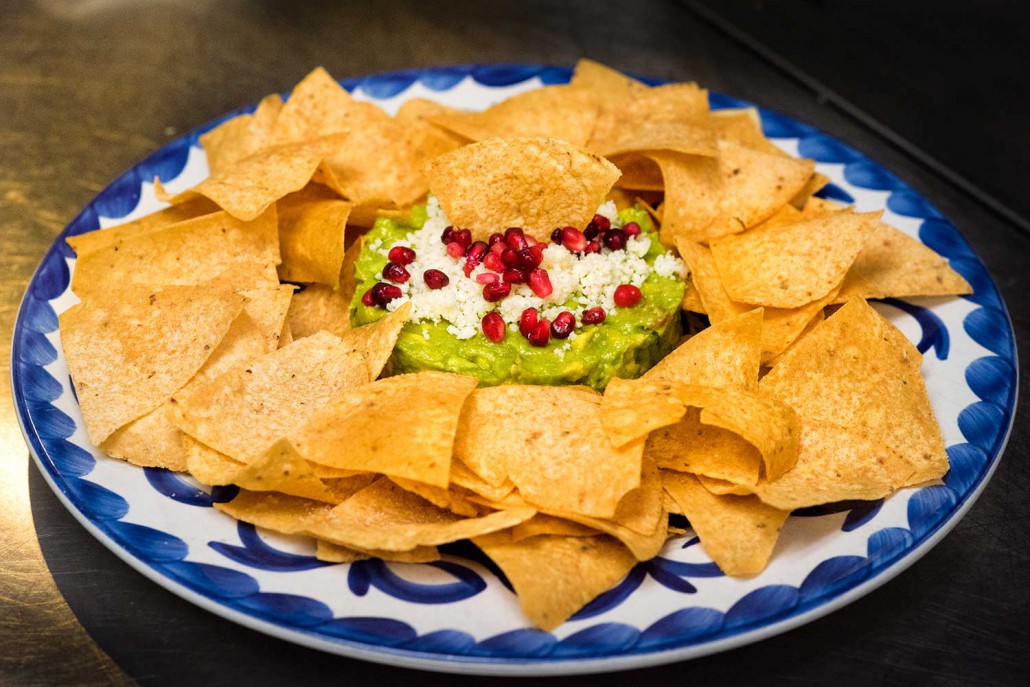 Leoda's Kitchen & Pie Shop, Lahaina, $-$$, leodas.com
Our flight into Maui arrived just before 11pm. By the time we got our luggage, picked up our rental car, and got on the road to the hotel, it was almost midnight. Just before we reached Lahaina, my husband and I both spotted this little building on the side of the highway with a sign out front that had the word "pie" on it, and both said, "We have to go back there tomorrow!" As it turns out, we made no less than three separate trips to Leoda's Kitchen & Pie Shop for their incredible pies. They actually have a really big menu that includes burgers, sandwiches, salads, and more, but we stuck with the pies are weren't disappointed. Over the course of the week, we tried the Pineapple Mac Nut (think apple pie but with chunks of pineapple instead of apples!), Olowalu Lime, Banana Cream, Macnut Choc, Coconut Cream, and Chocolate Haupia pies, and stopped for the Sweet Apple and Savory Carnitas hand pies on the way to the airport when we flew home. Every single pie we tried was amazing, but our favorites were the sweet apple hand pie and the macnut chocolate. [ photo from cntraveler.com]
Would we go there again? YES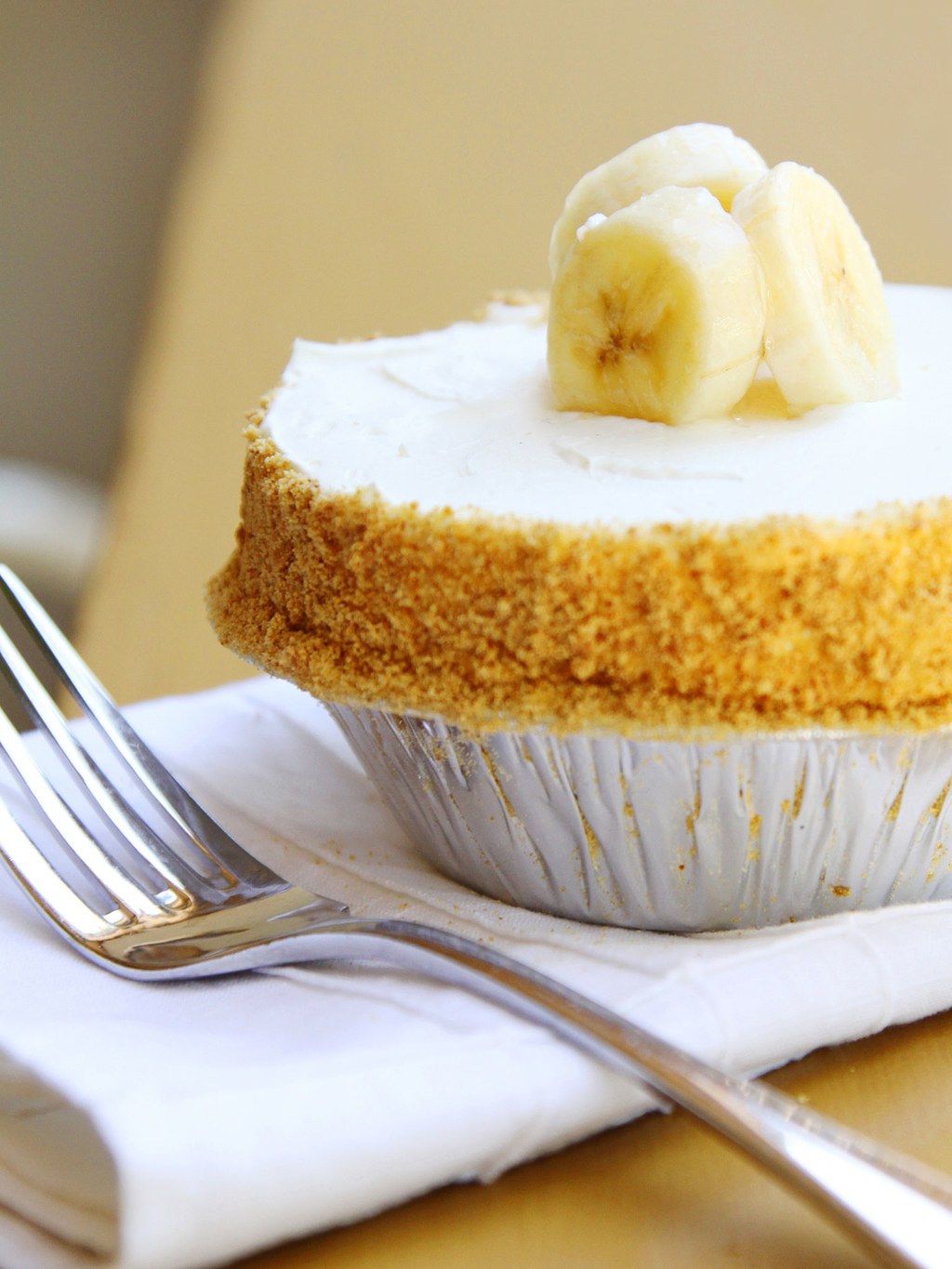 Aloha Mixed Plate, Lahaina, $-$$, alohamixedplate.com
This was another recommendation from our concierge, and it was one of my favorites from our trip. We made the mistake of not making reservations and had to wait, but the food was so good it was totally worth it. We ordered kind of light because we had Leoda's pies waiting for us back in our hotel room. My husband and I split the Chinese Chicken Salad and the eponymous Aloha Mixed Plate—grilled fish, shoyu chicken, and beef short ribs served with mac salad. All of it was amazing. They also have desserts and an extensive drinks menu, and even breakfast offerings that sound delicious. It's located in downtown Lahaina, right on the beach (right next door to Frida's, actually), and just reopened after a big remodel. It's all outdoor seating on a beautiful ocean front patio. [photo from Aloha Mixed Plate on Facebook]
Would we go there again? YES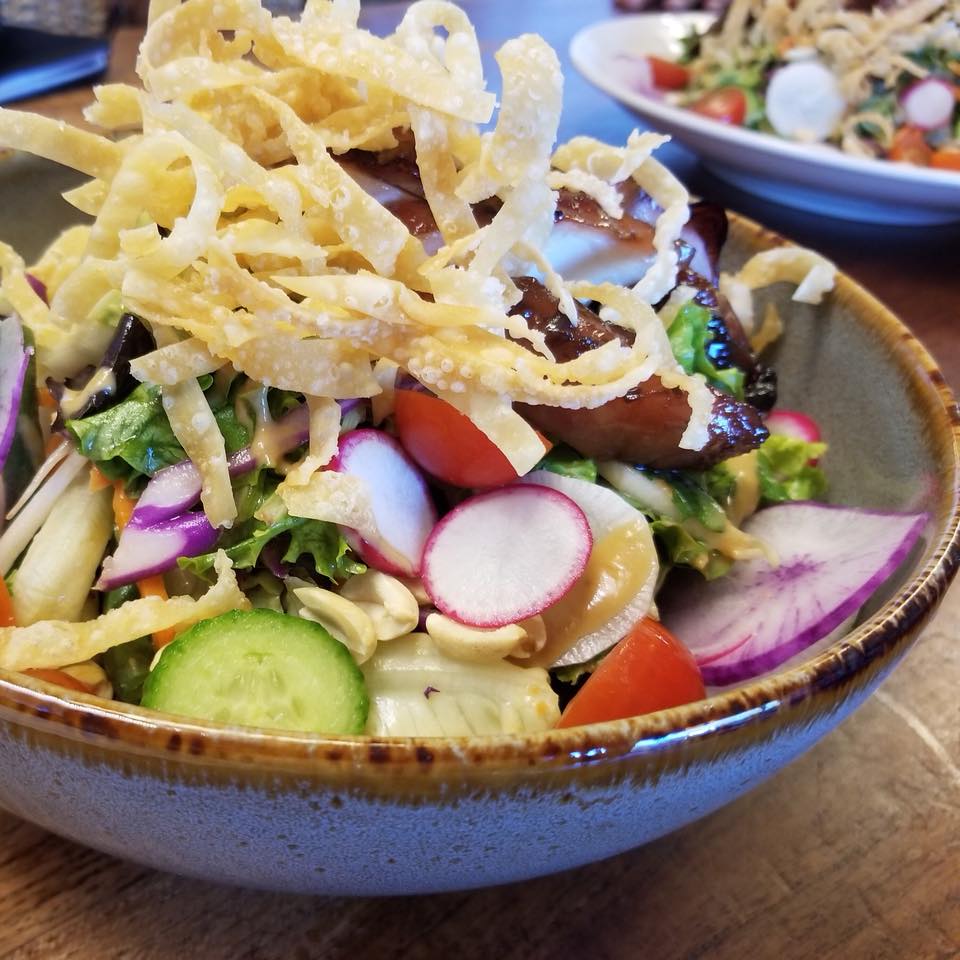 Home Maid Bakery, Wailuku, $, homemaidbakery.com
We went to Home Maid Bakery for one reason, the malasadas. If you're not familiar with malasadas, they are Portuguese doughnuts, traditionally covered in granulated sugar, with no holes. They're amazing! And I wanted to get some really good ones on Maui. We tried the ones at Star Noodle, and they were good, but more like zepolis or beignets: just a little smaller than usual and a little crispy on the outside. I wanted some good, old-fashioned, fluffy, fried malasadas. At Home Maid Bakery, you walk in and order your malasadas, then wait while they fry them up in the back. It doesn't get any fresher than that! We ordered a few of the plain, sugared ones and a few of the ones filled with chantilly cream. I expected the filled malasadas to have whipped cream in the middle, since that's what chantilly cream is, but the filling reminded me of tapioca. I like tapioca so that was ok, but be forewarned. The bakery is in Wailuku, which was not anywhere near our hotel, but we stopped there one day before starting the Road to Hana, so it was only a little out of our way. The bakery is really unassuming both inside and out, but don't let that fool you—their malasadas are fantastic! [photo from Home Maid Bakery on Facebook]
Would we go there again? Yes, if we were in the area.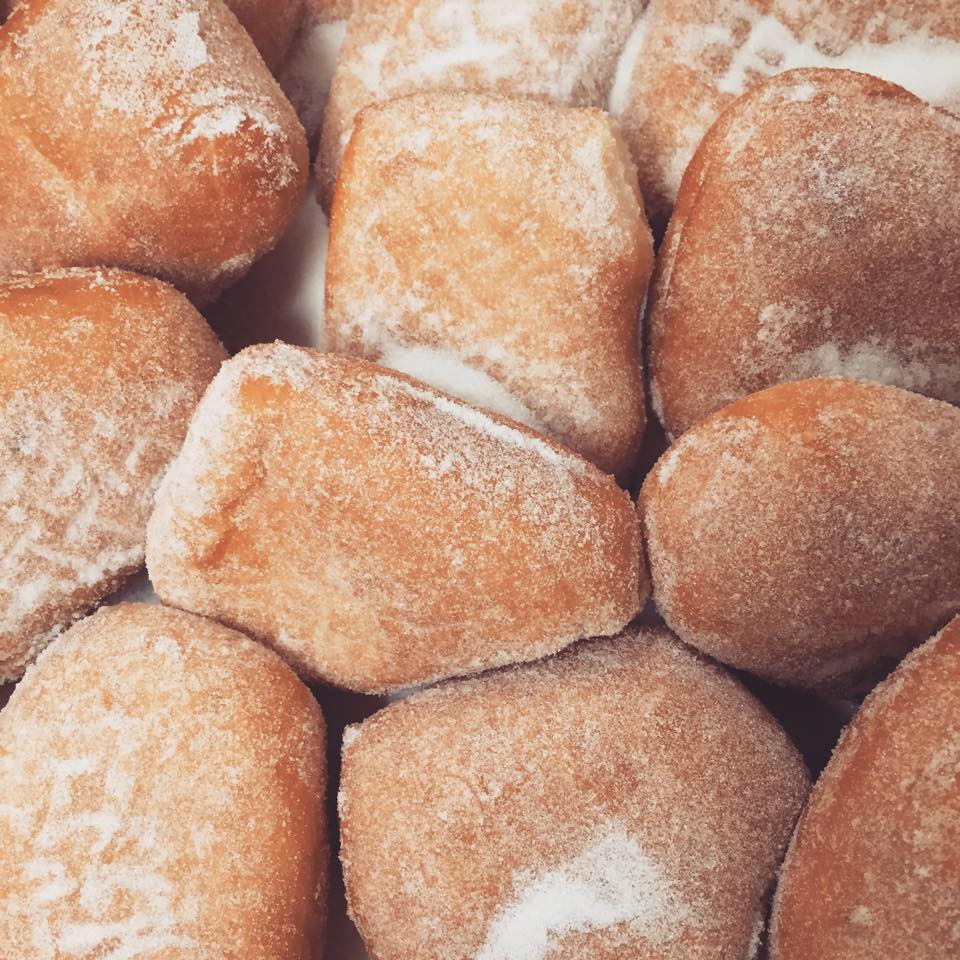 Lahaina Grill, Lahaina, $$-$$$$$, lahainagrill.com
We ate dinner at the Lahaina Grill our last night on Maui, and it was both a fantastic choice and a terrible choice. It was fantastic because it was some of the best food I've ever eaten in my life, and terrible because we didn't have time to eat there again. I've seriously been thinking about it ever since we got home a week ago! First things first, Lahaina Grill is somehow a mix of gorgeous and casual. People were there celebrating engagements and birthdays and wearing nice clothes, and I was in jeans and a t-shirt, and we all looked just fine. The decor is beautiful, from the stamped tin ceiling to the white walls with pale turquoise trim to the black and white tile floors. And the food! Everything on the menu sounds incredible. I ordered the Oven Roasted Chicken Breast with Poblano Chile & Sweet Kula Corn Risotto, and it was seriously one of the most delicious things I've ever eaten. My husband ordered the Kona Coffee Roasted Colorado Rack of Lamb, and he loved it. We couldn't decide which amazing dessert to order, but thanks to Lahaina Grill's Signature Sampler, we got to split mini versions of four of their most popular desserts: Triple Berry Pie, Vanilla Bean Crème Brûlée, Sunken Chocolate Cake with Kona Coffee Ice Cream, and the Road to Hana, a fabulous chocolate cake/chocolate mousse/macadamia nut caramel concoction. The whole meal was heavenly. Lahaina Grill has won a ton of awards (like Best Maui Restaurant 25 years in a row), and the praise is well deserved. [photo from lahainagrill.com]
Would we go there again? A RESOUNDING YES!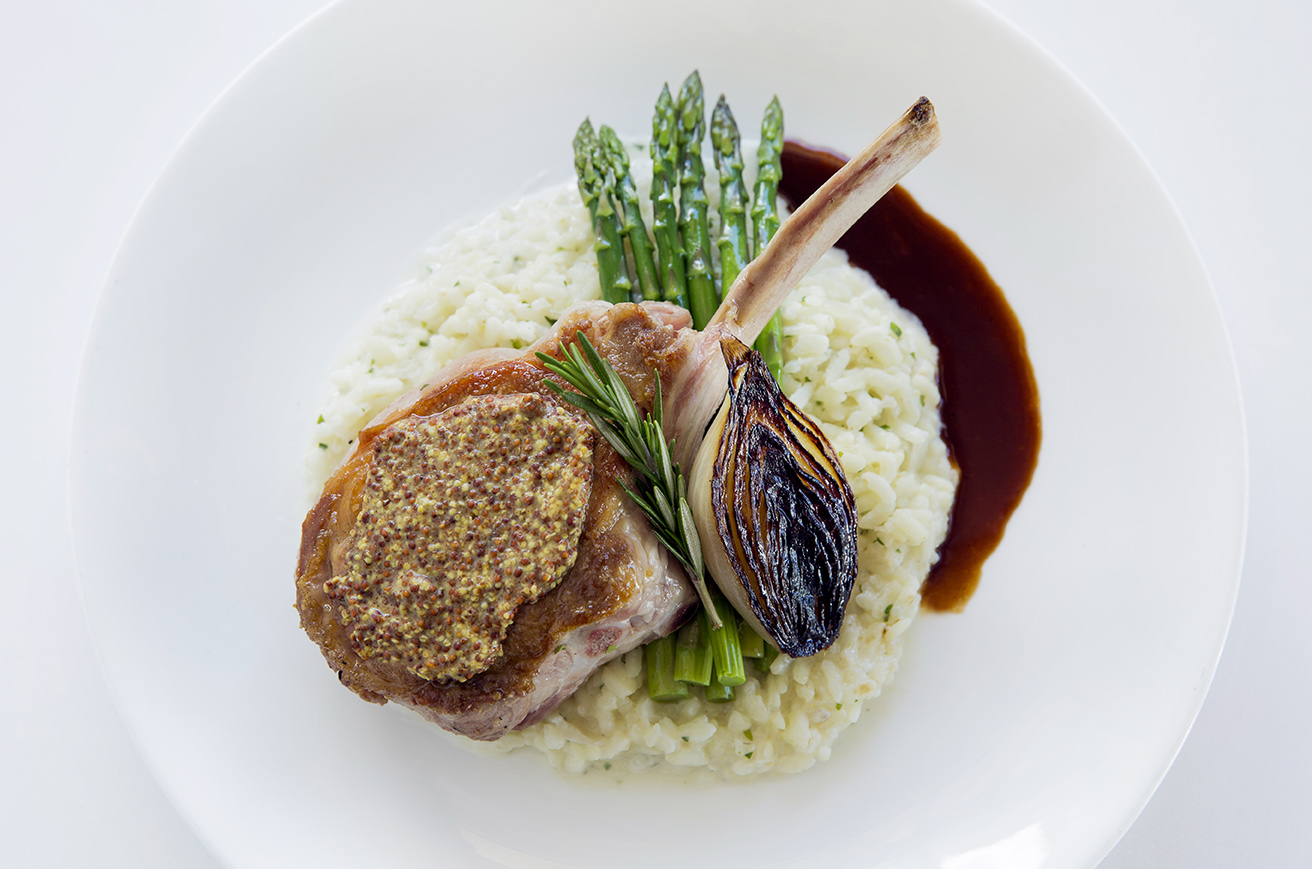 The Westin Maui Resort & Spa at Ka'anapali, Ka'anapali Beach, $-$$$, westinmaui.com
We stayed at the Westin on Ka'anapali Beach, and I would definitely recommend it. If you are into vacationing resort-style (as opposed to bed-and-breakfasts or condos, etc.), it is pretty much as good as it gets. Room service, restaurants, ocean view, water slide, etc. I'm including it here with restaurants because I want to talk about the food, which was mostly really good and occasionally really, really good. My idea of heaven is sitting in the sunshine by a pool having someone bring me piña coladas. And the Piña Coladas at the Westin were UH-MAZE-ING. I don't say that lightly. They were super delicious and tasted nothing like slushies. They tasted like pineapple and coconut and sunshine and ocean and heaven. I also tried the Lava Flow, which was like a piña colada plus strawberry and banana, and it was really good too. It was sweeter and a really pretty pink color. We ate lots of other delicious things at the Westin: Kalua Pork Nachos, Huli Huli Chicken Sandwich (although they forgot my pineapple salsa, but it was still yummy), Garlic Fries, and the Kalua Pork Quesadilla. We also had the breakfast buffet every day (it was included in our package), and it was great.
Would we stay/eat there again? YES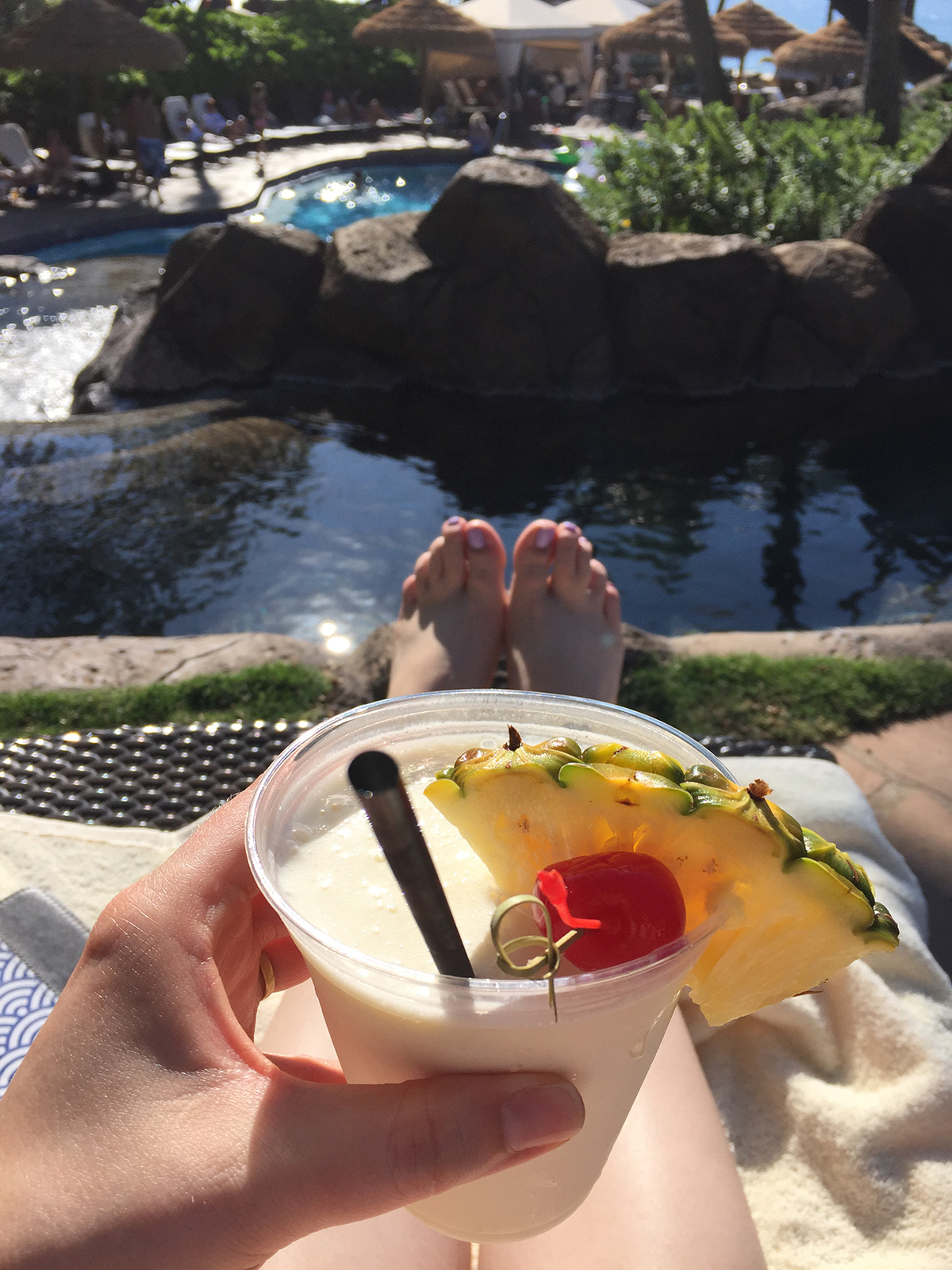 DOING
Haleakalā National Park, $$, nps.gov/hale
Driving up to the top of Haleakalā is a must-do Maui activity, at least in my book. It costs $25 per car to get in, but the drive is fun and the view from the top is incredible. It is almost two miles high! We left our hotel after breakfast, stopped at a cute little grocery/gift shop outside the park for picnic-type provisions, then drove and snacked and hiked and wandered. Our first stop was at the Haleakalā Visitors Center near the summit. W parked and walked the short distance (just .25 mi one way) to the first overlook along the Keonehe'ehe'e trail. You can hike much further along that trail, but we opted for a different hike at a lower elevation. We also drove up to the summit parking lot to look around, then drove back down to the Halemau'u trailhead and hiked for about an hour altogether. It was greener than at the top (the summit looks like Mars or something), but there was a lot of cloud coverage, so we couldn't see much. Fun though! Make sure you wear sunscreen and bring a hat, and grab a jacket because it's chilly and breezy at the top. Driving in the park is slow because the road is so windy, so Haleakalā is pretty much an all-day activity.
Would we go again? YES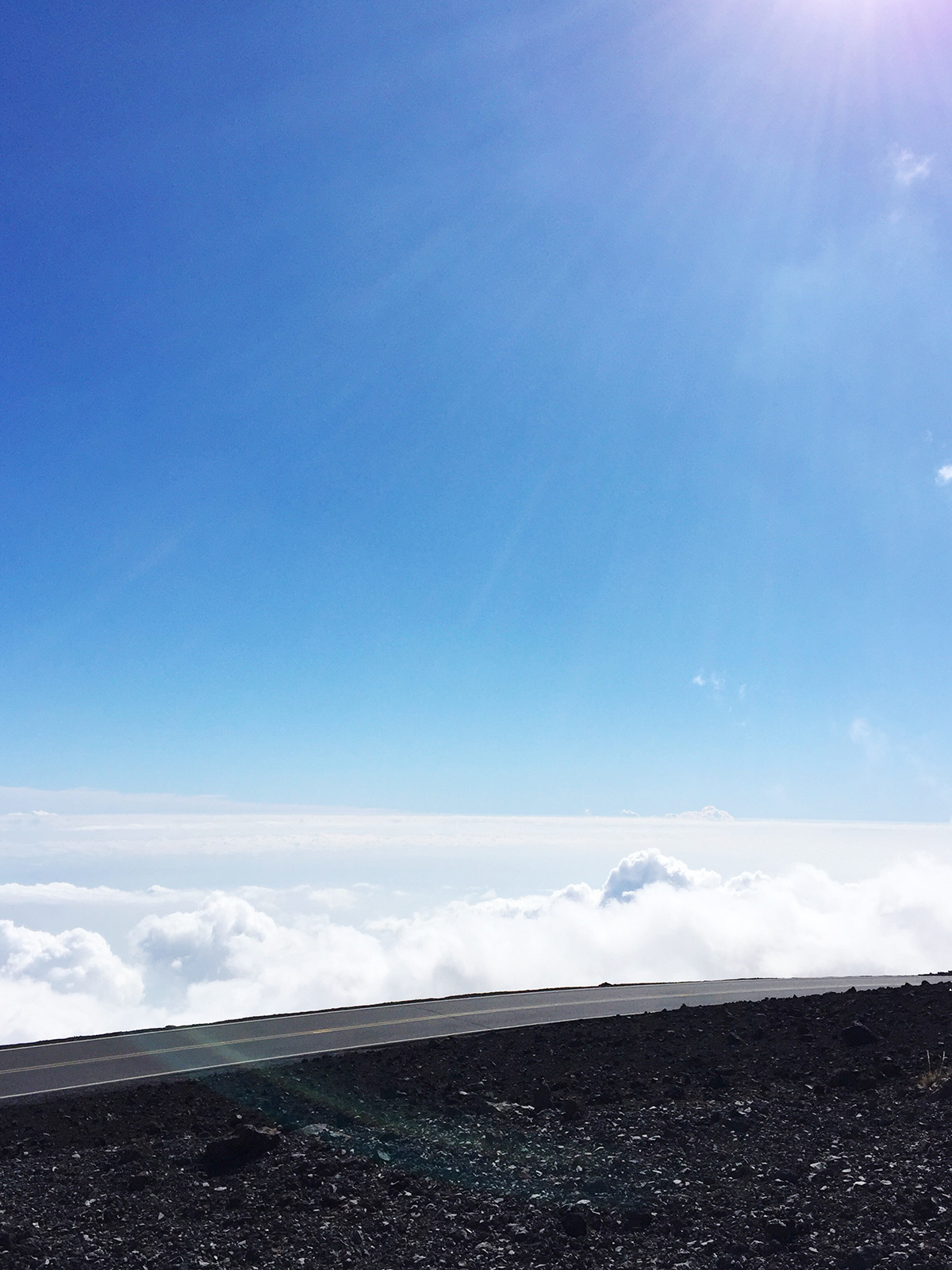 The Road to Hana, free!
There's really nothing too special about Hana itself (it's just a sleepy little Hawaiian town), but the road to Hana takes you around 1/4 of the gorgeous Maui coastline, past cascading waterfalls, remote beaches, and lush forests. There are dozens of stops you can make along the way with little hikes to see beautiful things. Our hotel gave us a printout of mile markers with cool stops, but you can also buy a Road to Hana CD guide, and there are websites that tell you even more cool places to stop. I was glad we didn't have our kids with us. We were able to stop as many times as we wanted, jump out of the car and back in in just seconds, etc. If you have a bunch of tiny kids and every stop means unbuckling carseats and seat belts and then rebuckling 10 minutes later, you might want to save this activity for another trip. Plus I just don't think that many of the roadside activities would be interesting or even well-suite to little ones. We picked up a picnic lunch on our way out of Ka'anapali, which was perfect because there aren't a lot of restaurants along the drive. There are fruit stands and food trucks, but we did the drive on Sunday and most of those were closed. But traffic was very light, so we thought it was perfect. The road is narrow and windy, with lots of one-lane bridges and lots of fun things to stop and do along the way, so this is an all-day activity. We left our hotel just before 8 am and got home in time to change and head out to dinner.
Would we do this again? YES, but probably not with little kids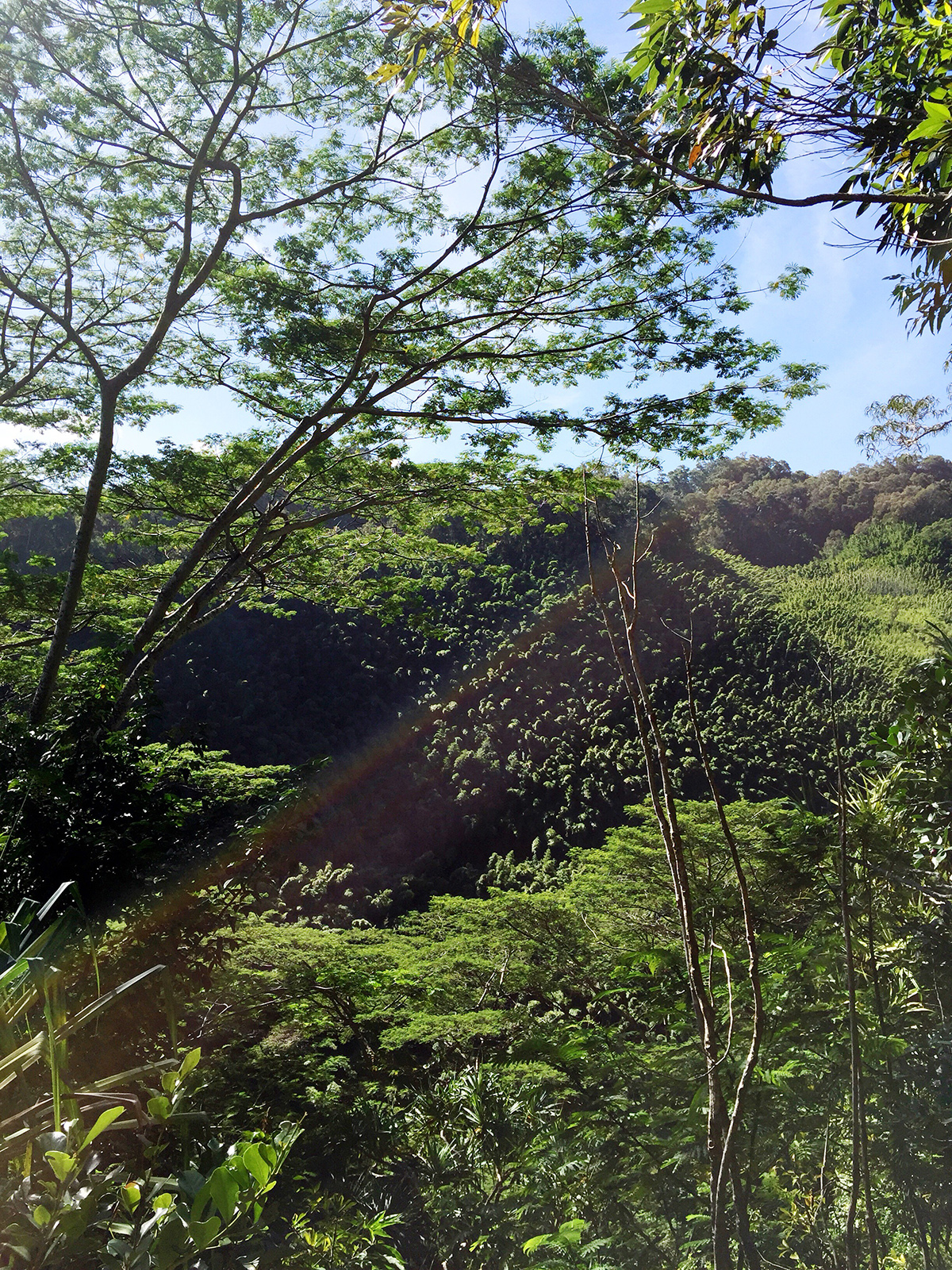 Gemini Whale Watching Cruise, Kaanapali Beach, $$$$$$$$$$, geminicharters.com
Was this expensive? Yes. Was it worth it? YES!! I studied marine biology in college and was dying to see some humpback whales. And we were treated to a pretty spectacular performance. We saw lots of tail slaps and giant pectoral fin slaps, but the real show-stopper was the 7 full breaches we saw in the space of about 2 minutes. Seriously. Huge humpback whales jumping up and out of the water! It was amazing!! Another activity I probably wouldn't take my little ones on, although there were a few families with little kids on our cruise. I'm just a worrier. And I didn't get any photos because I was too busy enjoying the experience through my actual eyes instead of a phone screen, but it was spectacular. The photo below is spot-on. [photo from Time.com]
Would we go again? YES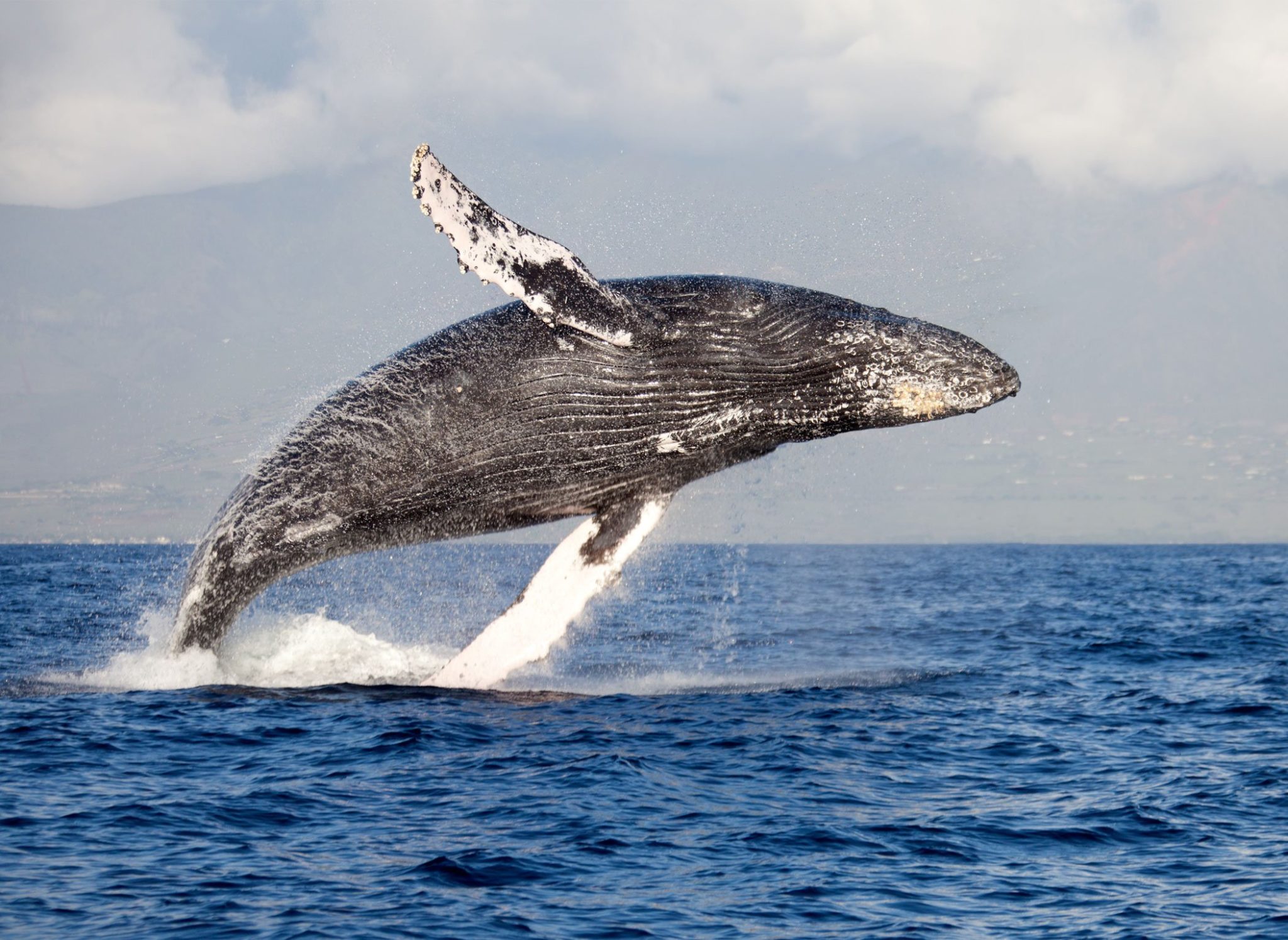 Whew!! Sorry for the insanely long post! I'd be remiss if I didn't give a big ole' THANK YOU to Alaska Airlines for giving me two free tickets to anywhere last year during a blogging event I attended. That gift made this whole trip possible. If you've been to Maui and have favorite restaurants and activities, I'd love to hear about them in the comments below. And if you're planning a trip to Maui soon, I hope these recommendations come in handy. Mahalo!