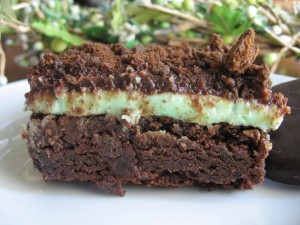 I gave my husband a few options and let him choose dessert for St. Patrick's Day. He could choose something lime, something mint, or something dyed green. He chose mint brownies. I've made these lots of times before, but this time we had a box of Girl Scout Thin Mints in the cupboard, so I decided to incorporate them. The results were good, but you couldn't really taste the Thin Mints. The brownie layer definitely had the Thin Mint flavor, but after adding the mint frosting and the ganache, they just tasted like mint brownies–super delicious mint brownies. Still, I'm glad I did it because now we only have 1/2 a box of Thin Mints left to tempt us!
brownie layer:
8 Tablespoons unsalted butter, cut into chunks
3 ounces unsweetened chocolate, chopped
1 cup sugar
2 large eggs
1 teaspoon vanilla extract
1/2 teaspoon baking powder
1/4 teaspoon salt
2/3 cup AP flour
1/2 box (1 sleeve) Girl Scout Thin Mint Cookies, coarsely crushed, divided
Preheat oven to 350 degrees. Lightly grease an 8×8″ square pan; set aside. In a small bowl, melt butter and chocolate in the microwave (yes, that is the method recommended by the cookbook), stirring frequently. Let mixture cool slightly. In a medium bowl, whisk sugar, eggs, vanilla, baking powder, and salt together until combined. Whisk in melted chocolate mixture until smooth. Stir in the flour until no streaks remain. Set aside 1/4 cup crushed cookies and gently fold the remainder into the brownie batter. Scrape batter into the prepared pan and bake until a toothpick inserted into the center comes out with just a few crumbs, about 22-27 minutes. I don't remember how long they have baked previously, but this time they took more like 30 minutes. Let cool completely.
frosting:
2 1/2 cups powdered sugar
2 Tablespoons butter, softened
2-4 Tablespoons milk
1/2 teaspoon vanilla extract
pinch salt
1/4 teaspoon mint extract
3 drops green food coloring, optional
Combine all ingredients in the bowl of an electric mixture and beat until smooth and fluffy. Spread on cooled brownies.
ganache:
1/2 cup semisweet chocolate chips
1/2 cup cream
Combine in a microwave-safe bowl and heat in microwave until chocolate is melted, stirring every 30 seconds. Let cool slightly (it still needs to be pourable); pour over frosted brownies. Top with reserved crushed cookies. Place in refrigerator until ganache is set.