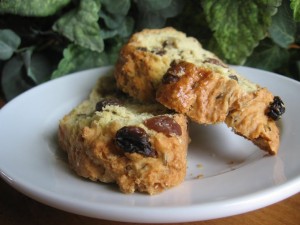 I didn't take any pictures of the finished Corned Beef and Cabbage; it is a mighty homely dish. But it tasted great! I had never tasted corned beef before, so I was a little scared to try the finished product, but it was delicious. The beef was flavorful, with just enough salt and a subtle spice that you probably couldn't place if you weren't the one who brined it. And the vegetables were amazing. After simmering the meat for a few hours, I moved it to the oven to keep warm, and the vegetables were boiled in the brine the meat had been cooking in. Amazing results! We will definitely repeat this experiment next year!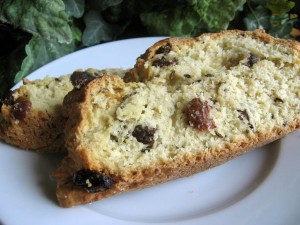 As an accompaniment to the Corned Beef and Cabbage, I made Irish Soda Bread, another first for me. I had intended to make the recipe from this month's Martha Stewart Living, but then discovered that I had only bought a few of the key ingredients. So I made my sister-in-law Lori's recipe with one little addition: carraway seeds. Again, the results were delicious. The combination of the raisins and carraway seeds was really interesting and tasty. For anyone who hasn't made or tasted Irish Soda Bread before, it is not a yeast bread. So, it really turns out more like a scone or a giant drop biscuit. This bread will definitely become another new St. Patrick's Day tradition.
Lori's Irish Soda Bread
makes one 8″ loaf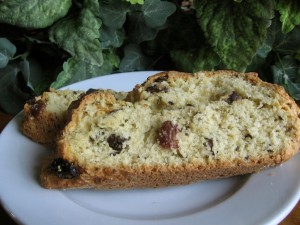 2 cups flour
2 Tablespoons brown sugar
1 teaspoon baking powder
1 teaspoon baking soda
1/2 teaspoon salt
3 Tablespoons butter, at room temperature
2 eggs
3/4 cup buttermilk
1/3 cup raisins or golden raisins
1 Tablespoon caraway seeds (optional)
In a bowl, combine flour, brown sugar, baking powder, baking soda, and salt. Cut in butter until crumbly (I just used my hands). In a small bowl, combine 1 egg and buttermilk; stir into flour mixture just until moistened. Fold in raisins and carraway seeds. Knead on a well-floured surface for one minute. Shape dough into a round loag; place on a greased baking sheet. Cut a 1/4″-deep cross in the top of the loaf. Beat remaining egg; brush over loaf. Bake at 375°F for 30-35 minutes until golden brown.