Friends, it's a big day! Working on Scandinavian Gatherings has kept me so busy. Summer and Fall were such a blur last year. I created and tested 40 recipes and 30 projects. Some took lots and lots and lots of rounds of revision. I made all of the crafts for the photo shoots. I was working on the book all day every day, but I had to keep most of my work under wraps and couldn't share it with you guys. So I'm really excited to finally get to share with you something huge—the cover of my book! Without further ado…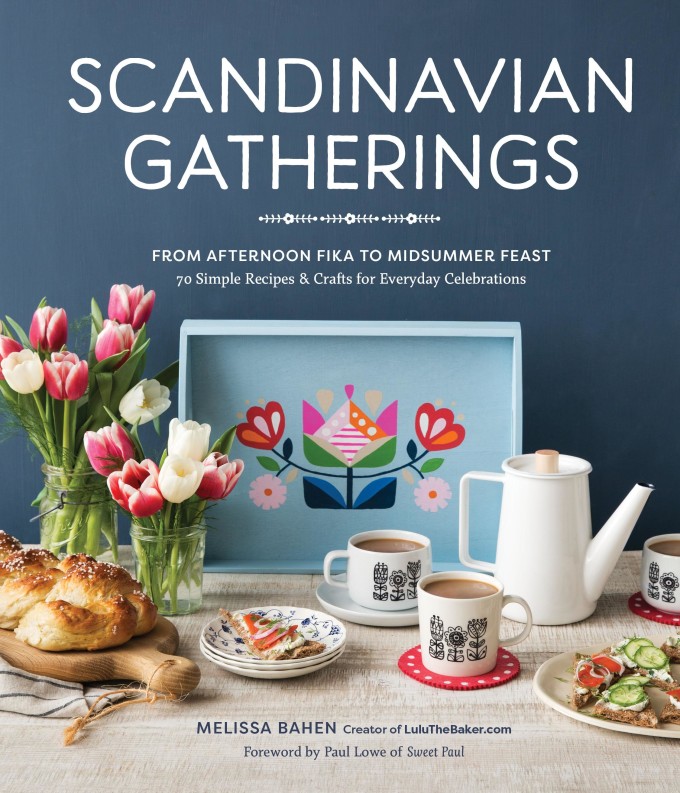 Presenting Scandinavian Gatherings: From Afternoon Fika to Midsummer Feast: 70 Simple Recipes and Crafts for Everyday Celebrations by Melissa Bahen—me! It has 10 chapters, each based on an idea for a simple, Scandinavian themed gathering for family and friends: a nordic brunch, a woodland tea party, a christmas eve supper, and more. Each chapter has ideas on how to create the gathering, like what kinds and colors of flowers to use and how to decorate the room. The whole book is filled with colorful folk illustrations by paper cut artist Andrea Smith, and stunning full-color photos by Charity Burggraaf, with styling by Shannon Douglas and Renee Beaudoin.
This book has been such a passion project for me, a true labor of love. It is absolutely beautiful, thanks to a small army of people, and I can't wait for it to make its way into hearts and homes all over the country when it's released on September 27th. In the meantime, guess what? Scandinavian Gatherings is available for pre-order right now! You can order your copy online now and it will ship out when it's available in September. You can find it online at Amazon
, Barnes & Noble, IndieBound, and iBookStore.
**This post contains affiliate links. You can read more about them on our policies page.**