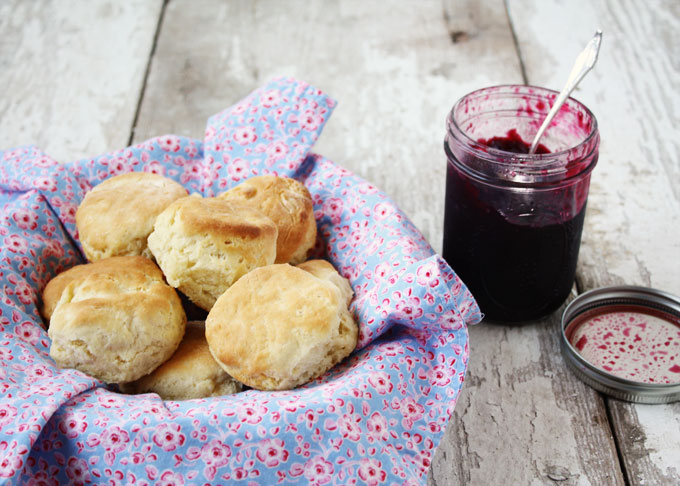 Do you go through food phases in your house? We do, and we are smack in the middle of a buttermilk biscuit phase. And it's not a bad thing, oh no! It's pretty darn delicious. I really like having some kind of bread product with most of our dinners. I think it rounds out the meal really nicely, and I'm positive that everyone in my family will eat it, even the picky eaters. These super simple, from-scratch buttermilk biscuits have been on repeat lately, popping up when we have chicken or pork chops or scrambled eggs. They're great for weekend breakfasts too, smothered in sausage gravy or butter and homemade blackberry jam. We've made them three times in the past week alone and trust me, no one's complaining!
I've had a go-to biscuit recipe for a few years now, but thanks to King Arthur Flour's self-rising flour, my super quick go-to recipe has gotten even better. These are officially the easiest buttermilk biscuits in the world. They have only three ingredients and take about five minutes to prepare. Want to know the secret? Keep reading…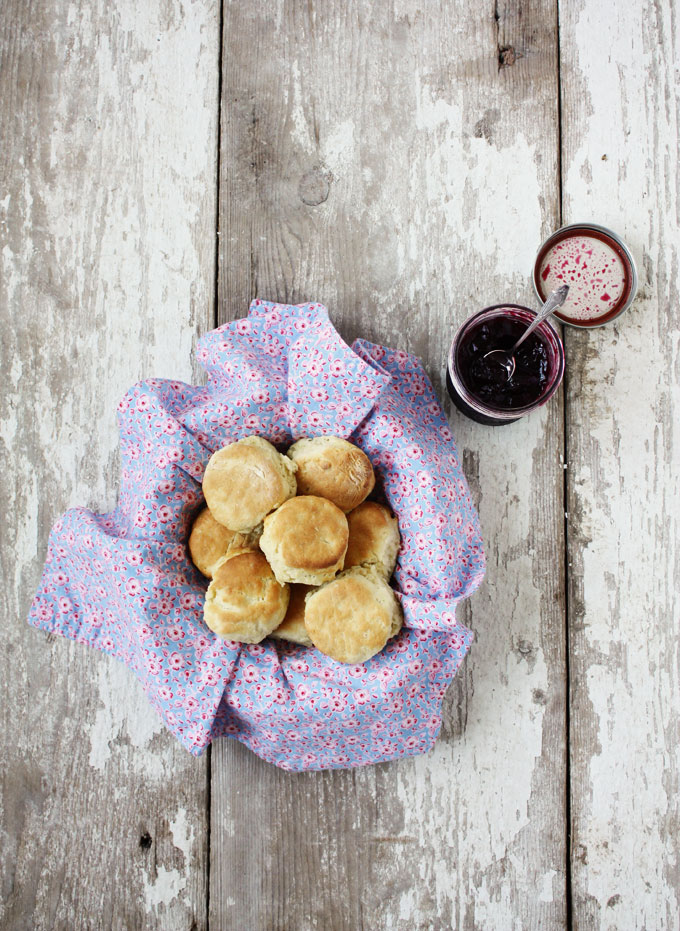 Easiest Buttermilk Biscuits
Ingredients
2 cups self-rising flour
6 Tablespoons butter, cold and cut into chunks
½-3/4 cup cold buttermilk
Instructions
Preheat the oven to 425°F. Line a baking sheet with parchment paper.
Put the self-rising flour and butter into the bowl of a food processor. Put on the lid and pulse until the mixture is sandy, about 10 times. Add ½ cup buttermilk and continue pulsing until the mixture comes together in a ball. Add more buttermilk as necessary.
On a well-floured counter, roll the dough out to a thickness of ¾". Use a round biscuit cutter or cookie cutter to cut out biscuits. Re-roll the dough scraps as necessary. Place the biscuits on the baking sheet so that they are just barely touching. I usually do two rows of four or three rows of three, depending on how many biscuits I was able to cut out.
Bake for 15-18 minutes until tall and golden. Eat warm.
This post is part of King Arthur Flour's Campaign for Better Biscuits. And they've generously donated a little biscuit-making prize pack for one lucky give-away winner today! Visit
my instagram feed
to see contest rules and to enter. Happy Biscuit Making!