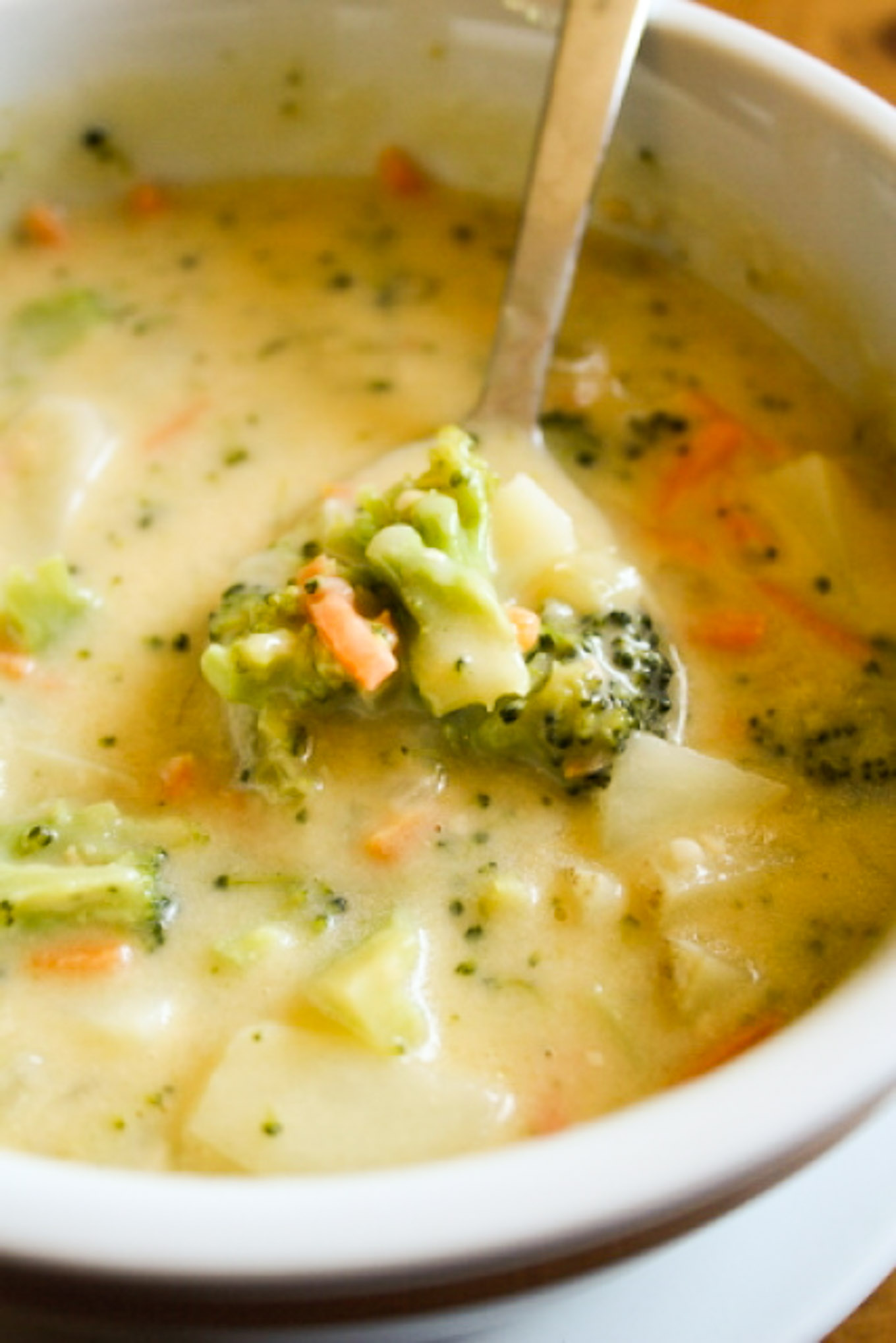 This recipe has a long history with my little family. I got the original version from my sister-in-law when my husband and I were newlyweds. We had just moved into our condo with the bright red kitchen. I have such fond memories of that kitchen! Anyway, the only veggies in the recipe back in those days were potatoes, and it called for turkey bacon. I remember thinking "heck no!" to turkey bacon and using regular bacon instead. It made the soup soooooo salty; it's a wonder I kept making it after that, although I never again used bacon of any kind! And it originally only served 2, which was fine at the time but not really enough for a growing family. Fast forward seven years and it has morphed into a cheesy, comforting vegetable chowder packed with veggies that are good for you, and give the soup some much-needed color! It is one of our family favorites–even the kids love it–and now that the weather has cooled off a little, will resume its weekly appearance on our dinner menu.
*If you're looking for crockpot directions, several commenters have left their instructions in the comments section below!

Cheesy Vegetable Chowder
This is one of my family's all-time favorite dinner recipes! It is easy to make and tastes delicious.
Recipe type:
Dinner, Soups
Ingredients
2 Tablespoons butter
½ cup chopped onion
1 cup finely chopped carrot
1 celery stick, finely chopped (feel free to add more celery if you like celery; I don't, so I don't add much)
1 Tablespoon minced garlic
4 cups chicken broth (I usually use a mixture of low-sodium chicken broth and broth made with chicken soup base because it gives it such nice flavor)
2 large baking potatoes, peeled and chopped
1 Tablespoon flour
½ cup water
⅔ cup milk
2 cups chopped broccoli
2 heaping cups shredded cheddar cheese
Instructions
Melt the butter in a large soup pot. Add onions, carrots, and celery and saute over medium heat until tender. Add garlic and cook 1 or 2 additional minutes. Add chicken broth and potatoes, bring to a boil, and cook until potatoes are tender. Mix flour with water, add, and simmer until soup is slightly thickened. Add milk and broccoli and cook until broccoli is just tender and soup is heated through. Stir in cheese, allow to melt, and serve.