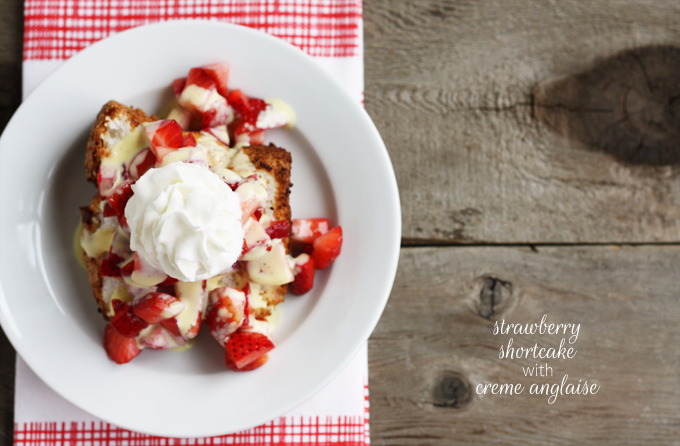 A couple of weeks ago, I wanted to serve something for dessert that was light and summery and delicious. Strawberry shortcake, one of my favorites, totally fit the bill, but I can never seem to get enough strawberry sauce on my strawberry shortcake. It's not that I find it too dry, I just always want more sauce. And out of nowhere, I had this genius idea to make creme anglaise to pour all over my strawberry shortcake. After tasting one bit of juicy strawberry-covered cake drenched with a mellow, vanilla-scented custard sauce, I couldn't understand why I haven't always made my strawberry shortcake that way! Why isn't this a regular thing? It is beyond amazing! It adds a wonderful new texture and flavor to an already delightful summer favorite.
The creme anglaise is really delicious all on its own too! I had a little custard sauce left after the shortcake was gone, so I poured it over a bowl of chopped strawberries. Unbelievable!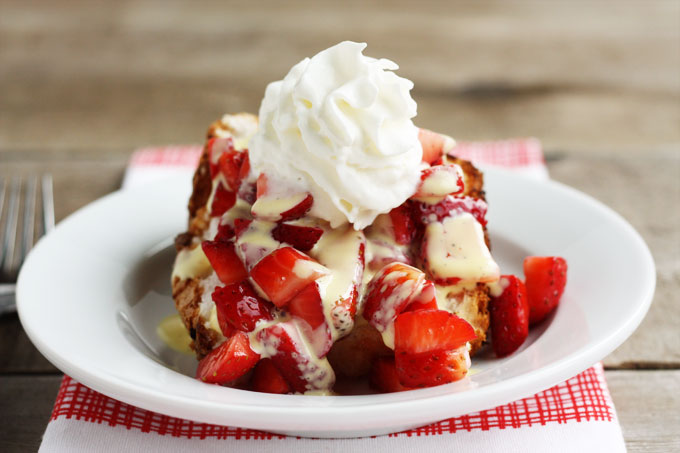 Strawberry Shortcake with Creme Anglaise
Creme Anglaise recipe from the Gourmet Cookbook
for the creme anglaise:
1/2 vanilla bean
2 cups half-and-half
2 eggs
1/2 cup sugar
all of the other stuff:
fresh strawberries
granulated sugar
pound cake, angel food cake, or shortcake (your choice!)
lightly sweetened whipped cream
To make the creme anglaise, begin my splitting the vanilla bean down the middle; scrape out the seeds using the tip of a paring knife. Combine the vanilla bean seeds with the half-and-half in a medium saucepan, and bring just to a boil. In a medium bowl, whisk the eggs and sugar. While whisking constantly, pour the hot half-and-half into the egg mixture. Return the mixture to the saucepan, and continue heating, stirring constantly, until thickened and 175°F. Pour the sauce through a fine mesh sieve into a medium bowl and cover with plastic wrap, placing the plastic wrap directly on the surface of the sauce. Refrigerate until cold.
Slice the fresh strawberries, sprinkle with about 2 teaspoons granulated sugar, and let sit for about 15 minutes. To assemble the shortcakes, slice the cake, top it with sweetened strawberries, creme anglaise, and whipped cream. Simple and delicious!