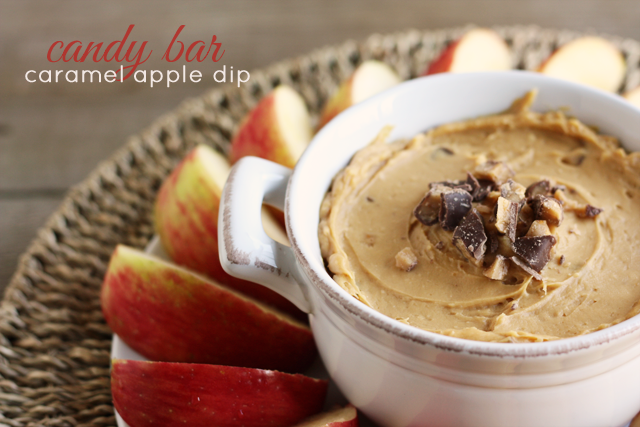 With a name like "Candy Bar Caramel Apple Dip" this recipe doesn't even really need an introduction, does it! But I'll give one anyway, because that's half the fun of writing a food blog. I first had this simple yet delicious dip at a baby shower that my friend Teresa hosted a few years ago. I feel kind of bad looking back on that party because I'm pretty sure I ate 75% of the dip without sharing–definitely not my best party guest behavior! Teresa was generous enough to give me the top secret recipe after the party, and I couldn't believe how easy it was. I probably said something like, "Shut up!" Another party guest faux pas. I look forward to apple season every year now so that I can whip it up. I've made it for a few get-togethers in the past few years, and it is always a huge hit. In fact, I made some Candy Bar Caramel Apple Dip just last week for a church youth group activity, and the double batch I made was practically inhaled by those teenagers. OK, I might have eaten a little too. I just can't stop myself!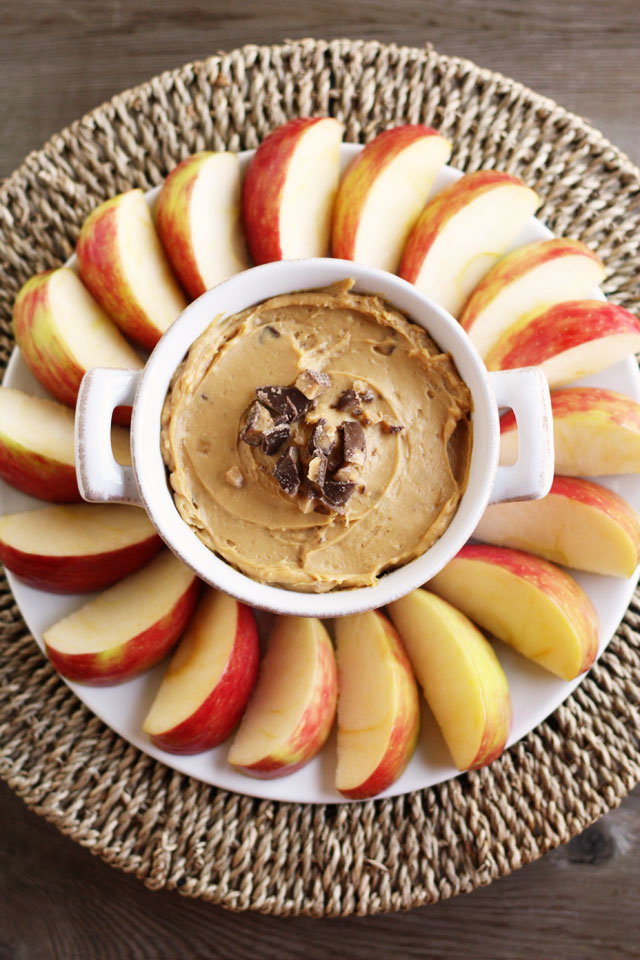 Candy Bar Caramel Apple Dip
Ingredients
1 brick cream cheese, softened
1 16-oz tub caramel apple dip* (from the produce section)
about 12 oz broken toffee candy bar pieces (like a Heath bar or a Skor bar)
apple slices (This time, we used Sweet Tango apples, and oh my, were they amazing!)
Instructions
Beat softened cream cheese and caramel apple dip together in a medium bowl until smooth. Fold in broken candy bar pieces. Serve with apple slices, and try not to eat it all by yourself.
Notes
*Just in case you're wondering, yes, I do think you could substitute 2 cups of caramel sauce for the 16-oz tub of caramel apple dip called for in the recipe. Mind you, I haven't tried it, but I really can't see how it would be a bad idea. It would possibly make the dip more liquidy (depending on how thick your caramel sauce is), but the dip as is is pretty thick. So again, not a bad thing.