Panna cotta–a silky-smooth, lightly sweet Italian custard–is topped with an addictive homemade strawberry sauce in this easy and sophisticated dessert.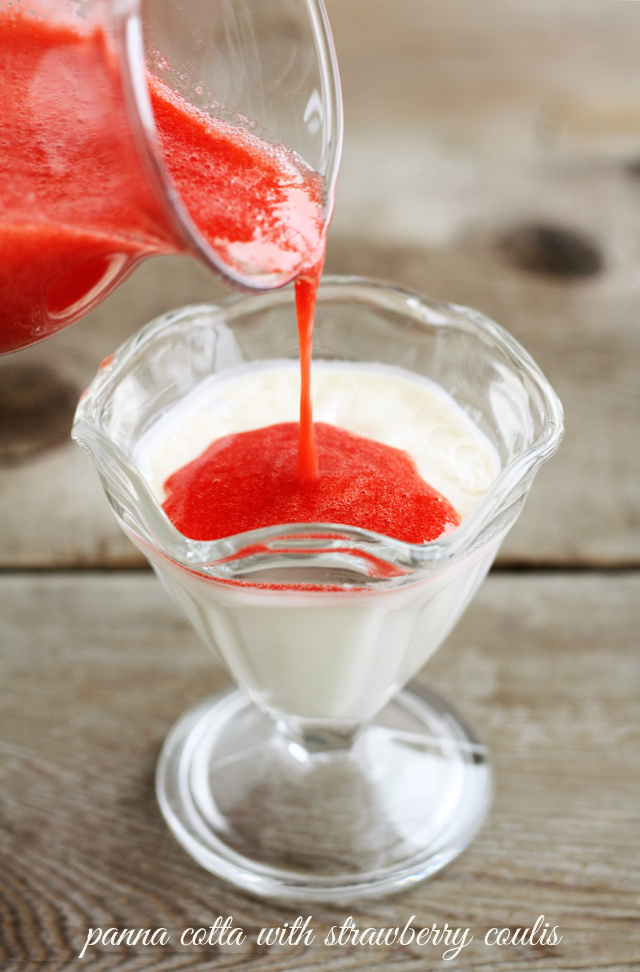 When I think of Valentine's Day desserts, I have to admit that my thoughts don't automatically go to creamy, lighter-than-air custards with a luscious fruit sauce. I usually think of silky flourless chocolate cakes, decadent, fudgy desserts with molten ganache centers, and all manner of rich, sinful chocolate concoctions.
But with it's silky-smooth texture and gorgeous red color, this lightly sweet Italian custard topped with an addictive homemade strawberry sauce would be the perfect ending to a romantic dinner for two.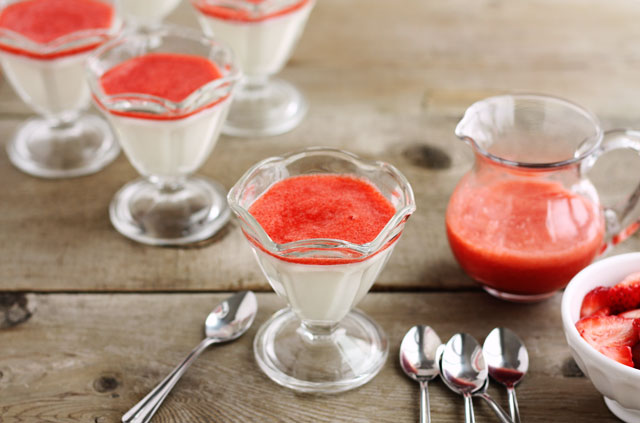 It is one of the easiest, most fool-proof desserts I can think of, and it looks and tastes insanely impressive, like you slaved away over a hot stove making it, when it really only took 15 minutes. It's the kind of dessert that makes you, the maker, look impossibly sophisticated and cosmopolitan. "Oh this? It's just panna cotta with strawberry coulis, daaahling. Really it was nothing."
This is the second post in the Melanie Makes/Lulu Bakes series with Melanie Bauer. Each month, one of us chooses three ingredients, and we both have to come up with a recipe using them.
This month, I got to choose the ingredients: honey, cream, and berries. I made Panna Cotta with Strawberry Coulis; be sure to check out Melanie Makes to see her fabulous recipe for decadent chocolate cream puffs with spiked whipped cream, chocolate ganache, and fresh raspberries!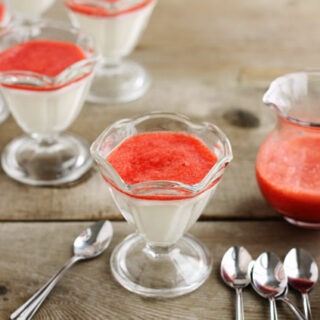 Panna Cotta with Strawberry Coulis
Total Time:
6 hours
40 minutes
Panna cotta--a silky-smooth, lightly sweet Italian custard--is topped with an addictive homemade strawberry sauce in this easy and sophisticated dessert. Adapted from a recipe by Giada de Laurentiis.
Ingredients
for the panna cotta:
1 cup whole milk
1 Tablespoon unflavored gelatin powder
3 cups heavy cream
1/3 cup honey
1 Tablespoon granulated sugar
a pinch of salt
for the strawberry coulis:
6 oz strawberries, either fresh or frozen
3 Tablespoons granulated sugar
2 Tablespoons water
a pinch of salt
1 teaspoon lemon juice
Instructions
To make the panna cotta, pour the whole milk into a saucepan, sprinkle the gelatin powder on top, and let it sit for 5 minutes.
After letting it sit, whisk the gelatin into the milk, and put the saucepan over medium heat for 5 minutes, stirring occasionally. Don't let the milk boil.
Whisk in the remaining ingredients and continue heating for another 5 minutes, again without letting the mixture come to a boil.
Remove from heat, and divide the mixture evenly among 8-10 small serving dishes. Place a small piece of plastic wrap over each dish so that the plastic is touching the surface of the custard. This will prevent a skin from forming on the top of the panna cotta. Refrigerate until set, at least 6 hours or overnight.
To make the strawberry coulis, combine strawberries, granulated sugar, water, and salt in a small saucepan. Bring to a simmer, stirring often to dissolve sugar. When sugar is dissolved and berries have softened, remove from heat.
Puree the mixture with a stick blender or in a food processor. Strain through a fine mesh sieve to remove seeds, and stir in lemon juice. Allow to cool to room temperature.
Divide the sauce equally among the set panna cotta, and refrigerate at least 1 more hour before serving.