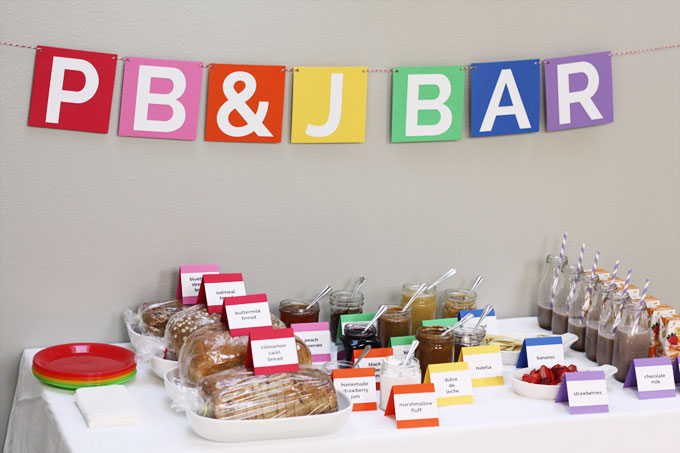 Munchkin rids the world of the mundane by developing clever, innovative solutions that make family life safe, easier, and more fun. You can find their products at Munchkin.com, Target, Babies'R'Us, Walmart, and Amazon. It's the little things!
All this week, I'm teaming up with my friends MJ and Jennifer to throw a virtual baby shower for our friend Amy who just welcomed a new baby to the world. Today is my day to post, and I'm all about the food! Since the theme for our baby shower is Celebrate the Little Things, I thought it would be fun to do a grown-up version of everybody's favorite kid food, PB&Js! But these aren't just any peanut butter and jelly sandwiches. We've got a whole table full of gourmet sandwich fixings and fun drinks.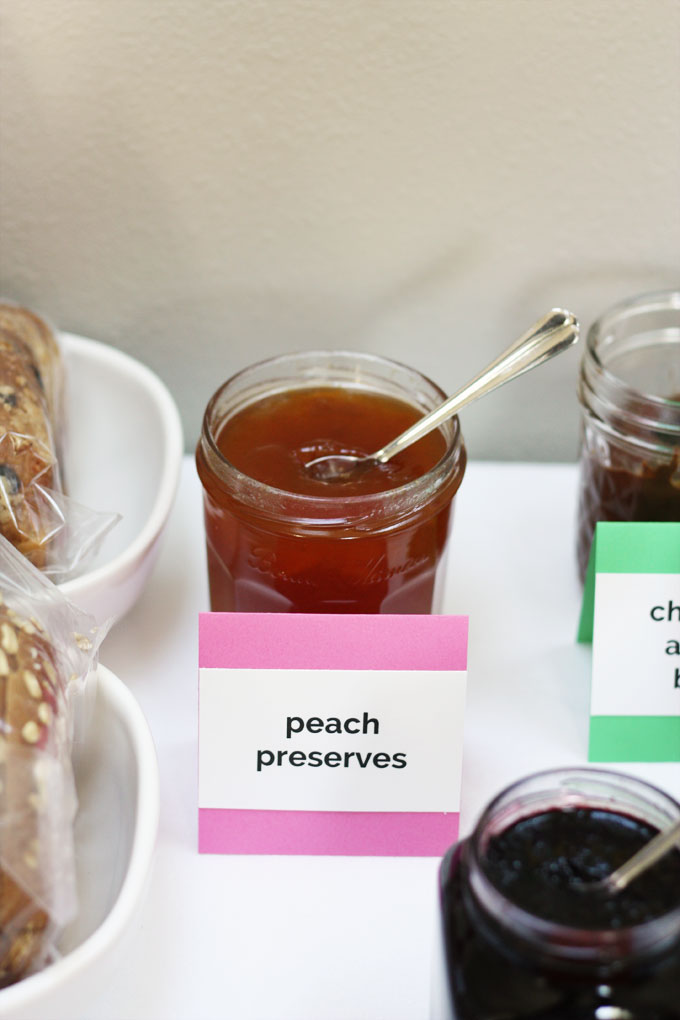 Beautiful Breads | A gourmet PB&J bar gives you the opportunity to use extra yummy flavors of bread! I used cinnamon swirl, buttermilk, oatmeal, and blueberry streusel breads.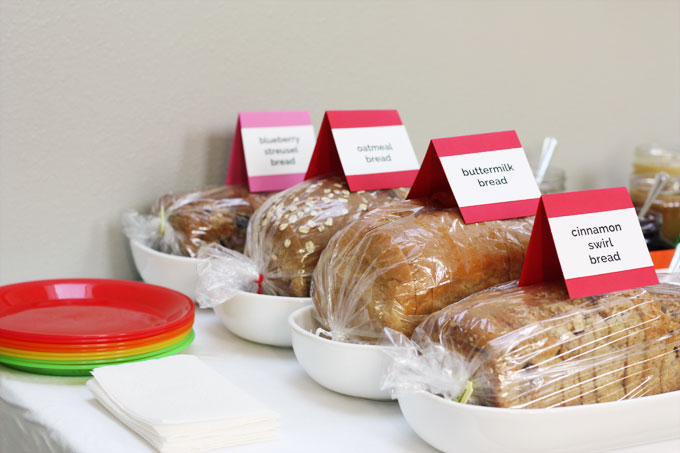 Flavorful Fillings | This is where a gourmet PB&J bar really shines! I basically bought every delicious, fancy spread that caught me eye. We had Homemade Strawberry Jam, Black Raspberry Jam, Peach Preserves, Marshmallow Fluff, Dulce de Leche, Nutella, Chocolate Almond Butter, Biscoff Cookie Butter, Orange Blossom Honey, and regular old Peanut Butter. I found some at the regular grocery store, some at World Market, and some at the fancy-pants supermarket. We also had fresh sliced strawberries and bananas.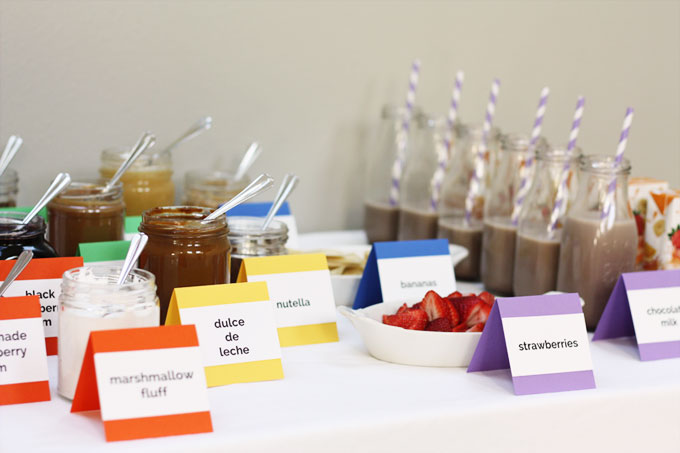 Don't Forget the Drinks | Chocolate milk is one of my all-time favorite things to drink. With my second, third, and fourth pregnancies, I just couldn't get enough of it! Served in cute glass milk bottles with striped paper straws alongside some juice boxes, they made a cute addition to the table.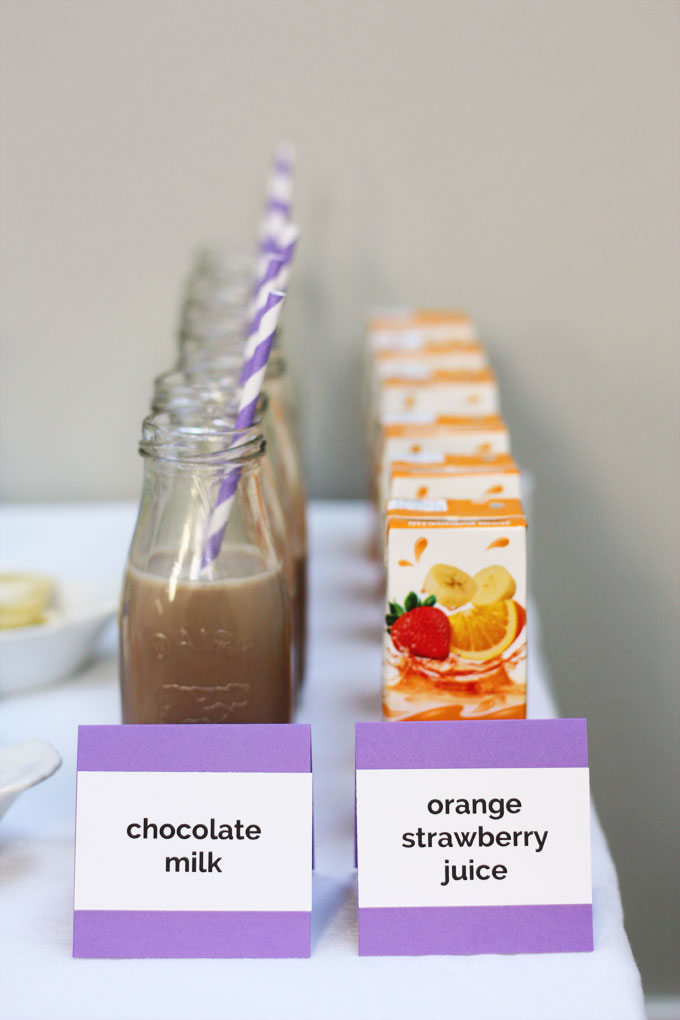 Cute and Colorful | For our color scheme, we decided to stick with white and pops of bright colors. I made a sign for each item on the table out of colored card stock, and used the same colors for the "PB&J BAR" banner hanging over the table. And instead of using paper plates, I used some fun, eco-friendly plastic plates from Munchkin in red, orange, yellow, and green.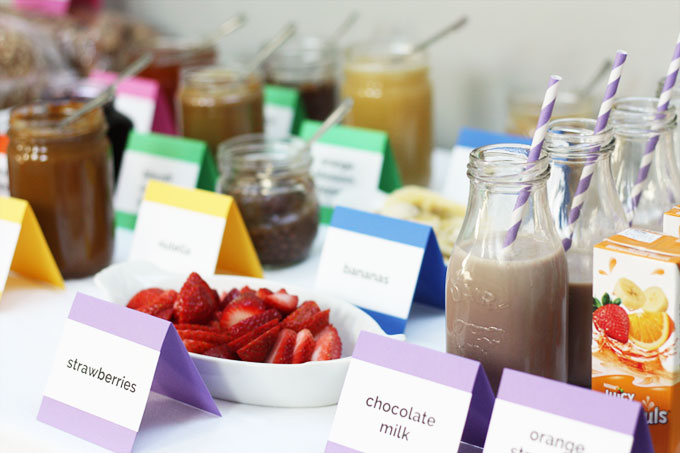 In case you missed it, Jen showed us how to make a a darling ribbon chandelier yesterday. And don't forget to check back in tomorrow for lots of creative decor ideas from MJ. See you then!