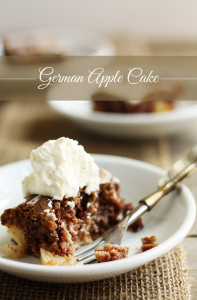 It's been a crazy week blogging-wise. I've had a post written for over a week, just waiting for the OK from the sponsor, and I have to keep pushing it back at the last minute and filling the spot with other posts. Which translates to German Apple Cake on this lovely Friday morning–all's well that ends well.
As you would expect from the foreign and rustic-sounding name, German Apple Cake comes to us from long ago and far away–the mystical land of San Antonio when I was 5 years old. When we first moved to Texas, our new neighbor, Anita, brought this cake over to my family, and my mom still has the recipe written on a yellowing recipe card, handwritten by Anita in blue ballpoint. And the cake tastes just as you would imagine something called German Apple Cake tasting: dense and sweet, with a warm spiciness from the cinnamon, and a pleasant tartness from the fresh apple slices. It seems distinctly old-fashioned and wholesome, a little reminiscent of gingerbread. Topped with sweet whipped cream, it is a homey and comforting way to end an Autumn evening.
from our San Antonio neighbor, Anita, when I was 5 years old
I usually make all of the recipes I post, but this particular cake was made by my mom earlier in the week, and the whole family thought it was delicious, so she graciously gave me extra pieces to photograph.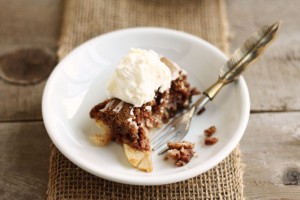 for the cake:
3 eggs
1 cup oil
1 teaspoon baking soda
1/2 teaspoon salt
1 1/2 Tablespoons cinnamon
1 teaspoon vanilla
1 1/2 cups sugar
2 cups flour
1 cup chopped pecans
4 cups apples, peeled and sliced thin (Anita's recipe calls for Jonathan apples; I'd use Honeycrisp or Sweet Tango, or something similarly tart.)
for the glaze:
1 cup powdered sugar
1 teaspoon vanilla
1 Tablespoon melted butter
a splash of milk
To make the cake, preheat the oven to 350°F. In a large bowl, beat eggs and oil until thick. Add all remaining cake ingredients except apples. Beat until combined. Batter will be thick. Arrange apple slices evenly across the bottom of an ungreased 9×13″ baking dish, and spread cake batter evenly over the apples. Bake for 30-40 minutes, until the cake begins to pull away from the sides of the pan, and a toothpick inserted in the center of the cake comes out clean. Remove from oven and set aside to cool.
While the cake is cooling, combine powdered sugar, vanilla, and melted butter in a small bowl. Add enough milk to make the glaze pourable, and whisk until smooth. Drizzle the glaze evenly over the cake while it's still warm. Serve the cake warm, topped with sweetened whipped cream.