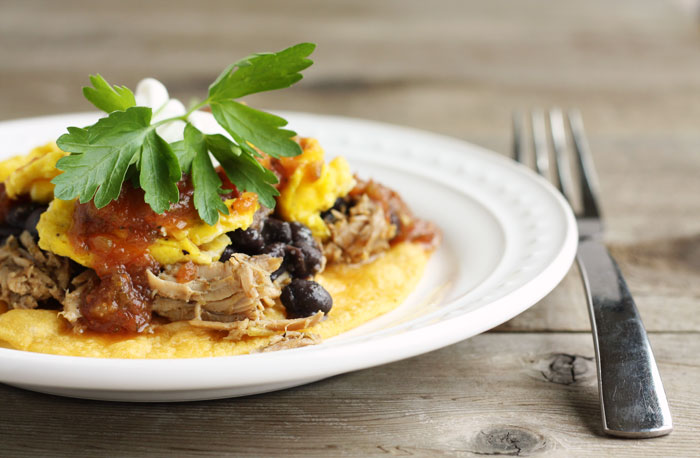 Despite my over-the-top love of Mexican food, I had never had huevos rancheros until earlier this year, when the dish caught my eye on a Sunday brunch menu. But since that first bite, I've had huevos rancheros on the brain! Every single thing about huevos rancheros is amazing, and the flavors go together beautifully: the earthiness of the corn tortilla, the sweetness of the pork, the subtly-spiced savoriness of the black beans, the smooth sour cream with just a hint of tang. My mouth waters just thinking about them!

Huevos Rancheros with Sweet Pork & Black Beans
for the sweet pork:
3+ lbs boneless pork roast
1/2 cup apple juice
1 cup brown sugar, divided
1 teaspoon kosher salt
freshly ground black pepper
1 teaspoon chili powder
1 10-oz can mild green chile enchilada sauce
1/2 teaspoon onion powder
4-5 good shakes worcestershire sauce
1 lime (optional)
for the black beans:
1 can black beans, drained and rinsed
1/4 teaspoon onion powder
1/4 teaspoon garlic powder
1/3 cup water or chicken broth
1/8 teaspoon cumin
1/8 teaspoon coriander
1/8 teaspoon oregano
1/4 teaspoon salt
ground black pepper
for the huevos rancheros:
corn tortillas, lightly fried in oil
sweet pork
black beans
eggs, cooked to order (I like mine scrambled)
salsa
sour cream
avocado or guacamole
shredded cheddar
To make the pork, combine pork roast, apple juice, 1/2 cup brown sugar, salt, pepper, chili powder, enchilada sauce, onion powder, and worcestershire sauce in a large crock pot. Cook on low 7 1/2 hours, add the remaining 1/2 cup brown sugar, and continue cooking for another 30 minutes. Remove the meat, shred, squirt with lime juice, and set aside.
To make the black beans, combine all ingredients in a small saucepan and bring to a simmer. Cover and remove from heat.
To assemble the huevos rancheros, place a lightly fried tortilla on a plate, top with pork, black beans, eggs, and as many toppings as you want!