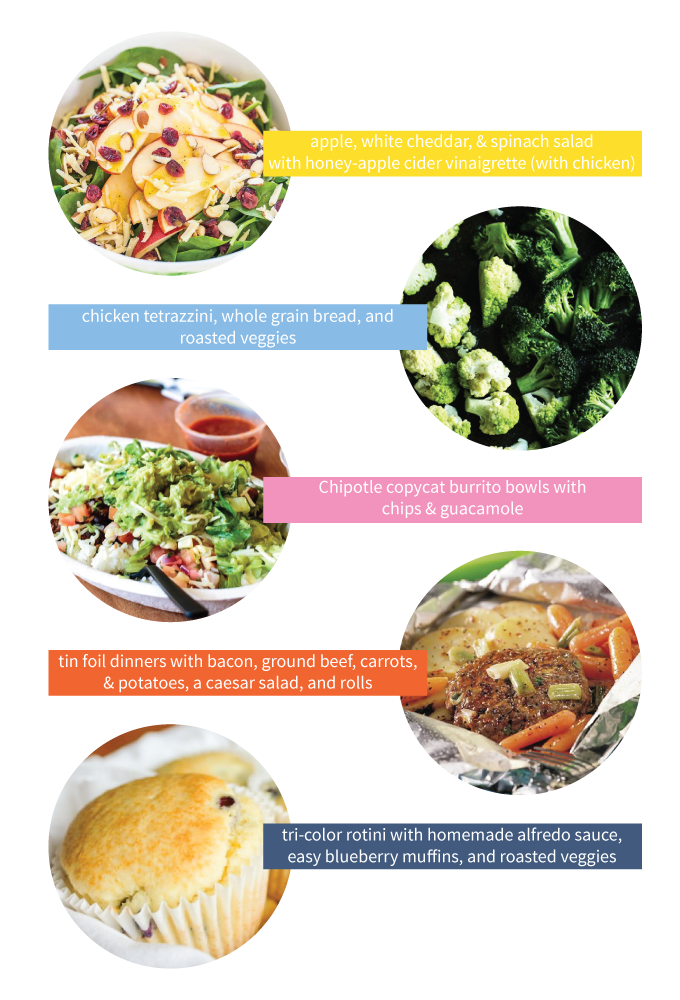 Before we get to this week's menu ideas, I have a really exciting announcement to share with you: my book, the one I've been working on for YEARS, will be available for pre-order next week!! Woohoo! I'm so excited to share more details with you, including a cover reveal next week, so stay tuned.
And now, here are some of the delicious dinners we enjoyed this week…
Apple, White Cheddar, & Spinach Salad with Honey-Apple Cider Vinaigrette:
We tried another winning salad this week, this time from Averie Cooks. The ingredients complement each other nicely, and the salad has lots of flavor and crunch. The honey-apple cider vinaigrette is super easy to make, and the whole salad takes just a few minutes to put together. We added diced rotisserie chicken to make it a light but filling meal.
Chicken tetrazzini, whole grain bread, and roasted veggies:
Chicken tetrazzini is one of my husband's favorite dinners. The recipe we use is the one he grew up with, and I promise I'll post it soon. As soon as I can snap a decent picture of it! Roasted veggies are our go-to side dish and can cook in the same oven as the casserole, which makes dinner really convenient and easy.
Chipotle Copycat Burrito Bowls:
My mom made these for us last year, and they were a big hit with everyone! You can make whatever kind of chicken you want (we use our favorite mexican crockpot chicken), and cooked, long-grain white rice with a squeeze of lime and a handful of chopped cilantro tossed in. Set it out with your favorite toppings—sour cream, salsa, guacamole, lettuce—and let everyone make their own. Delicious!
Tin Foil Dinners with bacon, ground beef, potatoes, and carrots, caesar salad, and rolls [photo from Betty Crocker]:
We took our new Airstream trailer camping at one of our favorite state parks, and made one of our favorite camping dinners: tin foil dinners. We've been making these delicious tin foil dinners for years. I grew up making pretty standard foil dinners with beef, potatoes, and carrots, but this recipe from Sherelle Christensen takes them up so many notches thanks to onions, spices, scallions, butter, and bacon. They're so good, you'll want to make them even if you aren't camping.
Tri-Color Rotini with homemade alfredo sauce, easy blueberry muffins, and roasted veggies:
Our second oldest specifically requested tri-color rotini with parmesan cheese, so I took it one step further and made a ridiculously delicious and easy alfredo sauce to go with it. We also made super-quick blueberry muffins and more roasted veggies: this time, we used green beans and broccoli. All in all, it was one of the quickest dinners of the week, and one of our favorites.
I heard from a reader last week that is really enjoying this new series, and it made me so happy. I know it can be a huge challenge to get quick, healthy dinners on the table during the week because it's a challenge for my family too. I love getting new ideas for meals that my family will love, and I started This Week's Menu Ideas last month to give you guys great ideas too. So I hope you love it! Have a great weekend, and enjoy your menu planning!