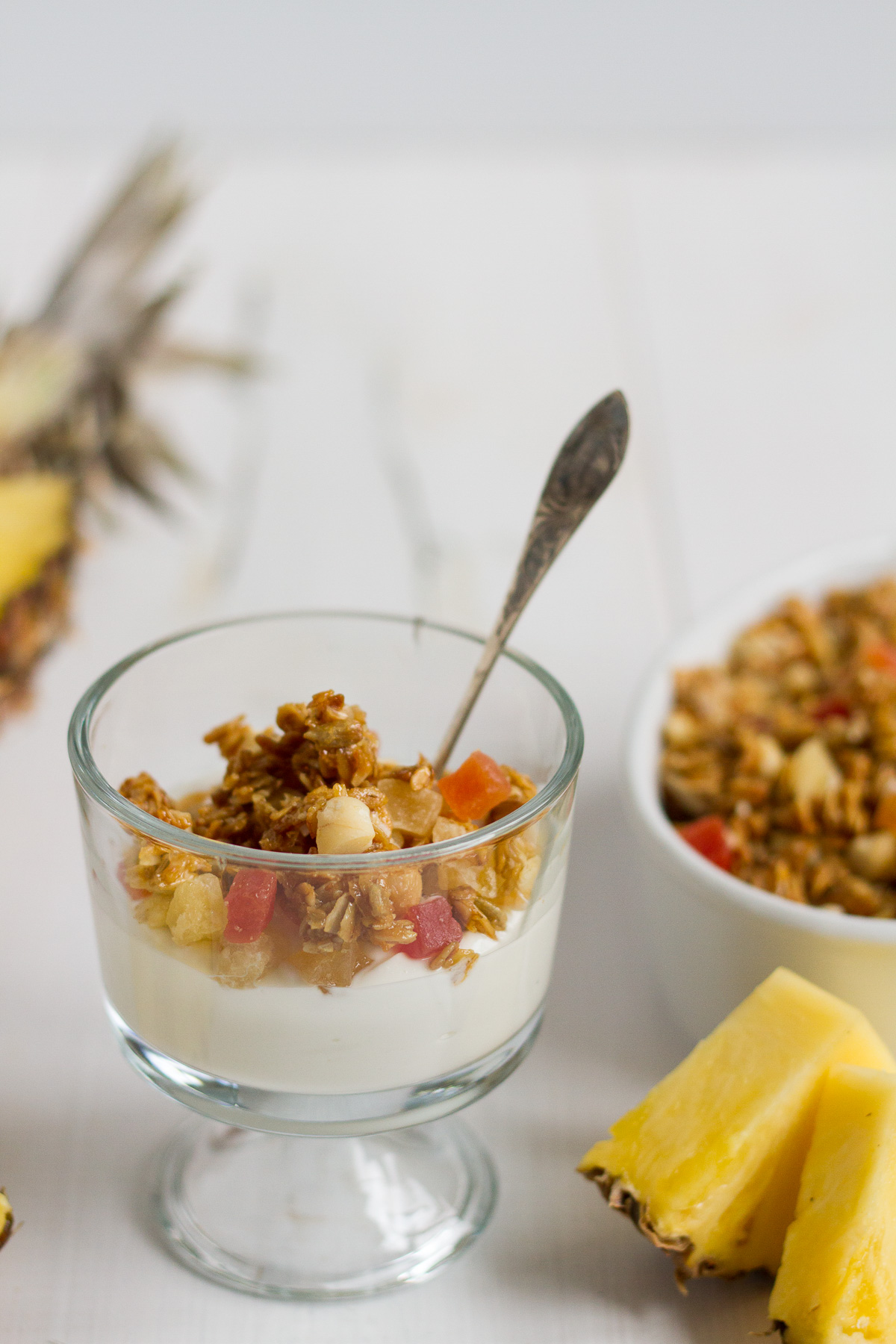 This post has been sponsored by Oikos. All thoughts and opinions are my own.
Yogurt and granola is one of my all-time favorite breakfast combos. In fact, I have greek yogurt topped with granola most mornings for breakfast, and I absolutely love it. The contrast of smooth, tangy yogurt with crisp, crunchy clusters of sweetened oats, nuts, and fruit is deliciously satisfying.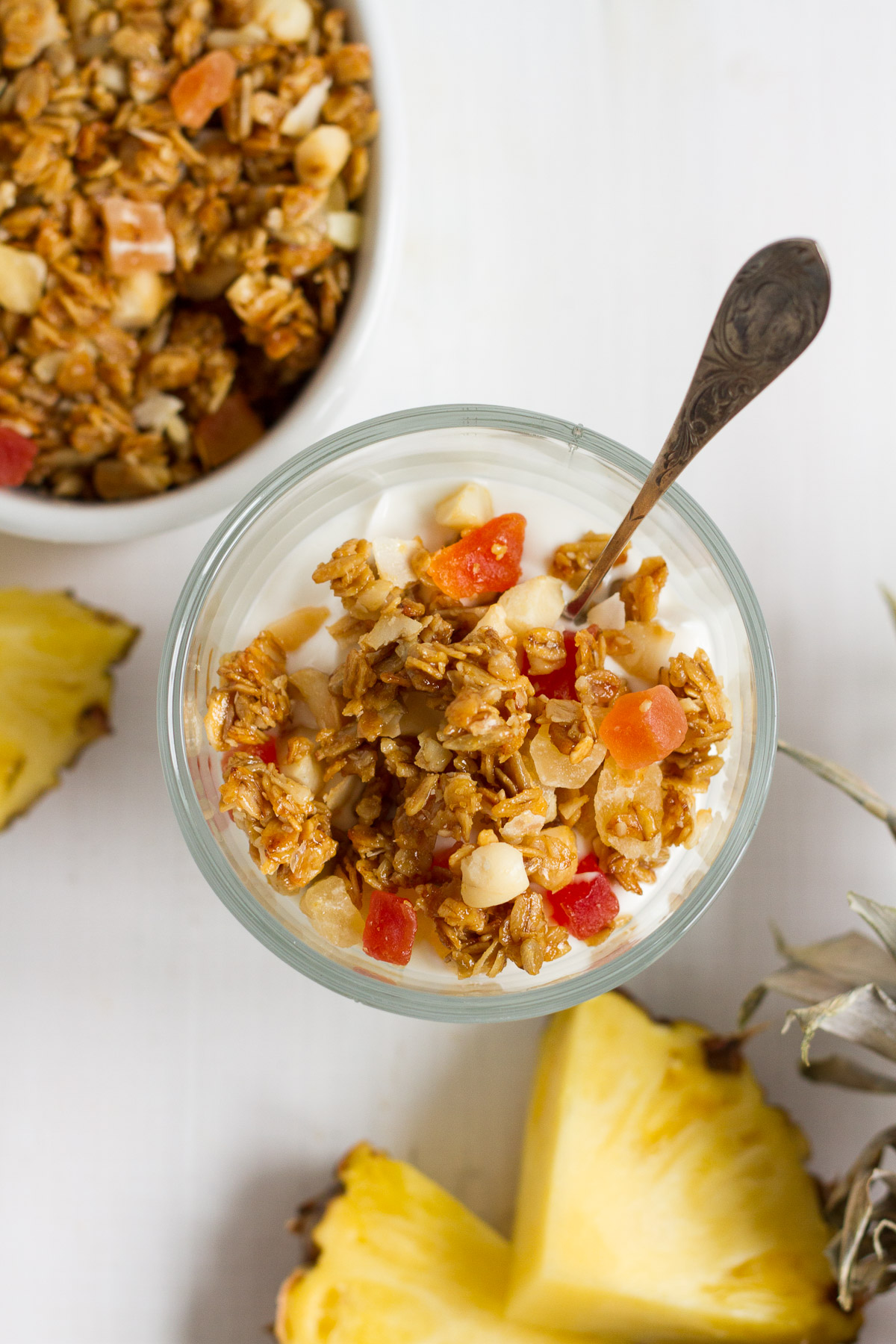 Oikos® Triple Zero Yogurt has a fun NFL Flavor Draft going on right now. They have proposed three new flavors—Pineapple, Pomegranate, and Cookies and Cream—and everyone gets to vote for their favorite. The winning flavor will be available exclusively at the Kroger Family of stores. I love all things pineapple, and pineapple is my absolute favorite yogurt flavor. So I'm not only thrilled that it might become a reality, but I'm also crossing my fingers that pineapple wins so I can go stock up at my local Fred Meyer store. Head to the NFL Flavor Draft webpage right now and vote for your favorite flavor (which should be Pineapple). Those that vote will have a chance to win a $50 NFL gift card, and 1 lucky Grand Prize winner will get two tickets to the 2018 NFL Draft! You can also enter by texting "Pineapple", "Pomegranate," or "Cookies" to 811811.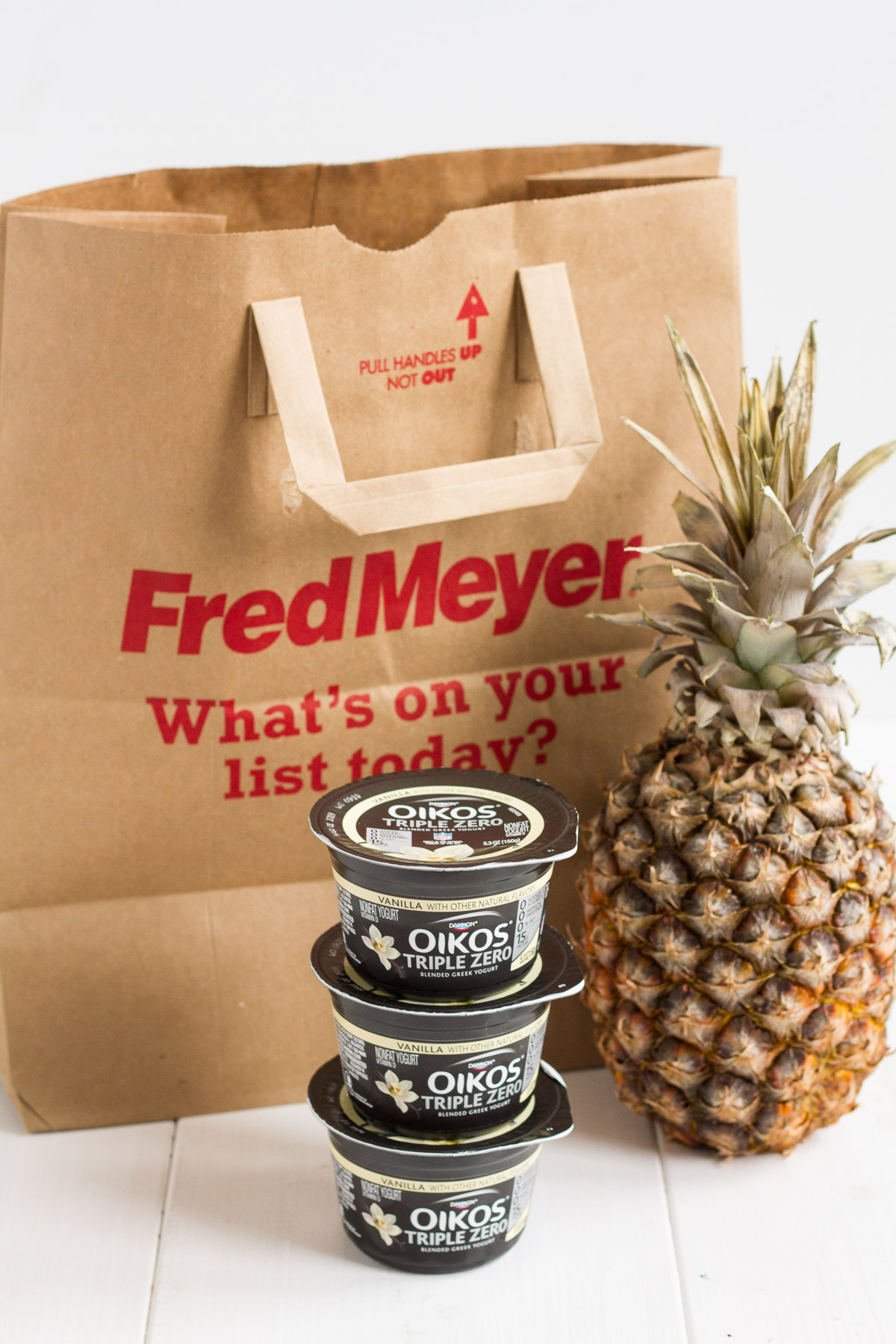 Inspired by the NFL Flavor Draft and our recent trip to Maui, I gave my go-to granola recipe a tropical makeover, and the results are addicting. Lightly toasted coconut chips and roasted macadamia nuts sit alongside bits of dried tropical fruits like pineapple, mango, and papaya. I made a big batch over the weekend and have already eaten most of it—I just can't stop! Until that Oikos® Triple Zero Pineapple Yogurt becomes a reality (I'm counting on you guys to vote!), I've been pairing my granola with Oikos® Triple Zero Vanilla Yogurt, and it's a match made in heaven.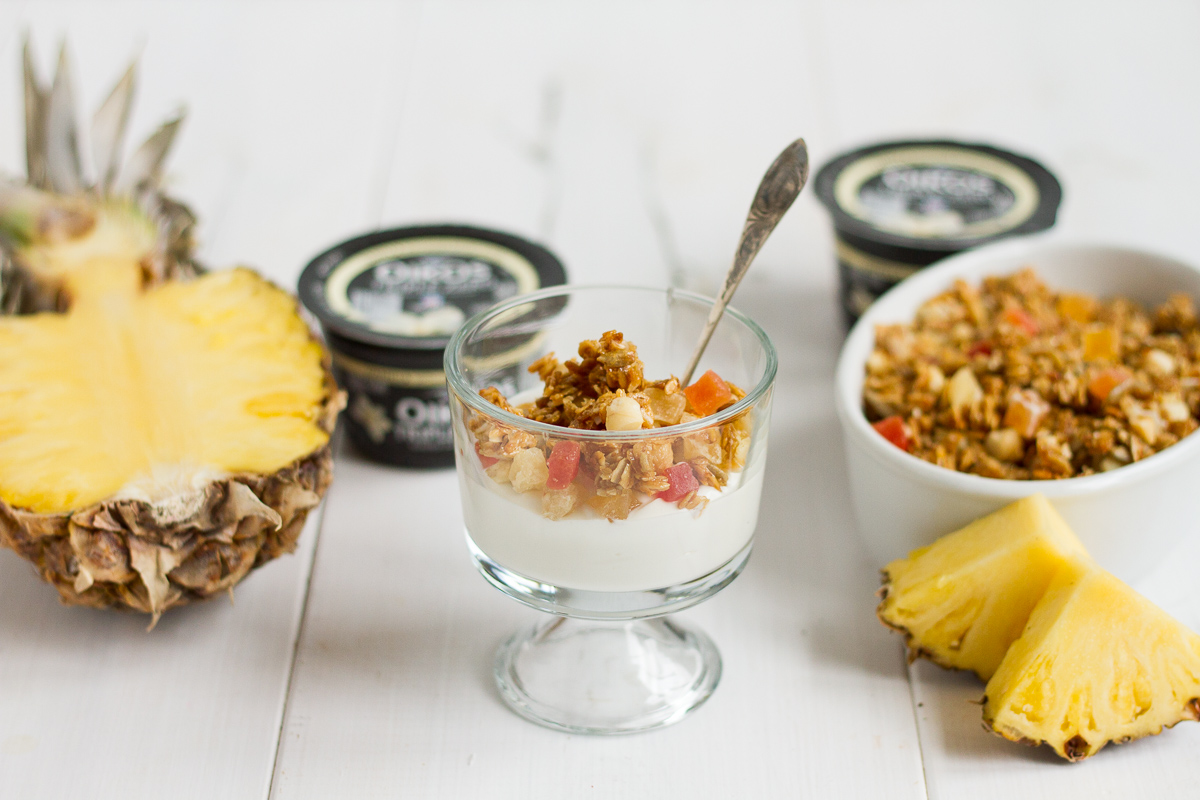 Homemade Tropical Granola
Crunchy homemade granola with oats, sunflower seeds, macadamia nuts, coconut chips, dried tropical fruits likes pineapple, mango, and papaya, lightly sweetened with honey and brown sugar.
Ingredients
1½ cups old-fashioned rolled oats
½ cup raw, shelled sunflower seeds
¼ cup brown sugar
6 Tablespoons honey
¼ cup olive oil
½ teaspoon salt
½ cup roasted macadamia nuts, chopped
½ cup unsweetened coconut chips
½ cup dried, diced tropical fruit like pineapple, mango, and papaya
Instructions
Preheat the oven to 300°F. Lightly spray a rimmed cookie sheet with nonstick spray.
In a large bowl, combine oats, sunflower seeds, and brown sugar; set aside.
In a glass measuring cup, combine honey, olive oil, and salt. Microwave for 30 seconds, stir well, then pour over oat mixture.
Stir until the honey is distributed evenly. Spread the oat mixture out on the prepared cookie sheet, and bake for 15 minutes. Stir the granola, then bake for another 10 minutes.
Sprinkle the macadamia nuts and coconut onto the granola, stir to combine, and bake for another 5-10 minutes until everything is golden and toasty. While the granola is baking, line a clean cookie sheet with a piece of parchment paper.
Remove the granola from the oven and immediately stir in the dried fruit. Pour the granola onto the parchment-lined cookie sheet, and let it cool completely.
When the granola is completely cool, break it up into chunks.