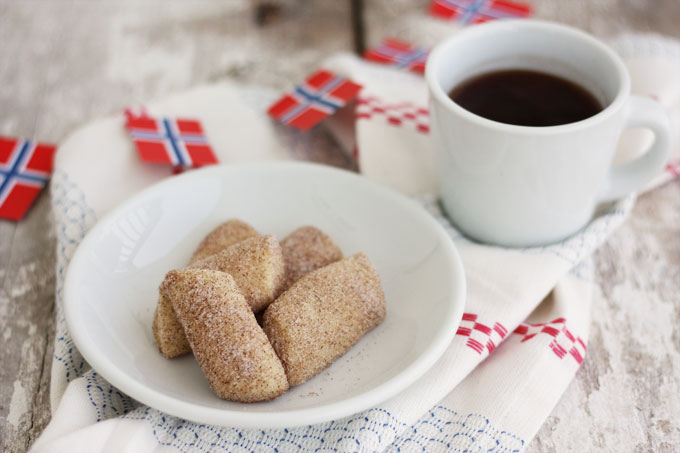 I mentioned on Instagram on Monday that my book, Scandinavian Gatherings, will be available for pre-order soon—Hooray!! I was going to do a big cover reveal today, but there was a little snag, and it looks like that won't be happening until next week. I'm going to talk about this a little later in the week, but there are about a million things I've learned along this long journey from idea to publication, and one of the biggest lessons is that sometimes (a.k.a. often) things are completely, 100% out of your control. And you just have to be at peace with that. So the cover reveal will be next week instead of this week. While we're waiting, I thought it would be fun to share a little bit more with you about the inspiration behind the book and the process of getting it published.
My grandpa, Poppy, is a big idea man. He always has a million ideas. When we were home for Christmas one year (I think it must have been Christmas 2010!), he showed me a cute book of Christmas stories and songs in Norwegian, and he said, "Lulu, I think you should make a book like this full of Scandinavian Christmas stories and songs, but write it in English." Now, I think all of Poppy's ideas are great, but this one made me stop dead in my tracks because I thought it was sweet and beautiful and brilliant, and exactly the kind of project I wanted to take on. I looked right at him and said, "Poppy, I think that's an amazing idea. I'll do it!" And that's how it all started.
It took me at least a year to turn that seed of an idea into anything that even loosely resembles the book as it is now. I've always loved 3×5″ cards. I used to use them to organize facts and quotes and ideas when I wrote essays and papers in college. Index cards are nice because you can shuffle things around really easily until they make sense. So I wrote down every single idea I had on an index card. Ideas for crafts. Ideas for recipes. Ideas for songs (FYI, there are no songs in my book!). So many ideas. And for the longest time, I just kept them in a stack. Sometimes I'd shuffle through them and add a new card or take out a dud and throw it away, but I didn't really know what to do with all of these ideas. I had no clue how I wanted to organize them. At some point I decided that I didn't want the book to be about just Christmas, but that I wanted it to include ideas for every season. I started organizing my index cards into groups that had any kind of cohesive feeling to them. There was a lot of shuffling back then. Ideas would be in one group one day, and then a completely different group that seemed like a better fit the next day. Or I'd have too many cards in one pile and almost no cards in another pile, and they'd need to be redistributed. One day, it just kind of occurred to me that I was grouping my ideas based on party themes, and that's how the whole idea of Scandinavian Gatherings came about. I'm sure some authors have a lightning striking-type of moment when their book idea hits, but mine was much more along the lines of a slow, steady sunrise—a beautiful but very gradual dawning.
I never write blog posts that are this long; the length of this post is already making me feel exposed, haha! I think this is a good, natural place to take a break for today. But I'll leave you with an actual inspiration board made from the Pins in my top-secret, private Pinterest board called "Book Ideas." Back when Pinterest would only allow you to have three secret boards, I guarded this one with my life! These images helped me figure out what kind of feeling I wanted the book to have. Long before I chose an illustrator or a photographer or a stylist or even a publisher, before I could even put any kind of description into words of what I wanted my book to be, I knew how I wanted my book to feel…