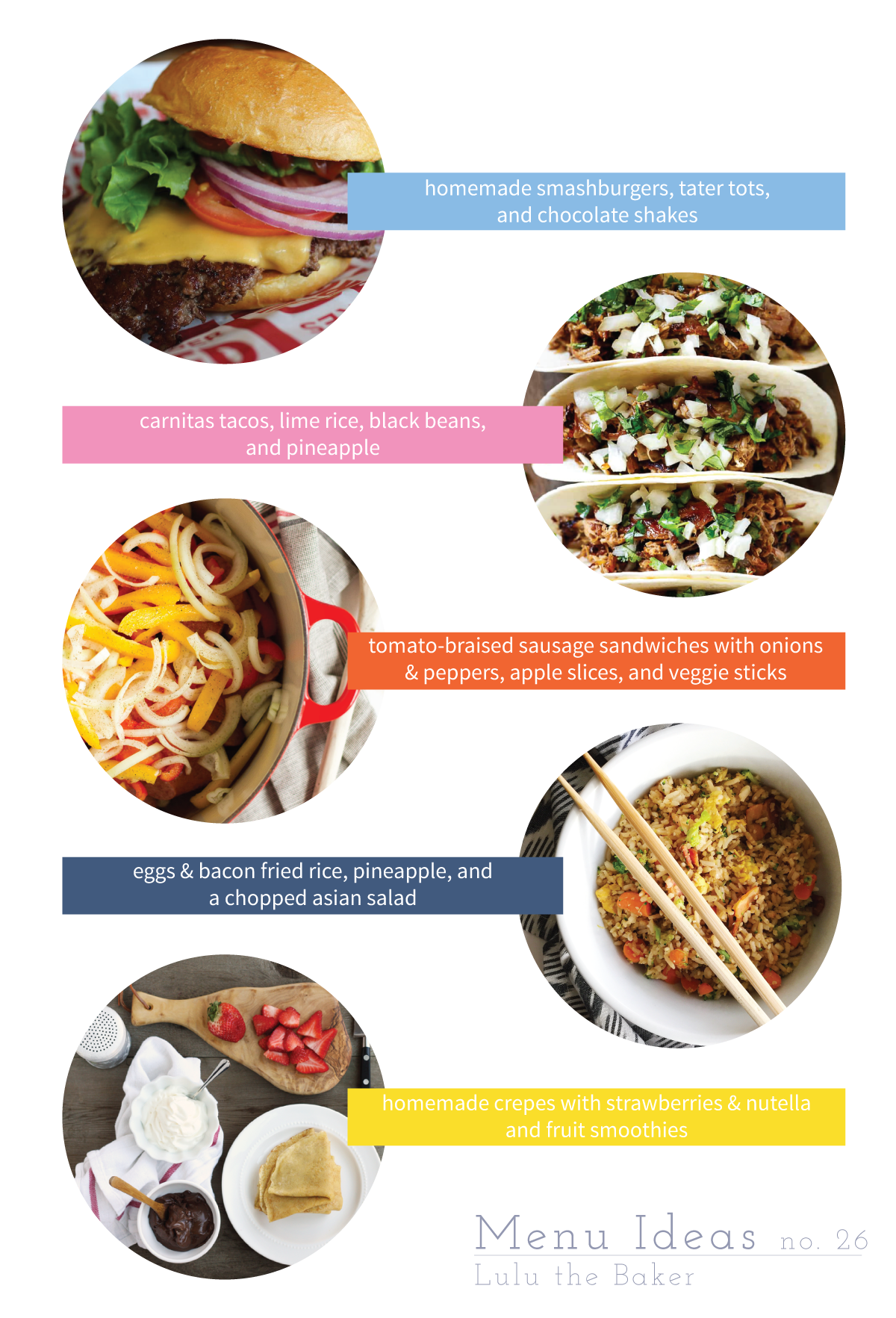 Happy Friday, folks! The sun is finally out here in Oregon, and we are busy enjoying the warmer weather and sunshine, shuffling kids to and from soccer games, and planting our Spring garden. With all the activities going on during the week, we've had to make sure our weeknight dinners are easy to put together. Here are some of the menu ideas that have worked for us lately:
Homemade Smashburgers with Tater Tots and Chocolate Shakes
My kids love having homemade burgers for dinner, and they really are easy enough for even busy weeknights. I spotted the recipe for homemade smash burgers in an issue of Bon Appétit I read on vacation a few months ago (I might have "borrowed" the magazine and brought it home with me because it had so many good recipes in it.) None of us have ever had a real Smashburger, so I can't speak to how authentic ours were, but they tasted really good. Paired with our favorite tater tots and some homemade chocolate shakes, this dinner was and always is a surefire hit.
Carnitas Tacos with Lime Rice, Black Beans, and Pineapple
Carnitas tacos might be one of my favorite things to eat in the whole world. I like food, so choosing a favorite is hard, but if carnitas tacos are on the menu, I'll choose them almost every time. I think that's pretty hard evidence, yes? And I love cooking something once that can be used for a few different dinners. This carnitas recipe from Cafe Delites is a perfect example. The meat cooks in a slower cooker, then crisps up in the oven. And one recipe makes enough meat for tacos one night and burritos or nachos or quesadillas another night. We had lime rice, our favorite black beans, and fresh pineapple on the side.
Tomato-Braised Sausage Sandwiches with Onion & Peppers, Apple Slices, and Veggie Sticks
These savory kielbasa sandwiches are a longtime family favorite. My mom got the recipe from her sister, and I remember loving them when I was younger, even though I wasn't a fan of bell peppers at the time. I just thought these sandwiches were so delicious that I didn't care if they were full of peppers or not! They are super simple to make, and taste smoky and savory. The meat has to braise for several hours, so they're best saved for a day when you'll at least be home for a bit in the afternoon, but the amount of work you actually have to do is minimal. We're talking maybe 10 minutes. Be forewarned: they are delightfully messy!
Eggs & Bacon Fried Rice, Fresh Pineapple, and a Chopped Asian Salad
This unique (although not even really that different) fried rice is one of my husband's go-to dinners, and the kids absolutely love it. It's basically just fried rice with bacon in it. It comes together really quickly, especially if you have all the components prepped and ready to toss in the skillet. Here's how…Cook a pot of rice. While the rice is cooking, cook and crumble some bacon and set it aside on a plate lined with paper towels. We've actually been buying the precooked bacon slices from Costco that just need a quick crisp-up in a skillet, and they are a lifesaver. In the same skillet, scramble up a few eggs, then set those aside too. In the skillet, saute whatever vegetables you want in your fried rice. Remember that not all vegetables take the same amount of time to cook, so add the ones that take longer first, and the ones that cook faster later. We've included chopped broccoli, cauliflower, zucchini, pea pods, thinly sliced carrots, all different kinds of onions, bok choy, garlic, and ginger, and seriously, whatever you have on hand is fine. As the vegetables finish cooking, add the rice, bacon, and eggs to the skillet, and add soy sauce to taste. If you've got toasted sesame oil, add some of that too. Give it a good stir and make sure everything is heated through, and that's it! We rounded out our meal this time with a chopped asian salad and some fresh pineapple. The kids seriously gobble it up.
Homemade Crepes with Strawberries & Nutella and Fruit Smoothies
Our 10 year-old daughter's favorite thing to eat in the whole world is crepes. Whenever she gets to choose a meal, be it breakfast, lunch, or dinner, she picks crepes. They are quick, easy, and delicious, and everybody fills theirs with their favorite toppings, so we're all happy to oblige. Our standard crepe filling is fresh strawberries and nutella, but we also like pineapple, cinnamon apples, cinnamon sugar, bananas, fresh peaches, etc. You really can't go wrong. To round out our dinner, I made a quick batch of fruit smoothies with frozen strawberries, OJ, some yogurt, milk, and a little honey. You can find our crepe recipe HERE.
There you have our latest batch of menu ideas. These are the easy weeknight dinners we've had lately and loved. Not every new meal we try during the week is a winner, but all of the ideas here are family favorite that make it into the dinner rotation regularly. If you have go-to dinners that work on busy weeknights, I'd love for you to share them in the comment on this post! And if you need even more family-friendly ideas for weeknight dinners, check out the menu ideas archives by clicking HERE.