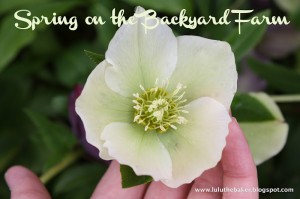 Spring is a busy time here on our backyard farm. In the middle of February, we sowed our first group of seeds: snap peas, garden peas, radishes, beets, carrots, and turnips, and lettuces and bok choy in the hotbox. Some might say that, in light of the heavy snow we got at the end of March, it was too early to begin gardening. But we like to shun conventional gardening wisdom and fly by the seat of our pants here! Plus, everything is growing like crazy, so no harm, no foul.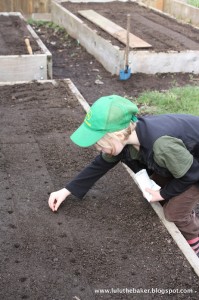 sewing radish seeds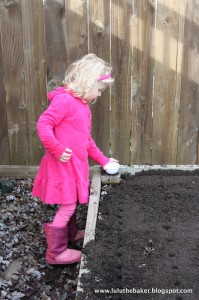 sewing beet seeds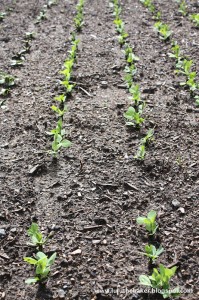 from left: radishes, garden peas, and snap peas
Lesson #3 in Backyard Farming: Build yourself a hotbox. Your lettuces will grow 5 times faster and be relatively bug free. We tried growing lettuce a few summers ago, but I began obsessively examining each leaf for bugs before I'd let anyone eat it, and we had to put the kibosh on the whole endeavor.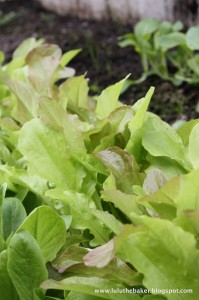 lovely lettuces growing in the hotbox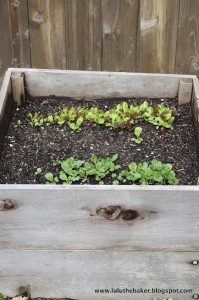 Just so you can see the contrast, these lettuce seeds were planted on the same day as those in the hotbox (pictured above)!
We also planted an entire bed of seed potatoes in our backyard. It will yield many, many more pounds of delicious Rose Finn Apple Potatoes than we can possibly consume, but my husband is of Irish descent, and I think he is trying to avoid another potato famine.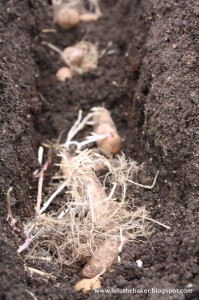 seed potatoes
The orchard on the backyard farm is absolutely bursting with blossoms. Our Rainier Cherry is covered with buds; we expect a huge harvest this summer, and plan on being both gout- and constipation-free well into September! We're also hoping to get more than the handful of italian plums we've gotten every other year, and are hopeful that our four potted peach trees will produce enough fruit to make a pie (just one pie, that's all we ask!).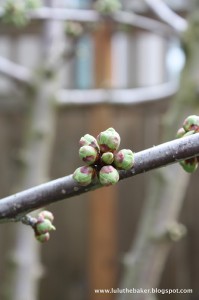 cherry buds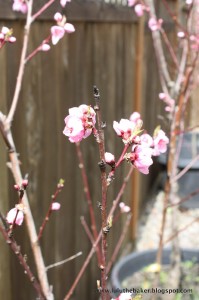 peach blossoms
We also have lots of strawberry plants and a few blueberry bushes.
Lesson #4 in Backyard Farming: Picking blueberries is awful. It's kind of like a weird nightmare where you pick and pick and pick, but there never seem to be fewer blueberries on the bush. In fact, I think for every blueberry you pick, two pop up in its place!


On the real farm, things are also growing.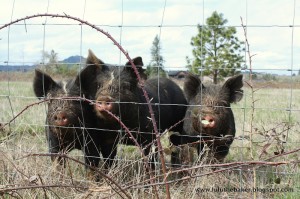 our piggies (breeders, not eaters)–rose, sadie, and dolly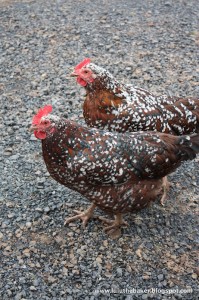 two Speckled Sussex hens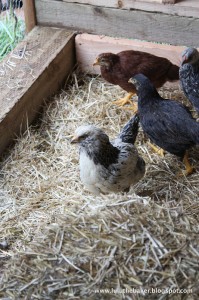 The rare breed–definitely not a Cuckoo Maran as originally thought. Possibly an Egyptian Fayoumis. 10 points to anyone who can help us correctly identify him/her.
For more Lessons in Backyard Farming, click HERE.