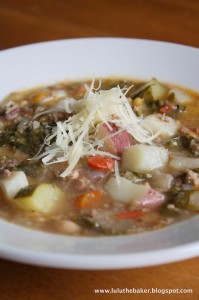 Everyone in our family loves soup (ok, not the 4 year-old, but she only eats Rice Krispies and canned peaches these days), and here in the cool, cloudy Pacific Northwest, it is still soup season. My Nana discovered this minestrone recipe in the local paper a few weeks ago. She called me right away to tell me how delicious it was and to share some with us. We've since adopted it as our new favorite soup; go Nana! While my usual minestrone recipe is perfect for the warmer summer months ahead, this hearty version with sausage, potatoes, and kale is savory and satisfying on a cold, drizzly evening.
Minestrone with Italian Sausage and Kale
adapted from the Register-Guard via Nana
Since the sausage provides the only real seasoning in the soup–aside from salt and pepper–I would not recommend leaving it out in an attempt to make vegetarian minestrone. Instead, make this meatless version using vegetable stock.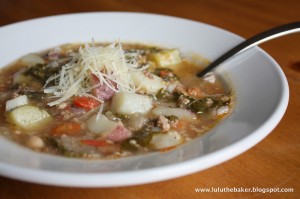 1 lb italian sausage
1 medium yellow onion, chopped
1 medium carrot, chopped
1 stalk celery, chopped
2 Tablespoons olive oil
1 1/2-2 lbs potatoes, chopped
1 cup grape tomatoes, halved
6-8 cups water
1 medium zucchini, quartered and chopped
1 bunch kale, chopped
1 cup canned white beans, rinsed and drained
salt and pepper
shredded parmesan cheese
In a large pot or dutch oven, saute sausage, onion, carrots, and celery over medium heat; cook until sausage is no longer pink and vegetables are tender, about 10 minutes. Using a paper towel, drain any excess grease. Add olive oil and potatoes, and continue cooking for another 10-15 minutes, until potatoes mostly tender. Add tomatoes and 6 cups water, bring to a boil, and simmer 15 minutes. Add zucchini and kale, and continue simmering for 10 more minutes until all veggies are tender. If needed, add up to 2 more cups of water. Add beans, allow to heat through (about 3 minutes). Salt and pepper to taste, and serve topped with parmesan cheese.