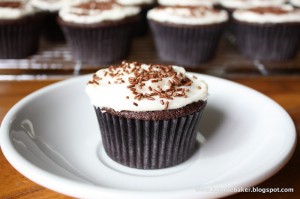 I know there are people out there who think the whole cupcake craze is passé and, dare I say, lame. Well I think those people are crazy! What's not to love in a cupcake? They are delicious, adorable, portable, and relatively mess-free. They can be simple or sophisticated, homey or high-class, and are perfect for any occasion.
Here's our go-to recipe for chocolate cupcakes. We've tried them with cream cheese frosting, peppermint frosting, vanilla frosting, and chocolate frosting, and they've been sensational every single time. In our house at least, the cupcake craze doesn't look like it's ending any time soon!
from Baked Explorations by Matt Lewis and Renato Poliafito, one of my favorite cookbooks
If you are confused by cocoa powder (and honestly, who isn't?!), read this.
1 oz dark chocolate (60-72%), chopped (I pretty much never chop it!)
1/2 cup dutch-processed cocoa powder
2/3 cup hot coffee*
1/3 cup whole milk
1 1/3 cups flour
1 teaspoon baking soda
1/2 teaspoon salt
10 Tablespoons unsalted butter, softened
1 cup packed dark brown sugar
1/2 cup granulated sugar
3 eggs
1 teaspoon vanilla
Preheat oven to 325°F. Line 24 muffins cups with paper liners. In a small bowl, combine dark chocolate, cocoa powder, and hot coffee. Stir until well mixed and smooth. Add milk and whisk; set aside. In a medium bowl, combine flour, baking soda, and salt; set aside. In the bowl of a stand mixer, combine butter and sugars until fluffy. Add eggs one at a time, stirring after each addition and scraping down sides as necessary. Add vanilla and beat 30 seconds. With the mixer on low, add 1/3 of the flour mixture, then 1/2 of the chocolate mixture. Repeat until everything has been added; don't over-mix. Divide batter evenly among prepared baking cups. Bake for 20-25 minutes, until a toothpick inserted in the center of a cupcake comes out clean. Allow to cool completely before frosting.
*We don't drink coffee, but I don't want to use water in place of it in this recipe, so I use 2/3 cup hot water mixed with 1 teaspoon Pero, which you can find by the hot cocoa at the store. It's a caffeine-free coffee substitute.