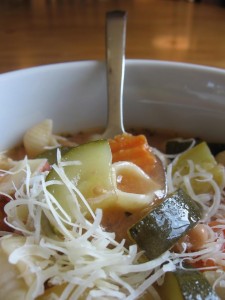 I think I've always been a soup person. In my opinion, it is the best of the comfort foods. Creamy soups, chowders, broth-based soups, chilies; I love them all (except clam chowder and chicken noodle–ironic, huh?!). One of the best things about soup is its high level of costumizability. You don't like an ingredient, you leave it out. You want to add something that needs to be used up from your pantry, go ahead and toss it in. This recipe for Minestrone is the perfect example of an "as you like it" recipe. There are parts that should probably stay the same, but the rest is really up to you. When this soup tasted the best it ever has, I added cabbage, snap peas, and summer squash from our garden and some leftover roasted potatoes from the fridge. The key is to make sure you have a nice balance of liquid and other stuff. So if you find that you have too little liquid, add more broth, or even some water. If you have too much liquid, see what veggies you have sitting in your freezer that you can throw in. You really can't go wrong!
As You Like It Minestrone
Make sure that your vegetables have the right amount of time to cook. Anything hard that needs lots of cooking time (potatoes, carrots, etc.) should probably go in right at the beginning. Softer, quick-cooking veggies like zucchini and corn–or anything that has already been cooked–can go in closer to the end.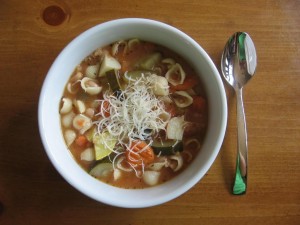 1 Tablespoon olive oil
1/4 cup diced onion
1/2 cup sliced carrots
1/2 cup sliced celery
1 garlic clove, minced
2 cans low-sodium chicken or vegetable stock
1 14-oz can diced tomatoes, undrained
1 can beans, drained (I usually use white beans or red kidney beans)
1 medium zucchini, chopped
a splash of white wine (I don't drink wine, so I have no clue what I'm talking about, but I use a chardonnay from the grocery store)
2 cups cooked pasta (I've done elbows, orzo, shells; just choose something small)
1/4 teaspoon dried basil
1/4 teaspoon dried oregano
the juice from half a lemon
freshly ground black pepper
parmesan cheese to garnish
Heat your olive oil in a large, heavy-bottomed pot. Add onions, carrots, celery, and garlic and cook over medium heat until the carrots and celery start to get tender, about 10 minutes. Add stock, tomatoes, beans, zucchini, and wine. Bring to a simmer and continue cooking until all vegetables are tender. Add remaining ingredients, stir, and serve. Serves about 4, but don't hold me to that!