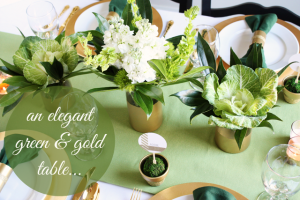 We don't have too many occasions for fancy table settings around here; our dinner table is usually a mix of everyday white plates, clear acrylic tumblers, and colorful IKEA children's dishes. But I do so love a beautifully decorated table, maybe for the very reason that they are scarce at the moment. I got it in my head to decorate my dining room table for an elegant green & gold dinner party in honor of St. Patrick's Day. Are we having an elegant green & gold St. Patrick's Day dinner?? Nope! But I'm so in love with my pretty table that I might start eating all of my meals at my lovely little Irish corner.
Keep reading to see how you can make your own elegant green & gold table (PS–it's so easy!)…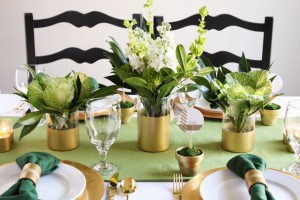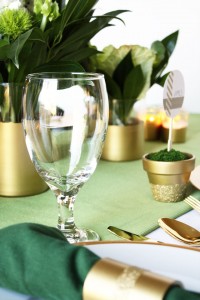 These gold-dipped votives and vases started out as the plain, inexpensive craft store variety. With the help of a little spray paint, they've made an appearance at many a fancy table in the past year. You can find complete directions on how to make them by clicking HERE.
– – – – –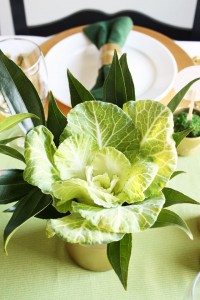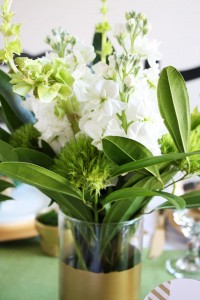 The florals. Oh, the florals! I have a really hard time arranging flowers. Or keeping houseplants alive, but that's a story for a different day! I just don't think I have the knack for making gorgeous, effortless floral centerpieces. I hmmed and haaed for a good half hour before even deciding which flowers to buy at the flower market, and then spent another good chunk of time poking them into the vases in various combinations. I actually don't mind how they turned out! The short vases have beautiful ornamental kale surrounded by some generic greenery from the grocery store. The tall, center vase has the same generic grocery store greenery, but it also has beautiful white stocks, green trick (the fuzzy little puff balls), and my personal favorite, bells of Ireland.
– – – – –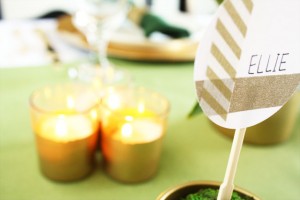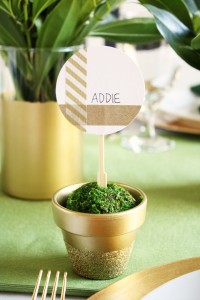 These sparkly little place card holders couldn't be easier to make. Start with small clay pots from the craft store, and spray them all over with gold spray paint. Start with them upside down, allow them to dry, then flip them right-side up for a final coat of paint. After the paint is dry, use a 1″ sponge brush to apply a thick layer of mod podge to the bottom half of the pot. Sprinkle with gold glitter and allow to dry upside down. After the glue is dry, apply another coat of mod podge over the glitter, and allow to dry completely. I filled my glittery pots with 2″ moss balls from the floral department of the craft store. All I had to do was open the package and drop them in the pots!
To make the place cards, lay two pieces of gold washi tape on a piece of white card stock so that they're perpendicular to each other. Cut a big circle out of the card stock using a large circle punch. Make sure you include your gold washi tape! Write the names of your guests on the cards, then glue or tape them to fancy cocktail picks. I bought mine at World Market and use them for all sorts of different crafts!
– – – – –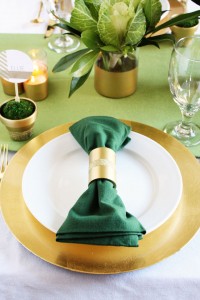 Did you know that the hardware store is full of inexpensive craft supplies? These chic napkin rings are made from $0.42 PVC couplings from the sprinkler aisle! To get a complete list of materials and instructions, visit my latest post for Celebrations At Home.
– – – – –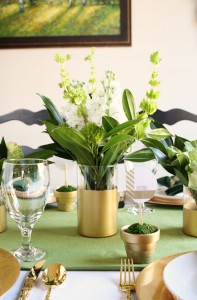 There are a lot of fancy dinner party staples that I have tucked here and there around my house. That way, when they urge strikes, I can bust out an elegant dinner table without too much effort. The white dishes and water glasses are just our regular old dishes. White dishes are always a safe bet–they can be dressed up so very easily! The gold flatware comes from my Nana, who uses it at Christmas Eve dinner every year. I'm sure gold chargers used to be hard to find, but now they're available at so many different places, and for about $1 a piece. This particular set is on permanent loan from Nana (again, Christmas Eve dinner is pretty snazzy at her house!), but you can get them at Target during the Holidays, and at craft stores throughout the year. The green table runner is actually a lovely table cloth that we used on the favor table at our wedding. It is probably our most frequently used table cloth! I simply folded the table cloth in thirds and then ironed it on the highest setting with steam to make the folds nice and sharp, and to help it lay flat.
I had so much fun dreaming up this beautiful table *insert self-congratulatory pat on back here* and plan on leaving it up for as long as I can! If this posts inspires you to make any projects or plan a lovelier-than-usual dinner table, I'd love to hear about it!