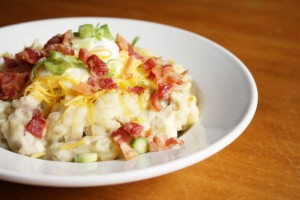 Since it's Comfort Food Month, I thought I'd share a recipe with you that's about as comforting as it gets: Loaded Baked Potato Soup! On a chilly night, a hearty baked potato smothered with sour cream and topped with crispy bits of bacon, shredded cheddar cheese, and savory green onions is positively soul-satisfying. This is basically a baked potato in easy-to-make, slow-cooker soup form, and it makes me want to put on my slippers and curl up in front of the fire, warm and happy and pleasantly stuffed!
Slow-Cooker Loaded Baked Potato Soup
adapted from this recipe from CDKitchen
Served with a lovely green salad and some Irish soda bread, I think it'd be perfect for dinner on St. Patrick's Day this Sunday!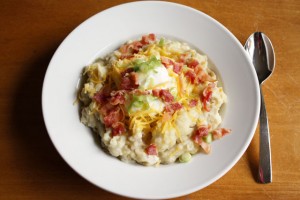 5 lbs baking potatoes, peeled and diced
1/2 cup diced carrot
1/2 cup diced celery
1 large onion, chopped
4 cups chicken broth
1/4 cup butter (half a stick)
1 1/2 teaspoons minced garlic
1 Tablespoon kosher salt
freshly ground black pepper
1 cup half-and-half
1 cup sharp shredded cheddar
toppings:
cooked, crumbled bacon
sour cream
minced green onion
sharp shredded cheddar
In a large crockpot, combine potatoes, carrot, celery, onion, chicken broth, butter, garlic, salt, and pepper. Cook on High for 3 1/2 hours. Mash with a potato masher until thick and chunky. Add half-and-half and 1 cup sharp cheddar, and continue to cook on High for 30 more minutes. If the soup is too thick, you can thin it with milk or more chicken broth. Serve topped with bacon, sour cream, green onion, and more sharp cheddar.
*As with so many of my winter recipes, I took photos of this soup the next day. I thickens a lot while sitting in the fridge overnight. It really is a soup, and not just glorified mashed potatoes!