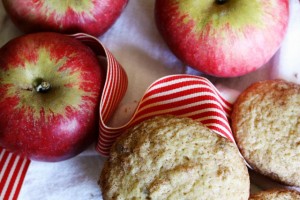 I love summer, but Fall is without a doubt my favorite time of year. During the waning days of August, I long for the warm, sunny days to continue forever–all sunshine and popsicles and barbecues. But once Labor Day has come and gone I easily put summer away in a little box, ready for next year, and embrace cool, crunchy-leaved, apple-scented Autumn. I made these cookies a few weeks ago as an afternoon snack on the first day of school. I meant for them to be snickerdoodles with a hint of apple, but they turned out entirely different from snickerdoodles–and completely delicious! They are amazingly light and tender, with a coating of cinnamon and sugar that almost melts around them like a sweet glaze. They are the perfect treat to celebrate the start of a new school year and the start of a new season.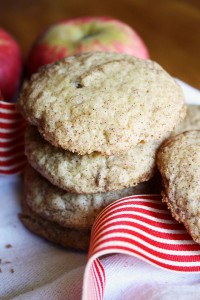 1 cup butter, at room temperature
3/4 cup granulated sugar, plus 2 Tablespoons for rolling
3/4 cup brown sugar
2 eggs
3 cups flour
2 teaspoons cream of tartar
1 teaspoon baking soda
1/4 teaspoon salt
1 cup grated apple
2 teaspoons cinnamon for rolling
Combine butter, 3/4 cup granulated sugar, and brown sugar in a large bowl and beat until fluffy. Add eggs and beat to combine. In a medium bowl, combine flour, cream of tartar, baking soda, and salt. Add dry ingredients to butter and sugar and stir until just combined. Stir in apples. Chill dough for 1 hour until firm. Preheat oven to 400°F. Line cookie sheets with parchment paper or silpats. Combine remaining 2 Tablespoons sugar and cinnamon in a small bowl. Scoop chilled dough, roll into 1″ balls, roll in cinnamon sugar, and place on prepared cookie sheets. Bake for 8 minutes. Makes 3-4 dozen.