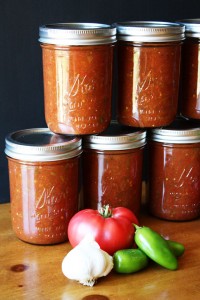 Another Friday, another salsa recipe, but this one happens to be our favorite! A few summers ago, my friend Kristan and I both spent a weekend at our houses canning salsa. Mine was so-so–watery and thin, and decidedly lacking in punch and panache. Kristan's salsa was sublime–chunky and colorful, and full of deep, vibrant flavors! I begged her for the recipe and patiently waited until the following summer so I could make jars and jars and jars of delicious salsa. I think my husband and I canned close to 50 pints of salsa that summer!
I don't know what it is that makes this salsa recipe so amazing. It has tomatoes and peppers and onions and spices like you'd expect, but they all come together to make a rich, satisfying salsa that captures the flavors of warm, sunny weather, and lets you enjoy them even in the dead of winter!
makes approximately 9 pints
For anyone who hasn't canned before, you can find wonderful directions on canning HERE on the Ball website. It is pretty important to read through the steps on jar sterilization and what-not before you start.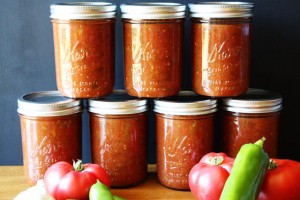 7 pounds tomatoes
10 anaheim peppers
1/3 cup chopped jalapenos
2 cups chopped onion
1/2 cup chopped cilantro
5 cloves garlic
1 cup white vinegar
1/3 cup tomato paste
1 teaspoon black pepper
1 Tablespoon chili powder
1 Tablespoon onion salt
2 teaspoons dried oregano
2 teaspoons dried basil
2 teaspoons cumin
2 Tablespoons garlic salt
2 Tablespoons canning salt
Chop and cores tomatoes and place them in a colander for 30 minutes to drain. Transfer drained tomatoes to a large pot and simmer, stirring frequently, for 1 hour. Blend with an immersion blender until mostly smooth. Seed and coarsely chop anaheim peppers. Place all peppers, onions, cilantro, and garlic in a food processor and pulse until mostly smooth. Add pepper mixture to tomatoes. Add all remaining ingredients and simmer for 10 minutes. Ladle into hot pint jars, leaving 1/2″ head space. Process for 15 minutes in a boiling water bath canner.