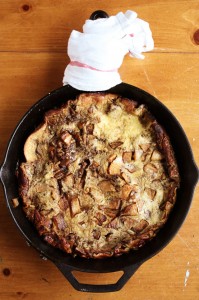 It may seem like I rule the kitchen, but my husband is the undisputed king of weekend breakfasts. I gladly hand over the frilly apron on Saturday mornings so that he can whip up tender crepes, crispy waffles, fluffy buttermilk pancakes, and perfectly scrambled eggs. We love to talk him into trying new recipes, and one of our newish favorites is this delicious Apple Dutch Baby! I love anything involving cinnamon-sugar apples, and this easy oven pancake is basically a whole lotta sweet and spicy apples held together by just enough barely-sweet batter. Drizzled with a little warm maple syrup, it is a most-delicious start to the day, baby.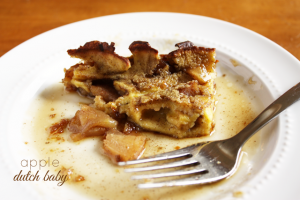 1/3 cup butter
3 cups chopped, peeled, cored tart apples
4 Tablespoons sugar, divided
1 teaspoon cinnamon
1/2 teaspoon ground ginger
1/3 cup brown sugar
3/4 cup flour
1/2 teaspoon salt
1/4 teaspoon nutmeg
1 cup milk
1/2 teaspoon vanilla
5 eggs
maple syrup for topping
Preheat the oven to 400°F. Put the butter in a deep cast-iron skillet (you can also use an 8×8″ square pan), and place the skillet in the oven until the butter is melted. When the butter is melted, add apples, 3 Tablespoons sugar, cinnamon, ginger, and brown sugar. Stir and place back in the oven until mixture is bubbling. Meanwhile, combine remaining 1 Tablespoon of sugar, flour, salt, nutmeg, milk, vanilla, and eggs in a large bowl and beat until smooth. When apple mixture is bubbly, pour batter over apples, return to oven, and bake for 20 more minutes, until the edges are browned and the center is puffed. Remove from oven, slice, and serve drizzled with warm maple syrup. Or not! My husband likes it plain. Serves 4.