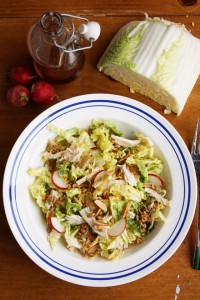 Isn't it funny how closely food is tied to memory? Way back in the day, a good friend and co-worker got engaged and asked me to be her maid of honor. I got to wear a fancy lavender dress and get my hair done and dance all night with my boyfriend (who's now my husband). But one of the things I remember most about the whole event was the bridal shower I got to throw for her a few weeks before the wedding. She wanted a few of us to get together at a paint-your-own pottery studio. We spent the whole afternoon painting and gossiping and eating. I don't remember anything else we ate at the party, but I remember making this salad for the very first time because I thought it would be perfect for such a special occasion. And now, nearly 9 years later, whenever I eat it, I'm reminded of that long-ago summer, and that pretty dress, and those sweet friends.
Chinese Cabbage Salad with Chicken
from my Aunt Kari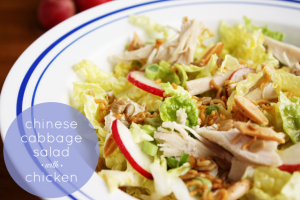 1 lb cooked, shredded chicken chicken breast
1/2 of a large head of Chinese Cabbage (aka Nappa or Napa Cabbage), shredded
1/2 cup scallions, thinly sliced
1 bunch radishes, halved and thinly sliced
1/4 cup butter
1 packet chicken flavored ramen noodles
1/2 cup slivered almonds
1/2 cup shelled sunflower seeds
1/4 cup rice vinegar
1 Tablespoon soy sauce
1/2 cup light-flavored oil, like light olive oil or vegetable oil
1/2 cup sugar
Preheat the oven to 350°F. Put chicken, chinese cabbage, scallions, and radishes in a large bowl. Place butter on a baking sheet and put it in the oven until the butter is melted. Meanwhile, open the ramen noodles, set aside the seasoning packet, and crush the noodles. When the butter is melted, gently toss crushed ramen noodles, almonds, and sunflower seeds with butter, and return to the oven until golden brown, about 10 minutes. Remove and set aside to cool. In a pint-sized mason jar with a lid, combine rice vinegar, soy sauce, oil, sugar, and ramen noodle seasoning packet. Put the lid on the jar and shake vigorously until well-combined. Add toasted noodle mixture and dressing to salad, toss, and serve immediately. Serves 8.