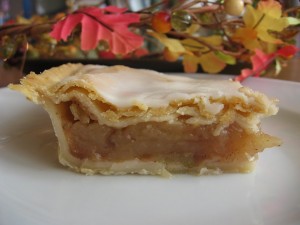 My dear friend Marcelle is expecting a baby next month, and I had the honor and pleasure of throwing a baby shower for her this weekend. Now, spring may seem like the ideal time for a baby shower: soft colors, fresh flavors, new things blooming around every corner. But my favorite time of year is autumn, when we get to eat soup as often as we want, and the smell of spices fills the house. And it is always a blessing to celebrate a new life, no matter the season. Here are a few of the recipes from the shower:
Chicken and Wild Rice Soup
Don't be scared off by the secret ingredient: Velveeta, and lots of it! Everyone who asked what was in it was surprised to find so much cheese in the list of ingredients. The soup doesn't taste cheesey, just creamy and delicious. I promise.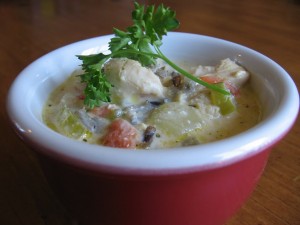 12 chicken tenders, cooked and chopped
4-oz package wild rice, cooked according to package diections
1/2 stick butter
2 cups chopped carrots
2 cups chopped celery
1 cup chopped onion
8 cups chicken broth
1 lb velveeta, cut into chunks
1 teaspoon poultry seasoning
In a large pot, saute vegetables in butter until mostly tender. Add remaining ingredients and cook until cheese is melted and everything is heated through.
from Cooks' Country magazine
I made mine the day before and refrigerated it. It was really good, but I can't help but think it would have been even more delicious if eaten fresh.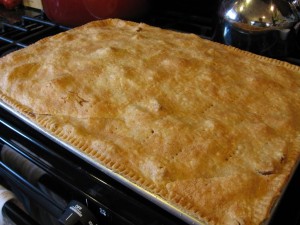 For pie:
8 granny smith apples
8 golden delicious apples
1 cup sugar
1/2 teaspoon salt
1 1/2 cups animal crackers (I used Barnum's)
1/2 cup sugar
2 packages pillsbury pie crust (that's 4 crusts total)
4 Tablespoon butter, melted and cooled
3 Tablespoons lemon juice
2 teaspoons cinnamon
6 Tablespoons Minute tapioca
For glaze:
3/4 cup reserved apple juice
2 Tablespoons lemon juice
1 Tablespoon butter
1 1/4 cups powdered sugar
Peel, core, and slice apples. I used one of those amazing peeler-corer-slicer things and it only took me a few minutes to do all 16 apples. Toss apples with 1 cup sugar and salt and place in a colander to sit for 30 minutes. Make sure the colander is over a bowl because you'll need the juice that drains off of the apples for the glaze. Meanwhile, combine remaining sugar and animal crackers in the bowl of a food processor and grind into a fine powder. Dust the counter with this mixture. Lay one of your 4 pie crusts onto the dusted counter. Brush half of it with water, and lay another pie crust on top so that they overlap. Sprinkle more animal cracker stuff on top, and roll double crust out to a 19×14″ rectangle. Gently place on a rimmed baking sheet and brush with melted butter. Refrigerate until apples are ready. Repeat the animal cracker roll-out method with the remaining two crusts and set aside. Toss drained apples with lemon juice, cinnamon, and tapioca. Evenly spread apples over bottom crust and gently top with second double-crust. Seal edges with water and a fork, poke hole all over the top, and bake at 350 for 1 hour. Remove the pie from the oven and let it cool for 1 hour. Meanwhile, bring reserved apple juice to a simmer in a small saucepan and let it reduce to 1/4 cup. Stir in butter and lemon juice, and let sit until cooled to room temperature. Whisk in powdered sugar and stir until smooth. Brush glaze over warm pie and let everything cool completely before serving. According to Cooks' Country, it serves 20, but those are really generous servings.
I don't have a picture of these because there weren't any left over after the party. But they were delicious and looked pretty impressive, even though they only took a few minutes to make. And, they can be served warm or at room temperature, making them great party food.
1 sheet puff pastry, thawed
2.5 oz deli ham, finely chopped
2 Tablespoons finely chopped onion
1 1/2 teaspoons dijon mustard
1/8 teaspoon ground black pepper
1 1/2 teaspoons dried parsley
1 cup cheddar cheese
1 egg
Lay puff pastry out on a lightly floured surface and roll it out so that it is a little thinner and a little bigger than when it comes out of the package. I know that's not very exact. Cut it into 24 squares. Place squares into the cups of a lightly greased mini muffin tin. Basically, you want the squares big enough that the corners poke up out of the cups a little, but you don't want them overlapping with the next one over. It doesn't have to be exact. In a medium bowl, combine remaining ingredients. Evenly divide filling among the 24 pastry cups; about 1 teaspoon per cup seems to work out well. Bake quiche puffs at 400 for about 10 minutes or until puff pastry begins to turn golden. Careful not to overbake!