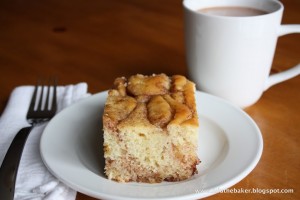 I would say that breakfast cake is the perfect thing to eat on a cold, snowy morning with a steaming mug of hot cocoa, but it is just as delicious on a bright, summer morning with a tall glass of milk. And I had a big piece for my post-dessert midnight snack last night, and it was pretty darn good then too!
Breakfast Cake
You can actually double the amount of sauce to swirl into the cake without negatively affecting anything but your waistline.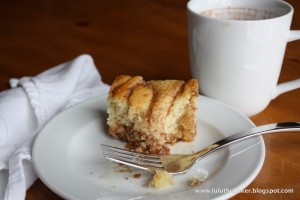 for cake:
2 cups milk
2 Tablespoons white vinegar
1/4 cup butter, melted
2 eggs
1 teaspoon baking soda
1 Tablespoon baking powder
1/2 teaspoon salt
3 cups flour
1 cup sugar
for sauce:
1/2 cup sugar
1/2 cup butter, melted
1 teaspoon cinnamon
Preheat oven to 350 degrees F. Add vinegar to milk and let stand 5 minutes. Combine soured milk, butter, eggs, and baking soda in a large bowl and mix well. Add baking powder, salt, flour, and sugar, and stir until combined. Pour batter into a greased 9×13″ pan and set aside. In a small bowl, combine all sauce ingredients and mix well. Pour sauce evenly over the surface of the cake. Using a butter knife, swirl the sauce into the cake. Bake for 25 minutes until a toothpick inserted in the center comes out clean. Allow to cool slightly before serving.