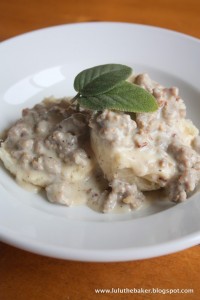 A) This may surprise you, but up until a few weeks ago I had never eaten biscuits and gravy! See, I used to think that I didn't like breakfast sausage, and even though it has been many years since I discovered that I do like breakfast sausage, I think the idea that I don't like it has been lingering in my subconcious. Anyway, biscuits and sausage gravy just never sounded good to me. In fact, it sounded gross! But my husband loves biscuits and gravy. He grew up eating it every Christmas morning, and whenever we get together with his family, it is invariably on the breakfast menu. I honestly don't know how I dodged it for so long!
B) Despite the fact that we live in the suburbs and have a tiny backyard, we manage to raise a lot of our own meat. Again, this is thanks to my in-laws. They have almost 16 acres about 30 minutes from us and graciously let us store our farm animals on their property since our HOA won't let us keep a cow in our backyard. In December we said good-bye to Pork Chop and hello to pork chops, so now we have a freezer full of frozen pork products begging to be used.
A+B=A few weekends ago, I came downstairs to find my husband busily making breakfast, and what was on the menu? Biscuits and gravy, of course. Since I don't do like sausage (I'm seriously always forgetting), I took a teeny, tiny bite. And guess what? It was delicious! All those people who have been eating biscuits and gravy all this time were actually on to something! We've had it three more times since and it has been just as good every time, and in fact, I actually crave it. There, I said it!
Homestyle Biscuits
from Williams-Sonoma's Essentials of Baking
We pretty much always use Pillsbury frozen biscuits BUT I'm including a recipe for really good homemade biscuits just cuz.
2 cups flour
2 1/2 teaspoons baking powder
1/2 teaspoon salt
6 Tablespoon unsalted butter, cold, cut into small pieces
3/4 cup milk
Preheat the oven to 425° F. Grease a cookie sheet or line with parchment paper. In the bowl of a food processor, combine flour, baking powder, and salt. Add the butter and pulse until the mixture is crumbly. Add the milk and pulse until just combined. Turn the dough out onto a clean, lightly floured counter, and knead until dough sticks together. Pat into a 3/4″-thick rectangle. Use a knife or pizza wheel to cut the rectangle into 10 equal portions (I would do two rows of 5, but that's just me). You can alternately cut out circles or whatever other shape you want, but this way you don't have leftover chunks of dough that have to be re-rolled. Place biscuits on prepared pan and bake for 15-18 minutes, until golden. Serve split, smothered with sausage gravy.
Sausage Gravy
adapted from The Cook's Country Cookbook
1 lb bulk pork sausage
1/4 cup flour
1 teaspoon ground sage
1/4-1/2 teaspoon freshly ground black pepper, depending on how much you like black pepper!
3 cups milk (anything but skim)
salt
Cook sausage in a large skillet, breaking it up with a spatula or spoon, until no longer pink inside and nicely browned outside. Sprinkle flour, sage, and pepper on the meat and stir until flour is absorbed. Add milk and simmer, stirring frequently, until thickened, about 5 minutes. Salt to taste. Serve over warm biscuits.