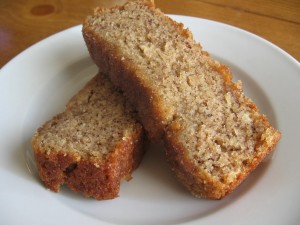 When my little sister had her baby last year (Happy 1st Birthday Max!), our cousin Abbi went to visit her and made this delicious banana bread while mom and baby were napping. It has quickly become a favorite of everyone with whom the recipe has been shared. Here's the original recipe, although both my sister and I make tiny changes.
**These pictures aren't the BEST, but banana bread is kind of homely anyway. And I always bake banana bread in the same two pans, and I always regret it. Instead of real slices, I get these skinny banana bread fingers! Oh well.**
Abbi's Cinnamon-Sugar Banana Bread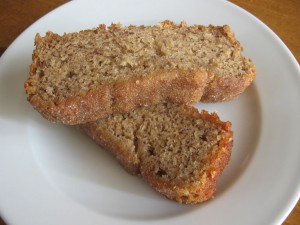 3/4 cup butter, softened
1 1/2 cups sugar
1 1/2 cups ripe, mashed banana (about 4 bananas)
2 eggs
2 teaspoons vanilla
1/4 cup sour cream
1 teaspoon baking soda
1 teaspoon salt
cinnamon
2 cups flour
melted butter
sugar
Mix softened butter, sugar, and bananas until creamy. Add eggs, vanilla, and sour cream; mix again. Add baking soda, salt, flour, and a dash of cinnamon, and mix until combined. Pour into greased loaf pans (2 large or 4 small). Sprinkle batter with more cinnamon. Bake at 350 for 30-35 minutes. While bread is hot, brush with melted butter and sprinkle with sugar.
**My sister and I add 1-2 teaspoons of cinnamon to the batter, but don't sprinkle extra cinnamon on top before baking. When the bread comes out of the oven, we brush it with melted butter and sprinkle it with cinnamon-sugar instead of plain sugar. It probably tastes exactly the same either way!