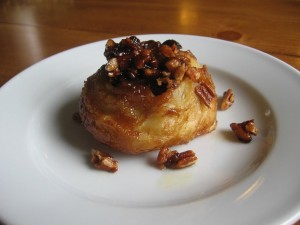 For my birthday, I received the most recent cookbook from The Barefoot Contessa, Back to Basics. It is such a wonderful cookbook. It is full of really simple, really delicious dishes. Like these sticky buns. They are so easy–only 6 ingredients!–and sooooo good. The recipe makes 12, but I halved it and made 6. And thank goodness! I really think that if I'd made 12, I would have eaten them all in one sitting!
The Barefoot Contessa's Easy Sticky Buns
from Barefoot Contessa Back to Basics, or the Food Network Website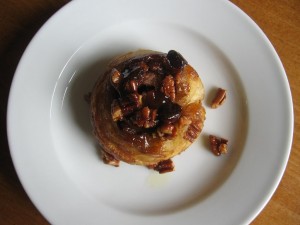 12 Tablespoons unsalted butter, at room temperature
1/3 cup light brown sugar, lightly packed
1/2 cup pecans, coarsely chopped
1 package (2 sheets) frozen puff pastry dough, thawed
2 Tablespoon butter, melted and cooled
2/3 cup light brown sugar, lightly packed
3 teaspoons ground cinnamon
1 cup raisins
Preheat oven to 400 degrees. Place a 12-cup standard muffin tin on a baking sheet lined with parchment paper. In the bowl of an electric mixer, combine 12 Tablespoons softened butter and 1/3 cup brown sugar. Place 1 rounded Tablespoon of the mixture in each of the 12 muffin cups. Distribute pecans evenly among cups on top of butter/sugar mixture. Lightly flour your work surface. Unfold 1 sheet of puff pastry with the folds going side-to-side. Brush the whole sheet with half of the melted butter. Leaving a 1-inch border on the puff pastry, sprinkle with half of the brown sugar, half of the cinnamon, and half of the raisins. Starting with the end nearest you, roll the pastry up tightly. Trim the ends of the roll about 1/2 inch. Slice the roll in 6 equal pieces, placing each in 6 of the muffin cups, spiral side up. Repeat with the other sheet of puff pastry and the remaining ingredients. Bake for 30 minutes. Allow to cool for 5 minutes only, invert buns onto the parchment paper, and allow to cool. If any of the topping gets stuck in the pan, just scoop it out with a spoon and drop it on the sticky buns.