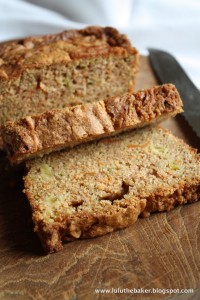 I've been trying like crazy to think of what to say about this quick bread. Here's what I have so far: I really love zucchini bread, and I really love baked goods containing apples, and I really love carrot cake. This fantastic recipe combines all three of my great loves into one delicious treat. And that. is. it. That's all I can think of, and that makes me sad, because I think this bread is my new favorite; I ate almost half of a loaf yesterday while trying to photograph it. It tastes like regular zucchini bread–which is to say it's super yummy–but then it has these tart little pockets of appley goodness, and plump, juicy golden raisins that are mellow and sweet. And on top of all of that, it has 2 full cups of delicious shredded carrots that make it extra pretty and extra good-for-you. And just like that, I have a blog post.
Zucchini Carrot Apple Bread
adapted from the Costco Connection–I know, right?!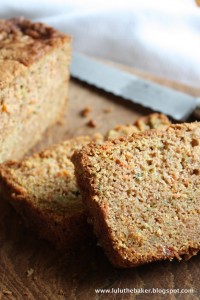 1/2 cup golden raisins
1 cup boiling water
2 cups sugar
1 cup unsalted butter at room temperature
3 eggs
1/4 cup orange juice
2 1/2 teaspoons vanilla
3 1/4 cups flour
1/2 teaspoon salt
2 1/2 teaspoons baking powder
3/4 teaspoon baking soda
2 1/2 teaspoons cinnamon
1/8 teaspoon cloves
2 cups shredded carrots
1 cup shredded zucchini
1 cup finely diced, peeled apple
Preheat the oven to 350° F. Place raisins in a small bowl, cover with boiling water, and set aside. In the bowl of an electric mixer, cream butter and sugar. Add eggs, orange juice, and vanilla, and beat until combined. In a medium bowl, combine flour, salt, baking powder, baking soda, cinnamon, and cloves. With the mixer on low, gradually add dry ingredients. Beat until just combined, or until your mixer starts to struggle. Stir in carrots, zucchini, apples, and drained raisins by hand. Divide batter evenly between two greased loaf pans. Bake for 1 hour or until a sharp knife inserted in the center comes out clean. Let cool on a wire rack for 15 minutes before turning out of pans. Allow to cool completely before slicing.