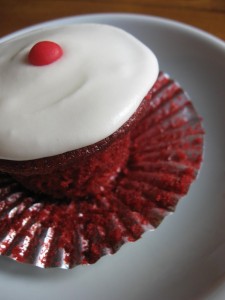 I have tried making Red Velvet Cake before, and got strange, not-delicious results. The cake was very moist, very dense, very red, and very salty. I felt it was my duty to eat it (because I spent so much time on it), but I honestly felt as though I were eating a play-doh cake, and you can probably imagine how not-tasty that was. So I approached this month's Cake Slice assignment with trepidation. I know people love red velvet cake. They swear that it tastes like heaven. I just hadn't had that experience with it. Until now. Nancy McDermott's recipe produced a light, moist, amazing cake. The frosting is another story (read: weird), but I chucked my frosting after tasting it and used plain old vanilla frosting and loved it.
I chose to make cupcakes instead of a layer cake. A) Not to beat a dead horse or anything, but I'm tired of making layer cakes; B) When planning out the baking schedule for the week, cakes–layer cakes in particular–seem to need an occasion, a dinner party or weekend meal or something just a little fancy, whereas cupcakes never need a reason. I imagine a conversation with my husband going something like this: "Cupcakes for dessert. Awesome. I love cupcakes." as opposed to, "Layer cake, huh. What's the occasion?" C) Cupcakes are just great, are they not? They're easy, they're portable, they're already in single-serving portions, yet you can eat two without feeling guilty. What's not to love?
To recap: this was a great Red Velvet Cake recipe. I will make it again. You should make it too.
from Southern Cakes by Nancy McDermott, with my changes added in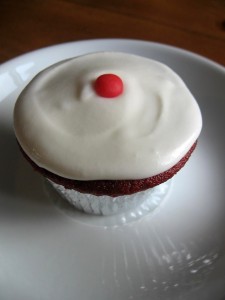 2 1/2 cups flour
1/2 teaspoon salt
1 teaspoon vanilla
1 cup buttermilk
2 Tablespoons cocoa
2 Tablespoons red food coloring
1 cup butter, softened
2 cups sugar
2 eggs
1 1/2 teaspoons baking soda
1 Tablespoon apple cider vinegar (or you can use regular white vinegar)
Grease pans well; preheat oven to 350. You can either do two 9″-round cake pans or cupcakes. I halved the recipe and got more than 12 cupcakes, so you might need more than 2 cupcake pans, or do them in batches.
Combine flour and salt in a small bowl; set aside. Combine cocoa and food coloring in a small bowl; stir until it forms a smooth paste; set aside. Stir vanilla into buttermilk; set aside. In a large bowl, beat butter on low speed until creamy and soft, about 1 minute. Add the sugar and beat well, 3 or 4 minutes. Add eggs one at a time, stopping between additions to scrape down bowl. Beat until fluffy and smooth. Scrape cocoa mixture into batter and mix evenly. Add 1/3 of the flour, 1/2 of the milk, 1/3 of the flour, 1/2 of the milk, and 1/3 of the flour. Mix each addition at low speed just until combined. In a small bowl or measuring cup, add baking soda to vinegar and stir thoroughly. Add this mixture to the batter and mix well with a spatula or wooden spoon. Pour batter into prepared pans. If you do cupcakes, fill them 2/3 to 3/4 full, not completely full. For cake pans, bake for 20 to 25 minutes. I started my cupcakes at 15 and worked up in 2 minute intervals until a toothpick inserted in the center of one came out clean. Cool and frost.